Minecraft: Super Nintendo World recreated in the Mojang game, waiting for the real one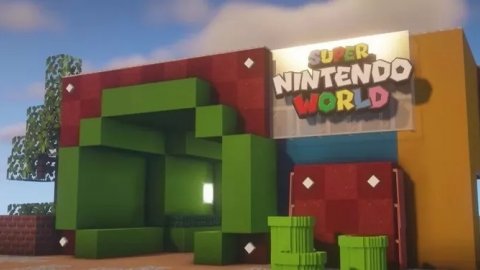 Most of us won't
be able to
visit
Super Nintendo World
for quite some time, but there will be a way to explore it "in person" without having to travel. The user Dippy22 is in fact making a 1: 1 replica of the theme park inside Minecraft. For the moment, the creation is not yet complete, but the player says that the servers will be opened shortly to allow a first exploration.
For the moment, we can see a first image of the Super Nintendo World recreated inside of Minecraft: you can find it at the bottom. Apart from the fact that the digital world is more cube (inevitably), what has been created is extremely faithful to the original.
Although we will have the opportunity to explore a first part of the Super Nintendo World soon, it seems that for the full version is still a long way off. According to Dippy22, in fact, it is only 5% complete. Dippy22 had actually already created a first adaptation of the park within Minecraft based on the first images circulated on the net some time ago, but after the release of new images and a video tour, he decided to create a much more precise replica. As is often the case with these projects, Dippy accepts help from other creators. You can join the creator and other curious people via the dedicated Discord server.
Please note that the opening of Super Nintendo World in Osaka (Japan) has been postponed following a new wave of
COVID
-19 cases . The new date will be decided only after the end of the emergency.
We also point out that the modders have recreated the giant hammer and the Shiganshina district of Attack on the giants.
Source