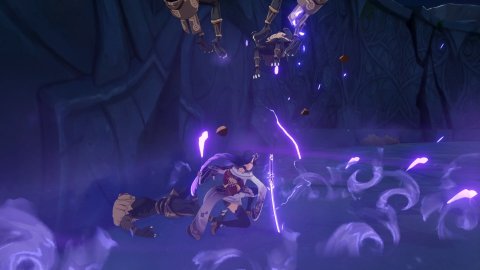 Genshin Impact
Developer miHoYo has released a
new trailer for
Genshin Impact to show Kujou Sara, the lightning warrior in action. This is the classic demo movie in which all the special moves of the character are shown, directly on the battlefield. You can find it at the head of the news.
The Chinese developer recently also unveiled the details of four new weapons coming with update 2.1, which we report below:
Engulfin Lightning is a 5-star rarity weapon obtainable exclusively with a weapon event banner that
will be in
troduced on September 1st with patch 2.1. At Refinement Rank 1, increases Attack by 28% Energy Recharge, with a maximum bonus of 80%. Additionally, the user gains 30% Energy Recharge for 12 seconds after using the Elemental Burst. Luxurious Sea-Lord is a four-star rarity weapon that will be obtained during the Moonlight Merriment event along with materials to increase the Refinement Rank, once certain progress has been made in exploring specific regions of the game. This Claymore increases Elemental Burst damage by 12%. When such a move hits opponents, a wave of tuna will appear, dealing damage with a force equal to 100% of the attack value in an area. This effect only activates once every 15 seconds. "The Catch" is a 4-star rarity weapon that can be obtained for free at the Fishing Association along with materials to improve it. Increases the damage of your Elemental Burst by 16%, the critical chance of this attack by 6%. Predator is Aloy's four-star rarity arc and can be obtained for free along with the heroine of
Horizon Zero Dawn
and Forbidden West from September 1 by all
PS5 and PS4<
/a>
players. By dealing Cryo damage, the weapon increases the damage of normal and charged attacks by 10% for six seconds. This effect can be stacked twice. Also, if Aloy is using the Predator, the attack increases by 66. Weapon effects only activate when playing
on PS4 and
PS5.
Have you noticed any errors?
---
Top-up bonus in Genshin Impact: Double Crystal Bonus and reset explained
With the 2.1 update, Genshin Impact will reset each top-up level for Genesis Crystals in the in-game shop. This certainly sounds great for whales in the community and can even incentivize F2P players to finally invest in Genshin Impact.
The banner for the Raiden Shogun, Baal, will be live with the 2.1 patch. The Electro Archon is arguably the most hyped Genshin Impact character ever, and this explains why miHoYo has reset the Genesis Crystals' top-up levels.
The Shop in Genshin Impact offers several Genesis Crystal bundles to the players. It is a premium currency that can be converted to Primogems at a 1:1 ratio.
To motivate players to make their first investment, Genshin Impact gives bonus Genesis Crystals to them. For instance, buying 6,480 Genesis Crystals for $99.99 gives players a massive bonus of 6480 Crystals.
It is worth noting that this bonus can only be availed during the first investment. Thereafter, the bonus significantly decreases with every purchase.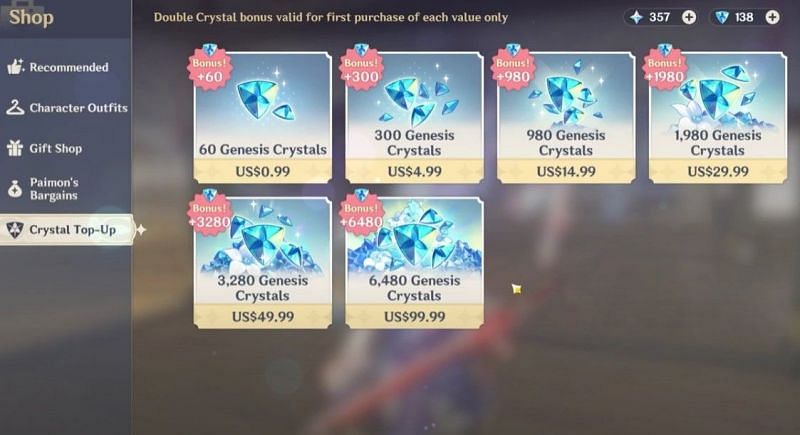 Genesis Crystals top-up bonus in Genshin Impact (Image via Genshin Impact)
Interestingly, with patch 2.1, Genshin Impact is resetting the Crystal Genesis bonus. This implies that players can get double Genesis Crystals on their purchase, yet again.
Is this the right time to invest in Genesis Crystals in Genshin Impact?
Players who were about to make their first investment in Genshin Impact can certainly make the most out of the upcoming Genesis Crystals top-up reset event. They can purchase a bundle before the 2.1 patch and get double the Genesis Crystals bonus.
Following the reset, they can buy the bundle and avail the bonus yet again. Using this strategy, the new investors can get double the amount of Primogems by spending the least amount of money.
Having said that, the Genshin Impact community is still comprised of millions of free-to-play players who rely on Daily Commissions, Quests, and Events for Primogems.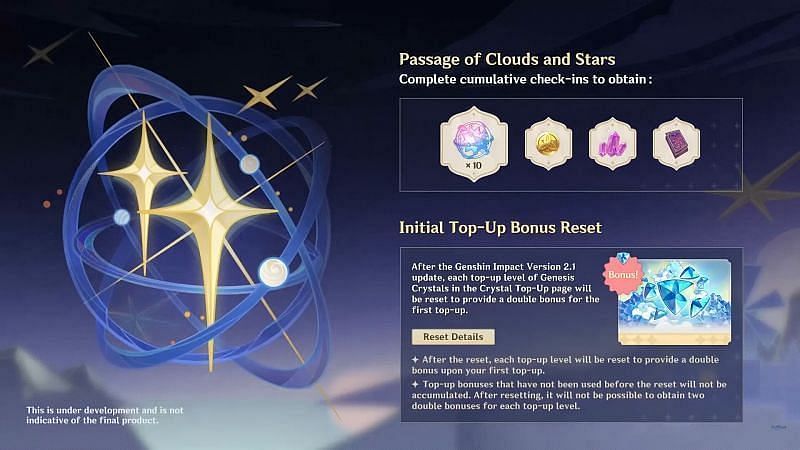 Genshin Impact top-up Bonus reset and log-in event in patch 2.1 (Image via miHoYo)
The upcoming 2.1 patch will also arrive with many events and special anniversary rewards. Surpisingly, players can get 21,600+ Primogems without spending money on Genesis Crystals.
Sportskeeda Genshin Impact is now on Twitter! Follow for all the latest news, leaks, updates & more!