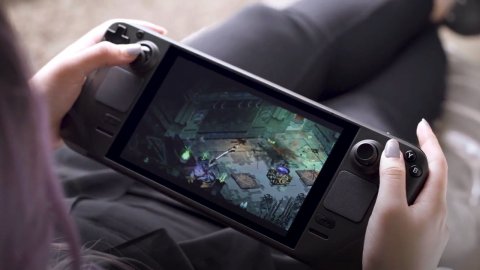 Steam Deck will
be available (for those who pre-ordered it) starting in December 2021. Valve, however, is already thinking about the future and believes that a Steam Deck 4K is not possible now, but
could be in
one or two years. Here is what was said.
Greg Coomer, designer at Valve, interviewed by RPS said: "I think it is often very interesting for Valve, because many of us want to treat this device as a platform that can be updated at will, and we can just, you know, why not update it every three months? Of course, it wouldn't be the best service for game developers or customers. We are already looking to the future because we believe this is a product line that will have a long life, so obviously we're thinking about what we're going to build next, and we're starting to make plans in those directions. There's no project for Steam Deck 2, but we're thinking along those lines and we're already having conversations about what to do for the our next iteration of the device. "
Steam Deck: the game reproduced is Control Even more interesting, however, what was said by Greg Coomer and Lawrence Yang, who explain that" aiming at 4K and having and a display that can show that resolution was not our design goal. " They claim that "it wouldn't have been worth it. Technically, it's likely you could make a device of that size with 4K output and capable of running those games, but what would the device have looked like? The games? How hot would it have? There's a lot to balance and we're actually happy with what we've created. You know, the technology moves on. Maybe in a year or two we'll have something that
will make it more
feasible. "
The question is: would you like a 4K Steam Deck, or on a portable device is resolution not your priority? Finally, here is the
official trailer for
the "most powerful portable console in the world".
Source Have you noticed any errors?