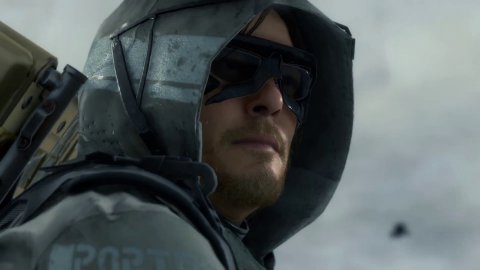 Death Stranding 2 is already under negotiation
Death Stranding 2 is very likely and is already being negotiated between
Sony
and Kojima Productions, according to what actor Norman Reedus said to the microphones of AdoroCinema, a Brazilian site related to IGN Brazil.
Reedus: "I think that we will do a second Death Stranding.
The game is
under negotiation. So, yes! "
Death Stranding 2 was only a marginal topic of the interview, released for the launch of the eleventh season of The Walking Dead. According to some, Reedus could have even been wrong and referred to Death Stranding: Director's Cut, even if this seems unlikely to us, since otherwise he would not have brought up any negotiations whatsoever.
Also in the same interview, Reedus compared his two most famous characters, namely Daryl Dixon from The Walking Dead and Sam Porter Bridges from Death Stranding, pleasantly wondering which of the two would win a marathon: the first, who has spent years walking a planet in the throes of the zombie apocalypse, or the second, specializing in parcel delivery. Well, according to him, Sam would win, because he has the suit and the exoskeleton. Also Daryl is in Georgia, where he is very hot.
Have you noticed any mistakes?
---
Full FDA approval for Pfizer vaccine is imminent, sources say, Fenway working on details of new mask rules
© Craig F. Walker/Globe Staff Aban Korb, 4, walked with his father Geoff on his way to camp during early rain in Boston on August 19, 2021.
Coronavirus case counts are once again rising across the US, near and far. Health officials are scrambling to vaccinate as the Delta variant takes hold.
Below, we're gathering the latest news and updates on coronavirus in New England and beyond.
Chinese health official rejects US allegations on coronavirus investigation — 9:01 a.m.
Bloomberg
A senior Chinese health official rejected a U.S. report blaming China for stonewalling an investigation into the origins of the coronavirus.
China opposes the politicization of tracing the origins of the virus or using the subject as a tool to shift blame, according to Zeng Yixin, vice head of National Health Commission.
The U.S. should treat origins tracing as a "scientific matter" and support scientists in various countries who are seeking answers on how the virus started, Zeng said in a statement posted on the commission's WeChat account. He reiterated that the Chinese government fully supports virus-tracing work based on open, transparent, scientific and cooperative principles.
Switzerland warns of terror attacks on vaccine sites — 3:52 a.m.
By Bloomberg
Switzerland's Federal Intelligence Service is warning of potential terrorist attacks on coronavirus vaccine infrastructure including vaccination centers, transport, and manufacturing facilities, newspaper NZZ am Sonntag reported.
"Attacks on such targets would both hit large crowds and generate intensive media coverage," the NDB spokesperson, Isabelle Graber, said in a written response to questions from NZZ.
Packed with virus patients, Louisiana hospitals await Ida — 1:57 a.m.
By The Associated Press
Louisiana hospitals already packed with patients from the latest coronavirus surge are now bracing for a powerful Category 4 hurricane, which is expected to crash ashore Sunday.
"Once again we find ourselves dealing with a natural disaster in the midst of a pandemic," said Jennifer Avegno, the top health official for New Orleans. She called on residents to "prepare for both."
Japan may consider mixing COVID shots for speedier vaccinations — 1:55 a.m.
By Bloomberg
Japan could mix AstraZeneca Plc's COVID-19 shots with those developed by other companies in order to speed up its vaccination effort, according to the minister in charge of the country's rollout.
The idea would be to combine the dose with one from Pfizer Inc. and BioNTech SE or Moderna Inc., Taro Kono said Sunday on a Fuji TV news program. Since AstraZeneca recommends eight weeks between its two shots, it's likely that time could be shortened if combined, Kono added.
  August 29, 2021  
Japan aims for full vaccinations by this fall — 11:24 p.m.
By The Associated Press
Taro Kono, the Japanese minister in charge of the vaccine rollout, promised Sunday a timely administering of booster shots for the coronavirus, as the nation aims to fully vaccinate its population by October or November.
He said Pfizer and Moderna booster shots will arrive early next year, in time for medical workers and the elderly, who were prioritized and mostly got their second shots by July.
"Japan is aiming for 80% vaccination levels," Kono said on a nationally broadcast Fuji TV show.
A digital system for proof of vaccination will be available later this year, he added.
Japan has lagged among developed nations on vaccinations, with its fully vaccinated now at about 43%. Hospitals are getting swamped, and more than 118,000 people infected with the coronavirus are waiting at home, according to the health ministry. Japan has recorded about 15,800 COVID-related deaths.
Singapore hits 80 percent vaccine threshold — 10:58 p.m.
By Bloomberg
Singapore has outpaced most advanced economies to fully vaccinate 80% of its population against Covid-19, paving the way for the small but wealthy city-state to forge ahead with reopening in an approach that's closely watched by the rest of the world still figuring out how to live with the virus.
Senior officials have pegged the milestone to its cautious strategy, pledging to use the high inoculation rate to gradually have more economic and social activities, as well as quarantine-free travel.
Sydney breaks another record for COVID cases — 10:15 p.m.
By Bloomberg
Sydney had a record number of Covid-19 infections, accounting for the bulk of cases in New South Wales as Australia's most populous state battles to contain the spread of the highly infectious delta variant.
The state saw a record 1,218 daily infections in the 24 hours to 8 p.m. local time on Saturday, NSW Premier Gladys Berejiklian told reporters Sunday in Sydney. Six more people died.
Meanwhile, Victoria state will extend its sixth lockdown past Thursday, Premier Daniel Andrews said without giving details on how long the restrictions will last.
There's uncertainty around Boston area college students going back to campuses because of Delta variant — 9:40 p.m.
By Laura Krantz, Globe Staff
For a brief moment early this summer, as vaccination rates rose, it seemed as though the fall season on college campuses might bring a blissful rush of normalcy. Teeming dorms, packed lectures, bustling dining halls, raucous parties.
Now, as students return, the reality is a more subdued version of that dream. Most institutions will have full dorms, side-by-side desks, and in-person activities, but they'll also require masks, regular testing, and proof of vaccination for students and staff. And a sense of foreboding looms: The Delta variant is extremely contagious, and no one knows what the colder months will bring. Many professors, especially those with unvaccinated children, fear for their safety and that of their families.
Oregon counties request trucks for bodies as deaths climb — 8:54 p.m.
By Associated Press
The death toll from COVID-19 in Oregon is climbing so rapidly in some counties that the state has organized delivery of one refrigerated truck to hold the bodies and is sending a second one, the state emergency management department said Saturday.
So far, Tillamook County, on Oregon's northwest coast, and Josephine County, in the southwest, requested the trucks, said Bobbi Doan, a spokeswoman for the Oregon Office of Emergency Management.
Maine ICU beds tie previous peak amid Delta variant surge — 7:26 p.m.
By Associated Press
The number of patients in intensive care units in Maine hospitals has tied the pandemic's previous high as the delta variant of the coronavirus continues to surge.
The number of COVID-19 patients in the ICU hit 71 on Friday, tying the previous high on Jan. 20 in Maine after a holiday surge in infections.
Almost 750,000 third COVID vaccine doses given in US — 6:29 p.m.
By Bloomberg
The U.S. recorded slightly above a million vaccine doses on Saturday, including 87,000 third doses, Cyrus Shahpar, the White House's Covid-19 data director, tweeted. It was the fifth of day above 1 million shots in the last 10 days, with vaccinations rising over the last month as the delta variant has spread.
A total of 732,000 additional shots have officially been given since Aug. 13, according to data compiled by the U.S. Centers of Disease Control and Prevention. That was when federal health regulators permitted third shots for people with compromised immune systems. President Joe Biden said he wants to begin administering booster shots to all vaccinated adults starting Sept. 20.
Hospitals in US South run low on oxygen, as region sees high numbers of COVID hospitalizations — 4:52 p.m.
By Bloomberg
Hospitals in the U.S. Southeast are running low on oxygen, with the worst-hit left only 12 to 24 hours worth, said Premier Inc., a hospital-supply purchasing group.
This comes amid the region's struggle over the summer with high numbers of Covid-19 cases and hospitalizations. Now Hurricane Ida is set to hit the Gulf Coast in the coming days.
Premier has notified the White House, Federal Emergency Management Agency, and Health and Human Services department about the scarcity of oxygen in the region, said Blair Childs, Premier's senior vice president of public affairs. There is "so much more demand for oxygen than there ever has been," Childs said.
French health pass protesters rally for 7th week — 3:52 p.m.
By Associated Press
PARIS (AP) — Demonstrators opposed to France's health pass took to the streets for a seventh Saturday of vocal protests, but crowds were smaller than in past weeks.
About 200 marches were called around the country, four in Paris, gathering both people opposed to COVID-19 vaccinations and those denouncing the health pass in place since early August.
Polls show that a majority of French back the health pass but the demonstrators Saturday were of all ages and a mix of social classes. They included some health care workers, who must be vaccinated by mid-September.
The pass, which is required to enter restaurants, museums, sports arenas or other popular venues in France, shows its holder is fully vaccinated, recovered or had a recent negative test.
Signs carried by the crowd include one that read "Welcome to Controlistan."
Far-right politician Florian Philippot, a presidential candidate in next year's election, has organized such protests for months.
"The spirit of France is here and it is rising," he tweeted, posting photos of crowds at his demonstration.
French media, citing the Interior Ministry, said there were less than 158,580 protesters Saturday around France, compared to 175,500 a week ago.
Health authorities said Saturday that nearly 72% of France's population has received at least one vaccine injection and 64.5% have been fully vaccinated.
Antibodies waning? The immune system has a backup plan for that — 2:53 p.m.
By Bloomberg
Antibodies against the coronavirus wane over time, but the immune system has a backup plan that doesn't rely on boosters, according to a study by scientists at the University of Pennsylvania, where technology for mRNA vaccines was developed.
Researchers at the university's Perelman School of Medicine tracked 61 people for six months after immunization with mRNA vaccines. The team noted that antibodies gradually ebbed, but that the shots generated durable immune memory to SARS-CoV-2 in the form of B and T cells that increased over time to help ward off serious illness.
Booster shot rollout against COVID-19 is likely to differ from the first vaccine effort — 2:16 p.m.
By Felice J. Freyer, Globe Staff
The federal government has recommended booster shots for Americans vaccinated against COVID-19, possibly starting as early as next month. But right now, it's unclear how and where those shots will be administered in Massachusetts.
State health officials and health care providers said they are awaiting guidance from the federal government on the booster program, which was spurred by evidence that immunity wanes some months after the initial vaccination.
But already, one thing seems clear: This new phase of vaccine distribution will most likely bear little resemblance to the initial rollout earlier this year, which was characterized by insufficient and unpredictable supplies, an emphasis on mass vaccination sites, and a state-run sign-up system that initially defeated even seasoned computer users.
NBA referees to be vaccinated this season — 1:51 p.m.
By Associated Press
NBA referees will all be vaccinated against the coronavirus this season.
The NBA announced Saturday that it has struck a deal with the National Basketball Referees Association on that requirement. Part of the referees' agreement with the NBA also says that those working games will receive booster shots once they become recommended.
The NBRA voting on the issue took place earlier this week.
The agreement with the referees was revealed one day after the league told its teams that anyone within close proximity — defined in most cases as being 15 feet — of players and referees will also have to be vaccinated. That mandate covers, among others, coaches, support staff traveling with teams, locker room attendants and those working at official scorer's tables in NBA arenas.
Players are not required to be fully vaccinated, though many were last season after the league encouraged them to do so by agreeing to relax some health and safety protocols for those who were — including fewer mandated coronavirus tests, no quarantine requirements following contact tracing issues and more freedoms on road trips.
As is the case with team employees, any referees who have a documented medical or religious reason to not be vaccinated may seek an exemption. Without that exemption, any unvaccinated referee will not be eligible to work games, the NBA said.
What went wrong with the pandemic in Florida — 1:23 p.m.
By New York Times
The unexpected and unwelcome coronavirus surge now unfolding in the United States has hit hardest in states that were slow to embrace vaccines. And then there is Florida.
While leaders in that state also refused lockdowns and mask orders, they made it a priority to vaccinate vulnerable older people. Gov. Ron DeSantis, a Republican, opened mass vaccination sites and sent teams to retirement communities and nursing homes. Younger people also lined up for shots.
DeSantis and public health experts expected a rise in cases this summer as people gathered indoors in the air-conditioning. But what happened was much worse: Cases spiraled out of control, reaching peaks higher than Florida had seen before. Hospitalizations followed. So did deaths, which are considerably higher than the numbers currently reached anywhere else in the country.
An elementary school teacher took off her mask for a read-aloud. Within days, half her class was positive for Delta variant — 12:32 p.m.
Washington Post
The Marin County, Calif. elementary school had been conscientious about following covid-19 protocols. Masks were required indoors, desks were spaced six feet apart, and the students kept socially distant. But the Delta variant found an opening anyway.
On May 19, one teacher, who was not vaccinated against the coronavirus, began feeling fatigued and had some nasal congestion. She dismissed it as allergies and powered through. While she was usually masked, she made an exception for story time so she could read to the class.
By the time she learned she was positive for the coronavirus two days later, half her class of 24 had been infected — nearly all of them in the two rows closest to her desk — and the outbreak had spread to other classes, siblings and parents, including some who were fully vaccinated.
"The mask was off only momentarily, not an entire day or hours. We want to make the point that this is not the teacher's fault — everyone lets their guard down — but the thing is Delta takes advantage of slippage from any kind of protective measures," Tracy Lam-Hine, an epidemiologist for the county, said in an interview.
The case study, published by the Centers for Disease Control and Prevention and highlighted by CDC director Rochelle Walensky during a briefing on Friday, highlights the potential danger for children under the age of 12 — the only group in the United States ineligible for coronavirus vaccines as a hyper-infectious variant tears across the country.
Contact tracing takes a back seat during latest COVID surge — 11:35 a.m.
Associated Press
Health investigators across the U.S. are finding it nearly impossible to keep up with the deluge of new COVID-19 infections and carry out contact tracing efforts that were once seen as a pillar of the nation's pandemic response.
States are hiring new staff and seeking out volunteers to bolster the ranks of contact tracers that have been overwhelmed by surging coronavirus cases.
Some states trimmed their contact tracing teams this spring and summer when virus numbers were dropping and are now scrambling to train new investigators. Others have triaged their teams to focus on the most vulnerable, such as cases involving schools or children too young to be vaccinated.
Texas got out of the business entirely, with the new two-year state budget that takes effect Sept. 1 explicitly prohibiting funds being used for contact tracing. That left it up to local health officials, but they can't keep up at a time when Texas is averaging more than 16,000 new cases a day.
Mississippi has 150 staff working full time to identify people who have had close contact with an infected person, but they are swamped, too.
Since the pandemic began, states have been relying on the practice of contact tracing to track down, notify and monitor those who were exposed to someone who tested positive for the coronavirus.
COVID-19 cases rise in South Dakota after Sturgis motorcycle event — 10:25 a.m.
Associated Press
Rumbles from the motorcycles and rock shows of the Sturgis Motorcycle Rally have hardly cleared from the Black Hills of South Dakota, and the reports of COVID-19 infections among rallygoers are already streaming in — 178 cases across five states, according to contact tracers.
In the three weeks since the rally kicked off, coronavirus cases in South Dakota have shot up at a startling pace — sixfold from the early days of August. While it is not clear how much rallygoers spread the virus through secondary infections, state health officials have so far reported 63 cases among South Dakota residents who attended the event.
The epicenter of the rally, Meade County, has become red-hot with new cases, reaching a per capita rate that is similar to the hardest-hit Southern states. The county reported the highest rate of cases in the state over the last two weeks, according to Johns Hopkins researchers.
The Black Hills region's largest hospital system, Monument Health, warned Friday that it has seen hospitalizations from the virus rise from five to 78 this month. The hospital was bracing for more COVID-19 patients by converting rooms to intensive care units and reassigning staff.
Virus cases were already on the rise when the rally started, and it's difficult to measure just how much the Sturgis Motorcycle Rally is to blame in a region where local fairs, youth sports leagues and other gatherings have resumed.
Mask debate moves from school board meetings to courtrooms — 9:11 a.m.
Associated Press
The rancorous debate over whether returning students should wear masks in the classroom has moved from school boards to courtrooms.
In at least 14 states, lawsuits have been filed either for or against masks in schools. In some cases, normally rule-enforcing school administrators are finding themselves fighting state leaders in the name of keeping kids safe.
Legal experts say that while state laws normally trump local control, legal arguments from mask proponents have a good chance of coming out on top. But amid protests and even violence over masks around the United States, the court battle is just beginning.
Mask rules in public schools vary widely. Some states require them; others ban mandates. Many more leave it up to individual districts.
Big school districts that want to require masks are in court and battling governors in Florida, Texas and Arizona. Worried parents are suing over similar legislative bans on mandates in Utah, Iowa and South Carolina.
Suits fighting mask requirements have popped up in Missouri, Illinois, Michigan, Kentucky and Montana.
How COVID-19 is still causing problems for the NFL — 8:29 a.m.
By Ben Volin, Globe Staff
The NFL will look mostly normal in 2021. Stadiums will be full again. Players and coaches (mostly) won't have to wear masks on the sideline. Opponents can hug each other and exchange jerseys.
But just when it looked like the NFL had put COVID-19 behind it, the Delta variant reared its ugly head this past week and offered a stark reminder: The pandemic is still raging in many parts of the country, and it will continue to cause problems for the NFL throughout the 2021 season.
Already this training camp we have seen the Minnesota Vikings have to go five days without any of their top three quarterbacks because one contracted COVID and the other two weren't vaccinated. Then this past week the NFL dealt with several tricky situations.
Japan investigates deaths of two men who received Moderna shots — 8:27 a.m.
By Jonathan Saltzman, Globe Staff
Two young men in Japan died after recently receiving shots of Moderna's COVID-19 vaccine that were among more than 1.6 million doses subsequently pulled by the country's government following the discovery of unspecified "particle matter," the Cambridge biotech said Saturday.
Both men were in their 30s and died this month within days of receiving their second doses, according to a Reuters report.
Each had a shot from one of three lots containing over 1.6 million doses that were pulled Thursday following the discovery of contaminants traced to one product manufacturing lot, said Ray Jordan, a Moderna spokesman. They had gotten shots from one or two of the lots that were later suspended as a precaution, not the one identified as tainted.
UK prepares to vaccinate children ages 12-15 — 8:01 a.m.
By The Associated Press
The British government says it is preparing to vaccinate children ages 12-15 against the coronavirus, even though the inoculation campaign has not yet been approved by the country's vaccine advisors.
The Department of Health said it wants "to be ready to hit the ground running" once approval comes and be in position to deliver shots in schools when the new academic year starts in most of the country. The return of children to class in September is expected to drive up Britain's already high coronavirus infection rate.
Britain is currently giving coronavirus vaccinations to people 16 and up, as well as those between 12 and 15 with underlying health conditions or who live with vulnerable adults.
Britain's medicines regulator has approved the use of the Pfizer and Moderna vaccines for the 12 to 15 age group. But the Joint Committee on Vaccination and Immunization, which sets policy, has not signed off on shots for most adolescents that young.
The United States, Canada and several European countries are already vaccinating people who are at least 12 years old.
A Texas father stripped down to his swim shorts at a town meeting to make a point about masks — 7:51 a.m.
By Brittany Bower, Globe Staff
Kids are headed back to school, and in many states, they will be accompanied by mask mandates.
Parents across the country are making their voices heard as school districts decide whether to require students and staff to wear masks to curb the spread of COVID-19 as cases spike due to the highly transmissible Delta variant. And while the mask mandate has been issued for all school districts in Massachusetts, many other states have yet to take that step.
In Texas, one father made his stance clear.
At a school board meeting for Dripping Springs Independent School District Monday, James Akers took off one article of clothing at a time until he was stripped down to just swim shorts. The stunt was captured on video and widely circulated this week.
Tokyo apologizes for vaccine rollout confusion — 5:23 a.m.
By The Associated Press
Japan's Tokyo city hall has apologized for "confusion" amid its vaccination rollout targeting young people, after crowds looking to get the shot were turned away from a facility in the Shibuya district.
Health authorities on Saturday switched to a reservation system instead of first come, first served. But more than 2,200 people showed up to get vaccine appointment vouchers, some waiting in line since dawn, and 354 were selected by lottery to receive shots, Japanese media reported.
Inoculations for those ages 16 through 39 began Friday.
Japan, which has one of the slowest COVID-19 vaccine rollouts in the developed world, has prioritized giving shots to elderly people and then gradually working its way down by age group.
The latest development appears to counter critics who had suggested young people wouldn't be interested in getting vaccinated.
Sydney has worst day with Delta despite vaccinations — 1:52 a.m.
By Bloomberg News
The outbreak of the delta variant continued unabated in Sydney, with Australia's largest city accounting for the bulk of new daily Covid-19 infections as New South Wales state had its worst day.
The state saw a record 1,035 daily infections in the 24 hours to 8 p.m. local time on Friday, the largest figure since the outbreak began in the city in mid-June, NSW Health Minister Brad Hazzard told reporters in Sydney on Saturday. Two more people died.
NSW first passed 1,000 on Thursday, with 1,029 daily infections. Sydney's lockdown isn't managing to reduce the number of new infections, despite being in place for more than two months.
Hundreds of thousands of people per day are now being vaccinated after a slow start to Australia's rollout, though cases continue to rise in various areas of NSW and have spread to other parts of the country. A record number of people were vaccinated on Friday, Hazzard said.
"While we are seeing massive vaccination numbers, we are also seeing substantial cases," the minister said. "At the end of the day, vaccinations is the way out of this."
  August 27, 2021  
US Open tightens protocols, fans must provide proof of COVID vaccination — 10:35 p.m.
By The New York Times
NEW YORK — Under pressure from Mayor Bill de Blasio and other city leaders, the U.S. Tennis Association reversed its lax coronavirus protocols for the upcoming U.S. Open tournament, which opens to thousands of fans Monday.
Originally, the tournament did not require any proof of vaccination or a recent negative coronavirus test for fans to enter, and there were no mask mandates. But the mayor's office stepped in over the past two days and demanded stricter protocols.
On Friday evening, the tournament announced on its Twitter account that proof of at least one vaccine shot would be required for entrance to the grounds for all fans age 12 and older. No masks are required.
The mayor's office was adamant that fans entering Arthur Ashe Stadium, the largest venue on the grounds of the Billie Jean King National Tennis Center, be vaccinated. But the USTA took it a step further and made it a requirement for all fans entering the grounds of the tournament.
Family stunned as COVID kills high schooler — 9:19 p.m.
By The Associated Press
MIAMI — In Columbia County, which now leads Florida in COVID-19 cases per capita, 17-year-old Jo'Keria Graham died just days before she started her senior year of high school. The teen, who loved taking care of kids and called her grandparents daily to check on them or help at their office, was still in quarantine at her Lake City home after testing positive for COVID days before school started.
The high schooler had seemed to be on the mend and asked her grandparents to bring her breakfast. Her family was on the phone with her grandparents on their way to drop off breakfast when she collapsed in the bathroom earlier this month.
"She was saying, 'I can't breathe, I can't breathe'," her grandmother Tina Graham said Friday, noting the teen was buried in her cap and gown.
"We thought she was doing fine. Both of my sons had it and one of my sons was really really sick and she wasn't near as sick as he was," Graham said.
COVID-19 deaths straining some Florida hospital morgues — 8:16 p.m.
By The Associated Press
Mounting deaths from the latest surge in COVID-19 have strained capacity at hospital morgues and funeral homes across central Florida.
While Florida's record levels of new cases and hospitalizations for the disease have leveled off over the past week, averages of daily reported deaths have continued to climb. Hospitals in Florida have reported to the federal government that roughly 279 patients have died every day for the past week, according to the U.S. Department of Health and Human Services, though that figure includes deaths suspected, but not yet confirmed to have been, from COVID-19. The figure just a month ago was 52 deaths per day.
New study links Delta with more hospitalizations — 8:02 p.m.
By The Associated Press
A new British study suggests people who get COVID-19 from the extra-contagious delta variant are about twice as likely to be hospitalized than those who caught an earlier version of the coronavirus.
The delta variant spreads much more easily than the alpha variant that previously was widespread in much of the world. But whether it also causes more severe disease is unclear, something hard to tease out — in part because delta took off just as many countries relaxed their pandemic restrictions even as large swaths of the population remained unvaccinated.
Researchers with Public Health England examined more than 40,000 COVID-19 cases that occurred between March and May, when the delta variant began its surge in Britain, to compare hospitalization rates. The results were similar to preliminary findings from a Scottish study that also suggested delta triggered more hospitalizations.
Importantly, less than 2% of all the cases tracked in the newest study were among the fully vaccinated.
The findings were published Friday in The Lancet Infectious Diseases.
Mass. early education commissioner seeks state board's approval to require masks for children, staff — 7:03 p.m.
By Nick Stoico Globe Correspondent
Face coverings may soon be required for children as young as 5 years old and staff members working in early education, pending a state board's decision on the plan by Early Education and Care Commissioner Samantha Aigner-Treworgy.
Aigner-Treworgy is asking the Board of Early Education and Care to grant her the authority to implement an indoor mask mandate at all state-licensed child care centers, according to a statement.
NBA, pair of MLB teams latest to mandate COVID-19 vaccination — 6:17 p.m.
All NBA team personnel who will be near players and referees must be fully vaccinated against the coronavirus this season, the league told its clubs in a memo on Friday.
It essentially covers anyone who will travel with teams; be around the bench areas; have access to home, visiting and referee locker rooms; and those working at the scorer's table. The league also said in the memo, a copy of which was obtained by The Associated Press, that the policy may be updated when federal agencies release "expected guidance related to booster shots."
Team personnel will need to be fully vaccinated by Oct. 1; game-day personnel by the time of a team's first home preseason game, which means early October.
Here's where the Delta wave has driven up COVID-19 vaccinations — 6:06 p.m.
By The New York Times
After weeks of stagnation, the U.S. vaccination campaign has had a relatively successful month, with vaccine uptake rising from early-summer lows in every state in the country.
The upswing in vaccinations has come alongside an extended, and much more pronounced, increase in coronavirus cases, hospitalizations and deaths in the United States over the past two months. Public health officials say that in their communities, residents have been driven to get the vaccine by worries that the more-transmissible delta variant might make them, or their loved ones, sick.
Red Sox' Kiké Hernández out indefinitely after testing positive for COVID-19 — 5:34 p.m.
By Peter Abraham, Globe Staff
The Red Sox will be without Kiké Hernández indefinitely after the super utility player tested positive for COVID-19 on Friday.
Another utility player, Christian Arroyo, was deemed a close contact of Hernández's and will miss at least this weekend's series against the Cleveland Indians.
Hernández, who told reporters in April that he had been vaccinated, has a breakthrough case. Manager Alex Cora said Hernández is experiencing symptoms.
"They will be out for an extended period of time," Cora said.
More big-name Boston companies delay their return to the office until January — 5:29 p.m.
By Jon Chesto, Globe Staff
Add insurers John Hancock, Tufts Health Plan and Harvard Pilgrim Health Care to the growing list of white-collar employers postponing their return-to-office plans because of rising COVID-19 case counts.
John Hancock, a life insurance and investment arm of Manulife Financial Corp., had planned to reopen its Back Bay headquarters on a voluntary basis on Sept. 20. But on Friday, president Marianne Harrison told John Hancock's 5,000 US employees, including 3,500 in Massachusetts, that the company is pushing that reopening back until January 2022.
Only essential workers will be allowed in offices in Atlanta, Boston, and Tempe, Ariz., for the rest of 2021. The company eventually will adopt more of a hybrid model, with many workers coming in three days a week while working remotely the other two. John Hancock has encouraged office staff to take COVID-19 vaccines, but has not required it.
1,591 confirmed cases, 6 deaths, and 11,953 vaccinations. See today's COVID-19 data from Mass. — 5:08 p.m.
By Peter Bailey-Wells, Ryan Huddle, Daigo Fujiwara, and Amanda Kaufman, Globe Staff
Massachusetts on Friday reported 1,591 new confirmed coronavirus cases, 6 new confirmed coronavirus deaths, and another 11,953 vaccinations administered, the Department of Public Health said.
The state also reported that 572 patients with COVID-19 were in the hospital.
N.H. representatives push for border to reopen to vaccinated Canadians — 4:56 p.m.
By The Associated Press
New Hampshire's congressional delegation is pressing the Biden administration to reopen the U.S.-Canada border to vaccinated Canadians, saying businesses in the state are hurting from a ban on nonessential travel.
The U.S. government recently extended the ban to slow the spread of COVID-19, until at least Sept. 21. Canada opened its side of the border to vaccinated U.S. travelers Aug. 9.
U.S. Sens. Jeanne Shaheen and Maggie Hassan and U.S. Reps. Annie Kuster and Chris Pappas met Thursday with representatives from the U.S. Department of Homeland Security, the Canadian Consul in Boston, and state business leaders to discuss the effects of the ban.
"Our businesses and tourism sector are feeling the economic impact, which they already can't afford as they fight to get their feet back on the ground following the financial fallout from the pandemic," Shaheen said in a statement. "I understand the serious challenges posed by the rapid spread of the Delta variant and the urgent need to keep people safe, but we also know this is vastly due to an epidemic spurred by the unvaccinated. These are difficult decisions, but I believe there is a responsible way to get this done."
Hassan said she does not see the reason for extending the border closure even longer, when Canadian vaccination rates "exceed our own, and while Canada is willing and able to admit U.S. visitors."
The travel restrictions have been in place since early in the pandemic in March 2020 and repeatedly extended while allowing commercial traffic and essential crossings to continue.
Jesse Jackson moves to rehab hospital, wife in ICU for COVID — 4:45 p.m.
By The Associated Press
The Rev. Jesse Jackson has been transferred to a hospital focused on physical rehabilitation after receiving treatment for a breakthrough COVID-19 infection while his wife, Jacqueline, has been moved to an intensive care unit, according to a family statement released Friday.
Jonathan Jackson, one of the couple's five children, said that his father's COVID-19 symptoms are abating.
Jackson has Parkinson's disease and Jonathan Jackson said he will receive "intensive occupational and physical therapy" at The Shirley Ryan AbilityLab in Chicago.
Jacqueline Jackson is not on a ventilator but is receiving increased oxygen in the ICU at Northwestern Memorial Hospital, Jonathan Jackson said.
"Both of our parents are continuing to receive excellent medical care," he said. "We urge that you continue to keep them in your prayers because we know this is a serious disease."
Kraft Heinz to require vaccines for office employees by January — 4:07 p.m.
By Bloomberg
Kraft Heinz Co. will require all U.S. office-based employees to be fully vaccinated prior to returning to the office in January, unless they have obtained a health-related or religious accommodation.
"We decided to take this step after listening to employees that a fully vaccinated workplace would increase their confidence in returning to the office," a company spokesperson told Bloomberg News in an emailed statement. The mandate doesn't apply to manufacturing workers, though Kraft Heinz said it's encouraging vaccinations and has "stringent health and safety protocols" at its plants.
The company's offices will be open in September for vaccinated employees that choose to come in, but all workers are expected to return in January. Kraft Heinz joins a growing list of major companies mandating vaccination for office employees, including Facebook Inc., Microsoft Corp. and Walmart Inc.
US intelligence still divided on origins of coronavirus — 3:45 p.m.
By The Associated Press
U.S. intelligence agencies remain divided on the origins of the coronavirus but believe China's leaders did not know about the virus before the start of the global pandemic, according to results released Friday of a review ordered by President Joe Biden.
Alaska is dealing with a surge in COVID-19 cases — 3:20 p.m.
By The Associated Press
Alaska this week reported its highest daily number of confirmed resident COVID-19 cases this year as health officials struggle to keep pace with testing and contact tracing. And hospitals are juggling a surge in hospitalizations with staff shortages and admissions for other conditions.
The Anchorage Daily News reports that Gov. Mike Dunleavy and members of his administration on Thursday announced plans aimed at increasing hospital staffing to help with COVID-19 cases.
The measures include speeding the licensing process for health care workers and seeking federal contracts for more workers. Alaska reported 701 resident COVID-19 cases on Thursday. That's one the highest daily infection rates since the pandemic started.
Chicago officials accuse DoorDash, Grub Hub of misleading restaurants, customers during pandemic — 3:17 p.m.
By The Associated Press
Chicago officials on Friday accused DoorDash and GrubHub of harming the city's restaurants and their customers by charging high fees and through other deceptive practices when delivery and takeout business became essential to the industry during the COVID-19 pandemic.
The city officials believe their lawsuits against the delivery companies are the most sweeping of their kind brought by a city.
"It is deeply concerning and unfortunate that these companies broke the law during these incredibly difficult times, using unfair and deceptive tactics to take advantage of restaurants and consumers who were struggling to stay afloat," Mayor Lori Lightfoot said in a statement.
Representatives for the two companies called the lawsuits filed Friday in Cook County Circuit Court "baseless."
NBA says those around players, refs must be vaccinated — 3:15 p.m.
By The Associated Press
All NBA team personnel who will be near players and referees must be fully vaccinated against the coronavirus this season, the league told its clubs in a memo on Friday.
It essentially covers anyone who will travel with teams, be around the bench areas, have access to home, visiting and referee locker rooms and those working at the scorer's table. The league also said in the memo, a copy of which was obtained by The Associated Press, that the policy may be updated when federal agencies release "expected guidance related to booster shots."
Team personnel will need to be fully vaccinated by Oct. 1; game-day personnel by the time of a team's first home preseason game, which means early October.
Among the groups of personnel required to have vaccinations: coaches, medical and performance staff, equipment staff, front office members, team and arena security, media relations, social media producers, facility operations workers and more.
The NBA said exemptions will be made in the cases of unionized workers who cannot be forced to be vaccinated, and for those with religious or documented medical reasons.
Those not fully vaccinated, the NBA said, "will be prohibited from having in-person interaction with, or being within 15 feet of, any player or referee." They would also not be permitted to travel with teams and would have to wear face masks at all times inside team facilities.
Training camps for all 30 NBA clubs begin in late September, with preseason games in early October and the start of regular-season play Oct. 19.
Hawaii considering lockdown as visitors continue to fly there amid surge — 3:15 p.m.
By The Associated Press
As visitors continue to fly to Hawaii and locals go about their business, state officials say the islands may need to go into lockdown if a surge in COVID-19 delta variant cases continue to rise.
County mayors are asking for more restrictions, and Gov. David Ige told Hawaii News Now on Thursday that strict mandates are being considered.
If case counts continue to rise "and we push the hospitals across that line then we will have to go to more extreme measures, lockdowns and potentially shutting businesses," Ige said.
Hawaii has had nearly 16,000 new infections in August amid a spike of cases that has repeatedly broken state records. Earlier this week, Ige asked that tourists stop coming to the islands, but stopped short of enacting any formal restrictions on travel.
Big Island Mayor Mitch Roth is expected to make an announcement Friday about new rules. The island recently postponed the Ironman World Championship that was slated to be held in Kailua-Kona in October.
Maui Mayor Michael Victorino is waiting for state approval for his newly proposed restrictions.
Victorino is asking residents to only do essential activities and is requesting that visitors voluntarily stay at their resorts and not visit the remote Hana coastline.
Canada approves Moderna for young teens — 2:55 p.m.
By Bloomberg
Canada has approved the use of Moderna Inc.'s vaccine for people 12 and over. Previously only the Moderna vaccine was approved for adults in Canada. Pfizer Inc.'s vaccine is already approved for those 12 and over in country.
Judge tosses case over UMass Boston, Lowell vaccine mandates — 2:30 p.m.
By The Associated Press
A federal judge on Friday dismissed a lawsuit challenging a requirement that students at the University of Massachusetts campuses in Boston and Lowell be fully vaccinated against the coronavirus in order to return to campus.
Students at the schools sued in July, asking the judge to find the vaccination mandates to be unconstitutional. The UMass Boston student also alleged she was improperly denied a religious exemption.
U.S. District Judge Denise Casper said the schools have a strong interest in reducing the spread of the disease. And she found that despite the students' assertion that the policy is "arbitrary or not based in science," the schools "based the decision upon both medical and scientific evidence and research and guidance and thus is at least rationally related to these legitimate interests."
The judge also noted that students who refuse to get vaccinated may still take online classes or defer their enrollment a semester. But even if the policy meant they would be deprived of a UMass education, their argument still fails, she said.
"Moreover, the balance of equities tips in Defendants' favor given the strong public interest here that they are promoting—preventing further spread of COVID-19 on campus, a virus which has infected and taken the lives of thousands of Massachusetts residents," she wrote.
Cases spike, Liberty University to quarantine — 2:23 p.m.
By The Associated Press
Liberty University announced a temporary campus-wide quarantine Thursday amid a spike in COVID-19 cases.
News outlets report that the quarantine is set to begin Monday and last until Sept. 10. The university's online COVID-19 dashboard showed 159 known active cases among students, faculty and staff as of Wednesday.
As the fall semester began this week, the university, which doesn't require vaccination, lifted building capacity restrictions and distancing and masking requirements. The protocol changed late Thursday with the announcement of the campus-wide quarantine, moving classes online and suspending large indoor gatherings.
The university will encourage masking and social distancing and host vaccine clinics on campus, but it didn't indicate it would mandate those measures.
Outdoor events will continue as scheduled. Worship services will move to the stadium.
Two new studies look at COVID safety in schools — 1:40 p.m.
By The Associated Press
U.S. health officials say two new studies from California provide more evidence that schools can open safely if they do the right things.
One looked at COVID-19 cases in Los Angeles County. It found that during the winter pandemic peak, case rates in children and adolescents were about 3 ½ times lower than rates in the community. Officials say that's because schools followed CDC guidance on masking, physical distancing, testing and other virus measures.
The second study pointed to what can happen if even one person does not follow guidelines. It focused on an outbreak at a Marin County school in May. One unvaccinated teacher got sick but taught for two days after showing symptoms, and she took off her mask to read to her class. Investigators said 26 other people were infected.
Dr. Rochelle Walensky, director of the Centers for Disease Control and Prevention, discussed the studies Friday during a White House press briefing.
The studies looked at things that happened months ago, before the current surge of the delta variant. It spreads more easily from person to person than previous versions of the coronavirus. Walensky said there is no plan to change the agency's school guidance, even with recently increasing cases and hospitalizations of children.
"Most of the places where we are seeing surges and outbreaks are in places that are not implementing our current guidance," Walensky said.
Rhode Island's largest health insurer will require all employees to get vaccinated against COVID-19 — 12:58 p.m.
By Alexa Gagosz, Globe Staff
The state's largest health insurer, Blue Cross & Blue Shield of Rhode Island, is now requiring all of its employees to get vaccinated against COVID-19.
BCBSRI is one of Rhode Island's largest employers. All employees will have to meet the company's Nov. 1 deadline to submit proof of vaccination for COVID-19 or apply for a medical or religious exemption.
"We are in challenging times that I believe require all of us to take strong actions to protect public health," said BCBSRI President and CEO Martha Wofford.
Biden says boosters may begin earlier; 5 months after second dose — 12:22 p.m.
By Bloomberg
President Joe Biden said his administration is considering starting booster shots of the coronavirus vaccine for people as soon as 5 months after they receive their second dose, possibly accelerating the plan for shots 8 months after full vaccination.
Biden, speaking Friday during an Oval Office meeting with Israeli Prime Minister Naftali Bennett, said he talked with infectious disease expert Anthony Fauci about the possible change earlier in the day.
Biden's senior health team announced a plan this month for any adult to get a booster, beginning Sept. 20, if it's been eight months since their second shot of either the Pfizer Inc.-BioNTech SE or Moderna Inc. vaccines. That plan is still subject to authorization by the Food and Drug Administration.
They cited two broad trends -- warning signs that vaccine efficacy was waning over time, and that it's weaker against the delta variant.
Biden's team announced the boosters relying in substantial part on data from Israel, though some health experts say it's not yet clear if they're needed for all adults, including the young and healthy. Biden said that Israel is urging them to narrow their timeline.
Fauci leads the National Institute of Allergy and Infectious Diseases and is also a senior medical adviser to Biden.
Judge says Florida school districts may impose mask mandates; rules Governor DeSantis overstepped his authority — 12:18 p.m.
By The Associated Press
School districts in Florida may impose mask mandates, a judge said Friday, ruling that Gov. Ron DeSantis overstepped his authority by issuing an executive order banning the mandates.
Leon County Circuit Judge John C. Cooper agreed with a group of parents who claimed in a lawsuit that DeSantis' order is unconstitutional and cannot be enforced. The governor's order gave parents the sole right to decide if their child wears a mask at school.
Cooper said DeSantis' order "is without legal authority."
His decision came after a three-day virtual hearing, and after at least 10 Florida school boards voted to defy DeSantis and impose mask requirements with no parental opt-out.
Boston College to require fans to show proof of COVID vaccination or negative test — 12:14 p.m.
By Andrew Mahoney, Globe Staff
Boston College will require fans at Alumni Stadium and other venues on campus to show proof of full COVID-19 vaccination or proof of a negative COVID-19 PCR test administered within the previous 72 hours, the school announced Friday.
The school requires faculty, staff, and students to be fully vaccinated, and as of Friday 99% of all undergraduate students and faculty and staff have been vaccinated.
Arizona has had more than 1M coronavirus cases — 12:07 p.m.
By The Associated Press
Arizona has now had more than 1 million confirmed coronavirus infection cases.
State health officials on Friday reported 3,707 additional COVID-19 cases, putting the state beyond the grim milestone.
Arizona is the 13th U.S. state to hit that level of cases after reporting its first case in January of last year. Arizona is 13th in the country in cases per 100,000 people.
Arizona on Friday also reported 63 more COVID-19 deaths. Hospitals and public health officials are urging people to wear masks and get vaccinated amid debates and court fights over requiring shots and mask wearing.
Nebraska limits elective surgery — 11:57 a.m.
By Bloomberg
Facing hospital staff shortages aggravated by Covid-19, Nebraska is limiting elective surgeries that can be delayed four or more weeks and easing some personnel licensing requirements, the Omaha World-Herald reports.
Governor Pete Ricketts, a Republican, said the declaration isn't specific to Covid-19 and that hospital staffing "was a challenge we had before the pandemic."
COVID-strained Louisiana hospitals brace for hurricane Ida — 11:56 a.m.
By Bloomberg
Louisiana Children's Medical Center will put its six New Orleans-area hospitals into lockdown Sunday morning in anticipation of a storm that's forecast to become Hurricane Ida.
Ida is headed toward New Orleans just as Louisiana and surrounding states buckle under rising Covid-19 infections and hospitalizations.
Louisiana currently has more than 2,700 Covid patients in hospitals, according to the state's department of health. Meanwhile, Ida's top winds could reach 115 miles (185.07 kilometers) per hour when it comes ashore and small towns on the U.S. Gulf coast have already told residents to evacuate.
"To have these disasters layered on top of each other is a big strain," said Kevin Smiley, a professor at Louisiana State University who studies disasters and health.
Italian premiere decries unequal vaccine access — 11:44 a.m.
By The Associated Press
Italian Premier Mario Draghi says the uneven global economic recovery and the "grossly unequal" access to COVID-19 vaccines, especially in Africa, are making it harder to end the pandemic.
Draghi on Friday remotely addressed a meeting of the G-20 Compact with Africa. That's an initiative begun in 2017 under the then-German presidency of the G-20, to promote private investment, particularly in infrastructure, in Africa.
Draghi noted that close to 60% of the population of high-income countries have received at least one dose of the vaccine, while in low-income nations, only 1.4% have.
"The global economy is just as uneven,'' said Draghi, a former European Central Bank chief. He pointed out that emerging market and low-income countries have spent a far lower percentage of their GDP to boost growth after the pandemic's economic shock.
"We must do more – much more – to help the countries that are most in need," said Draghi.
The COVAX program in which wealthier nations provide COVID-19 vaccines to countries which haven't been able to obtain them has so far shipped close to 210 million vaccines, while another initiative, the Africa Vaccine Acquisition Task Team is about to distribute 400 million vaccines on that continent.
"Those figures must be only a start,'' said Draghi.
Wyoming judge cuts fines by $200 for defendants who present vaccine proof — 11:32 a.m.
By Bloomberg
Justice takes many forms and a judge in Wyoming is knocking up to $200 off traffic fines and other court fees for defendants who present proof they've been vaccinated against Covid-19.
"It's just another form of community service," Natrona County Circuit Court Judge Steven Brown tells the Casper Star-Tribune. "You can go down and clean dog poop at the shelter or something, but in the big picture we need to get COVID under control … we'll be better off if people go get that shot."
The judge offered a woman making an initial appearance this week $200 off a $560 fine if she got vaccinated within 30 days and presented proof at the courthouse, the newspaper reports.
Arkansas schools have 3,100 active COVID cases — 11:25 a.m.
By The Associated Press
More than 3,100 active coronavirus cases have been reported in Arkansas public schools among students and employees, according to newly released numbers from the state.
Most students returned to the classroom last week — and the majority of public school students attend districts that are requiring masks. The mask requirements emerged after a judge in Little Rock temporarily blocked a state law that bans mask mandates in schools and public places.
The Arkansas Department of Health's latest report on schools, released Thursday, found 3,102 active cases in 173 school districts in the state. The Bentonville, Springdale, Rogers, Cabot and Fort Smith districts all reported more than 100 active cases among students, faculty and staff.
A week ago, the state reported just under 1,800 active cases at schools.
Meanwhile, a judge in Lonoke County was expected to rule Friday on a lawsuit by some parents challenging Cabot schools' mask requirement. Arkansas ranks fifth in the country for new virus cases per capita, according to researchers at Johns Hopkins University.
Scientists warn COVID set to grow exponentially in UK schools — 10:57 a.m.
By Bloomberg
The U.K. government's scientific advisers said Covid-19 cases are likely to rise exponentially among children when schools resume next month after the summer holidays.
Most U.K. children haven't been vaccinated against coronavirus and it would be "sensible" for the government to plan for "high prevalence" in schools by the end of September, according to a document dated Aug. 11 that was released on Friday by the government's Scientific Advisory Group for Emergencies.
"It is highly likely that exponential increases will be seen in school-attending age groups after schools open," the scientists wrote in the document.
Even though the bulk of U.K. adults have now been vaccinated, cases remain high, with more than 38,000 new positives registered yesterday, and almost 240,000 in the past week.
Children are the people least protected against the virus in the U.K., because vaccinations have only recently been authorized for 16 to 17-year olds, while 12 to 15-year-olds can only get a vaccination if they have certain health conditions or live with someone who is immuno-compromised.
Vaccination will "have made almost no difference" to children over the summer, the scientists said. They also said the role of schools in driving Covid transmission in the wider community "remains uncertain."
City of Cambridge issues emergency order requiring use of face masks in indoor public places — 10:53 a.m.
By Maria Elena Little Endara, Globe Correspondent
The City of Cambridge announced Friday it was issuing an emergency order requiring that face masks or coverings be worn in indoor public places.
The order takes effect at 8:00 a.m. on Friday, Sept. 3 for everyone over the age of two.
In a press release sent out by the city, the order comes as COVID cases continue to increase in Cambridge and neighboring communities.
COVID vaccination site opens for arriving Afghans — 10:53 a.m.
By The Associated Press
The U.S. government has launched a mass COVID-19 vaccination site for arriving Afghans near Dulles International Airport, where thousands fleeing the Taliban are now arriving daily, a senior administration official said Friday.
The site was set up by the Federal Emergency Management Agency and already has begun administering vaccinations to the Afghan evacuees. The official, who was not authorized to comment publicly and spoke on the condition of anonymity, said that a second mass vaccination site is expected to be launched in the coming days for evacuees who will be arriving at the Philadelphia International Airport.
The White House announced earlier this week that it was working to provide vaccinations to medically eligible evacuees upon arrival in the U.S.
Biden administration officials were intent on making sure that evacuees are vaccinated as soon as possible after arriving in the country and decided setting up a vaccination site at Dulles Expo Center — where many of the arriving evacuees are receiving medical screenings and being temporarily housed before being transferred to military bases in New Jersey, Virginia, Wisconsin, and Texas — was the most efficient way.
The shots — the single dose Johnson & Johnson vaccine — are being administered by the National Disaster Medical System team, and State Department translators are on hand at the site to answer questions about the shots.
Evacuees are also tested for the virus upon arrival and quarantined if they test positive. The official said data was not available on how many of the evacuees, many who were tested prior to leaving Kabul, have tested positive for the virus since arriving in the U.S.
Vermont Corrections reinstates mask directive; reports 7 new cases — 10:19 a.m.
By The Associated Press
The Vermont Department of Corrections is reporting seven new cases of COVID-19 among staff and one inmate.
An inmate with symptoms at the Northern State Correctional Facility in Newport tested positive on Monday and four staff members tested positive the following day in scheduled surveillance testing, the department said late Thursday.
An employee at Marble Valley Regional Correctional Facility in Rutland and one at Northwest State Correctional Facility in St. Albans also tested positive on Tuesday.
The Newport inmate lives in the general population unit where a staff member who tested positive worked, the department said. The facility is in full lockdown and the unit is under quarantine. The inmate, employee and three other inmates with symptoms who are awaiting test results have been moved into isolation, the department said. The prison staff and population will be tested on Friday.
The department has reinstated the mandatory mask directive for staff and inmates at all facilities and stopped outside visitation at facilities with positive cases. There are COVID-19 cases at five of the state's six facilities.
The department provides updates on the status in the state's correctional facilities on a COVID-19 information page its website.
Scotland reports record COVID infections — 10:01 a.m.
By Bloomberg
Scotland reported a record number of daily coronavirus infections after restrictions were lifted and schools reopened.
There were 6,835 cases in the past 24 hours, more than at any time since the pandemic began and twice the number a week ago, First Minister Nicola Sturgeon said at a briefing on Friday.
One third of new cases in Scotland are among those people who are vaccinated, she said. The numbers don't bode well for the rest of the U.K. as the bulk of school pupils in England prepare to return early next month.
Calls grow to discipline doctors spreading virus misinformation — 9:37 a.m.
By The New York Times
Standing before a local school board in central Indiana this month, Dr. Daniel Stock, a physician in the state, issued a litany of false claims about the coronavirus. He proclaimed that the recent surge in cases showed that the vaccines were ineffective, that people were better off with a cocktail of drugs and supplements to prevent hospitalization from the virus, and that masks did not help prevent the spread of infection.
His appearance has since become one of the most-viewed videos of coronavirus misinformation. The videos — several versions are available online — have amassed nearly 100 million likes and shares on Facebook, 6.2 million views on Twitter, at least 2.8 million views on YouTube and over 940,000 video views on Instagram.
South Africa gets more vaccines from US amid ongoing surge — 9:22 a.m.
By The Associated Press
South Africa will this weekend receive 2.2 million Pfizer-BioNTech vaccine doses donated by the United States to add to the 5.6 million doses it received from the U.S. in July.
The new doses come as the country continues to battle an extended resurgence of COVID-19 infections and is racing to vaccinate 67% of its 60 million people by February next year.
They are expected to be delivered on Saturday, South African Health Minister Joe Phaahla said during a weekly COVID-19 briefing.
South Africa has already purchased 40 million doses of the Pfizer-BioNTech vaccine. The country has also bought 31 million doses of the Johnson & Johnson vaccine, which are being delivered in large shipments from overseas and from a manufacturing plant in South Africa.
South Africa has fully vaccinated more than 5.4 million people with the one-shot Johnson & Johnson vaccine and the two-dose Pfizer vaccine and has administered more than 11 million vaccine doses, Phaahla said Friday.
Dartmouth-Hitchcock restricts visitors, resumes COVID tests — 8:45 a.m.
By The Associated Press
Dartmouth-Hitchcock Medical Center has gone back to a more restrictive visitor policy and has resumed COVID-19 testing for patients being admitted.
The changes took effect Wednesday, "in the interest of continuing to protect the health and safety of patients and Dartmouth-Hitchcock staff, and our communities," the center said in a news release. It said the policies are a result of "substantial levels of statewide community transmission of COVID-19."
Under the revised visitor policy, adult inpatients are allowed one visitor per day. Pediatric inpatients are permitted to have two caregivers, who can't be changed once they are designated. For outpatient visits, both adults and children are permitted one caregiver. Two caregivers are allowed for newborn/infant appointments.
The center said for births, two adult support people are permitted during the entire stay: before, during and after the birth. Two adult support people may spend the night during labor and deliver, and one adult support person may stay overnight before and after the birth. These designated people cannot change.
The center also will resume COVID-19 testing for any patient being admitted to the hospital, regardless of vaccination status, and prior to surgical procedures in select circumstances.
Wife hospitalized for COVID in Florida gets home to find husband dead from the same virus — 8:38 a.m.
By The Washington Post
Lisa Steadman could not wait to go home to her husband.
The nail technician had spent more than a week in a Central Florida hospital recovering from a serious case of the coronavirus while Ronald Steadman, who had also contracted covid-19, battled a milder case from home.
During many of their check-in phone calls, she relayed to him how scared she was of dying alone in the hospital. Her health was improving and so was his, he reassured her. Soon, they'd be back together at the Winter Haven, Fla., home they were in the middle of renovating.
But Ronald, 55, did not appear to be home when Lisa returned on Aug. 11.
New China vaccine shows 82% effectiveness against serious COVID — 8:29 a.m.
By Bloomberg
A vaccine from China's Chongqing Zhifei Biological Products Co. showed 82% effectiveness against serious Covid-19 infections, boosting the country's efforts to immunize its vast population.
In late-stage clinical trials, the vaccine -- dubbed ZF2001 -- has been shown as 92.93% effective against the alpha variant and almost 78% against the more-infectious delta version, the company said in an exchange filing Friday. It did not say if those two figures were just for serious illness or all symptomatic infections including mild cases.
None of the people who received the shot entered critical care or died, it said. The results were based on an interim analysis of 221 number of infections in the study of 28,500 people.
Zhifei's shot is the fifth developed inside China that has been validated in a large clinical trials done in places still battling outbreaks. The vaccine was co-developed with the Institute of Microbiology at the Chinese Academy of Sciences, the country's top scientific research organ, and the efficacy against alpha variant appears to be one of the highest among all Chinese Covid-19 vaccines so far.
A farmer couldn't go to his aunt's funeral because of COVID. So he used sheep to send a heart-shaped message — 8:24 a.m.
By The Washington Post
As a sheep farmer, Ben Jackson had created art with his livestock in the past. During droughts, he would trail-feed his sheep by dropping grain out of the back of a truck. After doing that twice a day for months on end, "the brain and the soul get very crushed."
To make the task more interesting, Jackson started laying the grain in the form of patterns and words. The sheep were trained to find the barley and would stick around to eat for about five minutes before wandering off. He started catching their actions from above using a drone and would share the videos on Instagram.
He had not posted much sheep art lately, but when his aunt died, Jackson said he had "a thunderbolt moment."
Denmark lowers COVID threat, citing vaccinations — 6:34 a.m.
By The Associated Press
The Danish government will no longer consider COVID-19 as "a socially critical disease in Denmark," citing the large number of vaccinations in the Scandinavian country.
"The epidemic is under control. We have record high vaccination rates," said Health Minister Magnus Heunicke in a statement Friday.
Starting Sept. 10, "We can drop some of the special rules we had to introduce in the fight against COVID-19," he said.
In practice, that will mean partially phasing out vaccination card requirements for some major events, like concerts, and in night clubs. On July 1, Denmark introduced a digital coronavirus passport that had to be shown when required.
"Although we stand in a good spot, we are not out of the epidemic. And the government will not hesitate to act quickly if the pandemic again threatens important functions in our society," he added.
On Thursday, Heunicke said that 80% of all people over the age of 12 in Denmark have been vaccinated. Getting the shot in Denmark is voluntary and is available to people aged 12 years and older.
Leominster woman and Conway teen are final VaxMillions winners — 5:37 a.m.
By Andrew Brinker, Globe Correspondent
A Leominster woman and a high school sophomore from Conway are the final winners of the state's high-stakes VaxMillions lottery, which aimed to boost vaccination rates by offering fully inoculated residents the chance at cash prizes.
Cynthia Thirath, of Leominster, claimed the final $1 million prize, and Gretchen Selva, a student at Four River Charter Public School in Greenfield, took home the last $300,000 scholarship, the state announced in a statement Thursday.
Thirath said she plans to use the funds to "invest in her future."
Previous COVID prevents Delta infection better than Pfizer shot, analysis finds — 3:10 a.m.
By Bloomberg News
People who recovered from a bout of COVID-19 during one of the earlier waves of the pandemic appear to have a lower risk of contracting the delta variant than those who got two doses of the vaccine from Pfizer Inc. and BioNTech.
The largest real-world analysis comparing natural immunity -- gained from an earlier infection -- to the protection provided by one of the most potent vaccines currently in use showed that reinfections were much less common. The paper from researchers in Israel contrasts with earlier studies, which showed that immunizations offered better protection than an earlier infection, though those studies were not of the delta variant.
COVID-19 surge pummels Hawaii and its native population — 1:05 a.m.
By The Associated Press
Kuulei Perreira-Keawekane could barely breathe when she went to a Hawaii emergency room. Nausea made it difficult for her to stand and her body throbbed with pain.
Like many Native Hawaiians, she was not vaccinated against COVID-19.
Perreira-Keawekane's situation highlights the COVID-19 crisis that is gripping Hawaii as hospitals are overflowing with a record number of patients, vaccinations are stagnating, and Hawaiians are experiencing a disproportionate share of the suffering.
Hawaii was once seen as a beacon of safety during the pandemic because of stringent travel and quarantine restrictions and overall vaccine acceptance that made it one of the most inoculated states in the country. But the highly contagious delta variant exploited weaknesses as residents let down their guard and attended family gatherings after months of restrictions and vaccine hesitancy lingered in some Hawaiian communities.
Read more
New Zealand extends virus lockdown — 12:04 a.m.
By The Associated Press
New Zealand's government has extended a strict nationwide lockdown through Tuesday as it tries to quash its first outbreak of the coronavirus in six months.
Prime Minister Jacinda Ardern said Friday the government expects to keep Auckland, where most of the cases have been found, in full lockdown for at least two more weeks. But she expects most other parts of the country can ease restrictions slightly from Wednesday.
The announcement came as health authorities reported 70 new daily cases, the most yet in the outbreak, which has grown to nearly 350 cases in total. Ardern said there was evidence the lockdown was working and new case numbers were beginning to level off. She said she remained committed to the strategy of eliminating the virus entirely.
  August 26, 2021  
Gaming commission adopts vax requirement, work model — 11:58 p.m.
By State House New Service
All employees of the Massachusetts Gaming Commission will be required to be fully vaccinated by Oct. 27, under a policy adopted Thursday to put the agency in line with requirements set forth by Governor Charlie Baker and Attorney General Maura Healey for the state employees they oversee.
The commission voted unanimously to give its employees two weeks, until Sept. 9, to either show proof of vaccination, to schedule a vaccine appointment or to request an exemption on religious or medical grounds.
"I absolutely think given the state of affairs this is the way to go," commissioner Eileen O'Brien said.
Facing its worst virus surge, Oregon adopts nation's toughest restrictions — 10:28 p.m.
By New York Times
Facing a 990% increase in coronavirus hospitalizations since July 9, Oregon leaders have deployed the National Guard to hospitals, dispatched crisis teams to the hardest-hit regions of the state and ordered educators and health care workers to get vaccinated or lose their jobs.
Now, in her latest mandate that will take effect Friday, Gov. Kate Brown has gone beyond what any other state has done in battling the summer surge, requiring that both vaccinated and unvaccinated people wear masks when gathering closely in public, even when outdoors. She said more restrictions might be needed as the coming days unfold and the state tries to keep in-person schooling on track.
Study: Half of COVID patients had lingering symptoms one year later — 9:59 p.m.
By New York Times
One year after becoming ill with the coronavirus, nearly half of patients in a large new study were still experiencing at least one lingering health symptom, adding to evidence that recovery from COVID-19 can be arduous and that the multifaceted condition known as "long COVID" can last for months.
The study, published Thursday in the journal Lancet, is believed to be the largest to date in which patients were evaluated one year after being hospitalized for COVID. It involved 1,276 patients admitted to Jin Yin-tan Hospital in Wuhan, China, who were discharged between Jan. 7 and May 29, 2020.
Supreme Court allows evictions to resume during pandemic — 9:40 p.m.
By The Associated Press
The Supreme Court's conservative majority is allowing evictions to resume across the United States, blocking the Biden administration from enforcing a temporary ban that was put in place because of the coronavirus pandemic.
The court's action late Thursday ends protections for roughly 3.5 million people in the United States who said they faced eviction in the next two months, according to Census Bureau data from early August.
The court said in an unsigned opinion that the Centers for Disease Control and Prevention, which reimposed the moratorium Aug. 3, lacked the authority to do so under federal law without explicit congressional authorization. The justices rejected the administration's arguments in support of the CDC's authority.
'Window is rapidly closing' to gather evidence on virus' origins, scientists say — 9:04 p.m.
By New York Times
Experts studying the origins of the coronavirus for the World Health Organization warned Wednesday that the inquiry had "stalled" and that further delays could make it impossible to recover crucial evidence about the beginning of the pandemic.
"The window is rapidly closing on the biological feasibility of conducting the critical trace-back of people and animals inside and outside China," the experts wrote in an editorial in the journal Nature. Several studies of blood samples and wildlife farms in China were urgently needed to understand how COVID-19 emerged, they said.
Titans' outbreak now at 9; QB Ryan Tannehill on COVID list — 7:20 p.m.
By Associated Press
NASHVILLE — Tennessee general manager Jon Robinson made a plea Thursday for people to get the "life-saving" COVID-19 vaccination as the Titans' virus outbreak grew to nine including quarterback Ryan Tannehill.
"We've had two people that I know personally that have lost loved ones over the last couple of days to COVID from symptoms and complications," Robinson said. "And it's a lifesaving vaccine."
Robinson said Tannehill, tight end Geoff Swaim and linebacker Justin March-Lillard joined four other players on the reserve/COVID-19 list. Tannehill practiced Tuesday and talked to reporters afterward.
That makes three Titans starters out. Coach Mike Vrabel revealed Thursday afternoon on a Zoom session with reporters that special teams coordinator Craig Aukerman also has been affected, missing the past two days of work, and likely missing Saturday night's preseason finale against Chicago (1-1).
Virus death toll in Conn. grows by 25, largest weekly rise in months — 5:50 p.m.
By Associated Press
HARTFORD — Gov. Ned Lamont's office added 25 more people to Connecticut's COVID-19 death toll on Thursday, the largest weekly rise in pandemic-related deaths since mid-May.
The state in early July switched from reporting COVID-19 deaths on a daily basis to sending out weekly numbers. But an analysis of data by The Associated Press shows the state has not reported 25 deaths during a Friday to Thursday period since recording 40 between May 14 and May 20. There were 22 deaths reported the following week.
The state added 23 deaths to its list last Thursday. The latest deaths bring the state's total during the pandemic to 8,355, according to the governor's office.
The seven-day rolling average of daily deaths in Connecticut has risen over the past two weeks from 0.71 deaths per day on Aug. 10 to five deaths per day on Aug. 24, according to data from Johns Hopkins University.
Janey says Boston's COVID cases have stabilized in last week — 5:10 p.m.
By Daniel McDonald, Globe Staff
On the eve of an indoor mask mandate taking effect in Boston, Acting Mayor Kim Janey said COVID-19 cases and positivity rate leveled off during the past week, following a period where such metrics ticked upward as the city battled the Delta variant.
"After weeks of increases, we have seen our cases and positivity stabilize during the last week," said Janey at a Thursday City Hall news conference.
Janey said the most recent 7-day average for COVID hospitalizations in the city is 93, well below the 126 average in May when the city reopened and below the city's threshold of concern.
About 61 percent of Boston residents are full vaccinated. The city's novel coronavirus caseload has topped 75,000, which includes more than 1,400 deaths. On Thursday, Janey encouraged city residents to get the vaccine, and said city authorities continue to boost vaccine access in neighborhoods hardest hit by the virus.
UPS delivers first COVID-19 vaccines by drone — 4:55 p.m.
By New York Times
ATLANTA — UPS said it has started making its first COVID-19 vaccine deliveries by drone.
UPS Flight Forward is making deliveries on the campus of Atrium Health Wake Forest Baptist in Winston-Salem, N.C. The drones open up the prospect of a quicker way to deliver sensitive medical shipments, such as to remote or rural areas.
The hospital ships the vaccines by drone from its central pharmacy to family medicine practices on its medical center campus. Drone operators inspect the Matternet M2 drone before takeoff and scan the airspace for air traffic.
The drones carry temperature-monitoring devices that operate with alkaline and lithium batteries that required Federal Aviation Administration safety approvals.
Latest COVID surge is slowing job applications, fed survey shows — 4:02 p.m.
By Bloomberg
The recent spike in Covid-19 cases may be deterring U.S. job-seekers, according to a new study by the Federal Reserve Bank of Kansas City.
In its August Manufacturing Survey, published today, the Kansas City Fed asked firms how the latest resurgence of the virus is affecting employment. Almost 60% of respondents said there's been a drop in the number of applicants per job since May, while only 14% reported an increase.
More than one-third of manufacturers said the rate of workers quitting has increased in the past few months. More than a quarter of employees who left their jobs did so because they were retiring, the survey said -- echoing other studies that have found a jump in early retirements due to the pandemic.
The Kansas City Fed's district covers the states of Colorado, Kansas, Nebraska, Oklahoma and Wyoming, as well as western Missouri and northern New Mexico.
CVS limits purchase of home COVID tests — 3:41 p.m.
By Bloomberg
CVS Health Corp. is limiting customers' purchases of rapid, over-the-counter Covid-19 tests, with a maximum of six packages available online and four in its pharmacies, as the spread of the delta variant spurs demand.
Put in place this week, the limits apply to Abbott Laboratories's BinaxNOW along with a test from the startup Ellume, according to an email from a company spokesperson. Both tests are available without a prescription. Abbott and Ellume didn't immediately respond to requests for comment.
Surging interest in rapid virus tests had made the products a scarce commodity at some online retailers and in certain stores.
Texas deploys 2,500 medical staff to hospitals — 3:39 p.m.
By Bloomberg
Texas Governor Greg Abbott deployed another 2,500 medical staff and equipment to health care facilities throughout the state as the hospitalization rate nears a record set in January.
The Lone Star state had 13,928 hospitalized patients on Tuesday, close to the record 14,218 set on Jan. 11, before vaccinations became more widespread. Almost half of the state's trauma service areas had fewer than five beds available in intensive care units, with four areas having run out of them altogether.
The new deployment brings the total number of additional, state-funded medical personnel to 8,100.
Russia reports daily record of 820 virus deaths — 3:02 p.m.
By The Associated Press
Russia reported a one-day record of 820 coronavirus deaths.
The national coronavirus taskforce says the number of new daily infections reached 19,630. That follows a consistent ebb since the beginning of the month when 22,800 cases were reported.
The previous record for deaths was 819 on Aug. 14.
Russia has reported more than 6.8 million confirmed cases and 179,243 confirmed deaths.
Louisiana teenager dies of COVID-19 — 2:59 p.m.
By The Associated Press
The coroner in East Baton Rouge Parish on Thursday confirmed the death of 14-year-old Patrick Sanders III from the city of Baker. Baton Rouge media report that Sanders, who died Wednesday, was a football player at Baker High School. Sanders' death came days after the state reported the death of an infant.
Children under 18 made up about 30% of cases reported Thursday in Louisiana. The state reported more than 5,100 new probable and confirmed coronavirus cases Thursday and 72 confirmed deaths.
Hospitalizations statewide stand at 2,729, down from more than 3,000 earlier this month. Vaccinations in Louisiana are increasing, with nearly 60,000 doses administered since Monday. First shots have been given to about 49% of the state's population.
Kentucky and Texas join growing list of states that have surpassed their record for hospitalized COVID patients — 2:58 p.m.
By The Associated Press
Kentucky and Texas have joined a growing list of states that have surpassed their record for hospitalized coronavirus patients.
The two states on Wednesday reported the most COVID-19 patients in their hospitals since the start of the pandemic. At least six other states -- Arkansas, Florida, Louisiana, Hawaii, Mississippi and Oregon -- have already surpassed their records amid a national surge in the virus.
The latest spike is fueled by the highly contagious delta variant of the virus among those who are unvaccinated. In areas with low vaccination rates, doctors have pleaded with their communities to get inoculated to spare overburdened hospitals. They have also sounded the alarm about the growing toll of the delta strain on children and young adults.
Nationwide, COVID-19 deaths are averaging more than 1,100 a day, the highest level since mid-March. New cases per day are averaging over 152,000, turning the clock back to the end of January.
As of this week, the number of people in the hospital with the coronavirus was around 85,000, a level not seen since early February.
McKee signs executive order to bring retired nurses back into the workforce — 2:55 p.m.
By Alexa Gagosz, Globe Staff
Governor Dan McKee announced Thursday that he signed another executive order this week that will bring retired nurses back into the workforce without affecting their pension.
Many of Rhode Island's hospitals have experienced staffing shortages throughout the pandemic, and workers at state-licensed health care facility are required to get fully vaccinated against COVID-19 by Oct.1. If they do not get vaccinated, they will not be allowed to return to work.
"Health care workers help keep people healthy. That's their job," said McKee. "We need them to be vaccinated."
Christian Pulisic uncertain for World Cup qualifying after COVID — 2:42 p.m.
By The Associated Press
Christian Pulisic's availability for the United States' opening World Cup qualifier remains unclear following his positive COVID test.
The top American player was on the 26-man roster announced Thursday for the first three qualifiers after missing Chelsea's match at Arsenal last weekend. The U.S. starts at El Salvador on Sept. 2.
"It's going to be just day-to-day, seeing where he's at," U.S. coach Gregg Berhalter said. "He's still under quarantine conditions in England, and we're going to have to get him stateside once he clears the quarantine and assess him. It's really to tell if he will be available for the 2nd, for the 5th or for the 8th."
The 22-year-old Pulisic is scheduled to report Sunday.
"There's a lot of tests that he needs to go through before he arrives," Berhalter said.
Pulisic is among six veterans of the 2017 team that failed to qualify for the World Cup, ending a streak of seven straight appearances for the U.S. Other holdovers include Kellyn Acosta, John Brooks, Sebastian Lletget, Tim Ream and DeAndre Yedlin.
Zimbabwe opens COVID-19 vaccines to those aged 14 and older — 2:36 p.m.
By The Associated Press
Zimbabwe is opening COVID-19 vaccinations to those aged 14 and older and is only permitting fully vaccinated people to eat in restaurants, to encourage more people to get shots, as a devastating wave of the disease recedes.
"On the advice of scientists," Zimbabwe will start administering vaccines to children aged between 14 and 17, Information Minister Monica Mutsvangwa announced. The country is already offering shots to those 18 and older. This makes Zimbabwe one of the first countries in Africa to extend vaccinations to children.
The southern African country is beginning to see a reduction in numbers of infections and deaths following a deadly resurgence, driven mainly by the delta variant.
A Florida ER doctor offered $50 mask exemption letters for kids. Then his hospital found out — 2:28 p.m.
By The Washington Post
A Florida hospital has removed a doctor from patient care after reports he offered opt-out letters for $50 to parents who wanted to avoid their children's school mask mandates.
Brian Warden, an emergency room doctor who contracts with Capital Regional Medical Center in Tallahassee, promoted the mask exemption letters in a Facebook group called Parents Against Masks. In his posts, Warden invited Leon County, Fla., parents to contact him if they wanted a medical exemption for their child, according to screenshots of the posts reported by WCTV.
Through his company, Dove Field Health, Warden offered a signed opt-out form on official letterhead along with PDFs and originals that would be mailed.
"Also, I am a real doctor," Warden wrote in the comments of a post explaining that his offer was not affiliated with any hospital or group.
Capital Regional's CEO, Alan Keesee, notified the board of trustees at a Tuesday night meeting that Warden had been removed from providing patient care, according to the Tallahassee Democrat.
The hospital's spokeswoman, Rachel Stiles, told The Washington Post in a statement that "third-party providers" are expected to behave in a way consistent with the hospital system's values, which include "absolute integrity." She did not clarify whether Warden retains any affiliation with the hospital, other than that he is no longer seeing patients.
"Immediately upon learning of this physician's actions, we began the process of removing him from providing services to our hospital patients," she said.
Sturgis motorcycle rally linked to more than 100 coronavirus infections amid Delta variant's spread — 1:38 p.m.
By The Washington Post
More than 100 coronavirus infections have been linked to the Sturgis Motorcycle Rally, an annual event that drew hundreds of thousands of enthusiasts to South Dakota as the virus's ferocious delta variant spread misery nationwide.
Health officials in South Dakota, where the rally was held from Aug. 6 to 15, said contact tracing has connected 16 cases to the event. North Dakota identified 40 cases, while Wyoming confirmed 32, Wisconsin tallied 20 and Minnesota counted 13.
The 121 cases among the five states almost certainly represent an undercount because the rally concluded less than two weeks ago and contact tracing is challenging in connection with an event that lures attendees from around the country.
These cases are an echo of an outbreak from a year ago, during the pandemic's first summer, when the rally was thought to have seeded hundreds of infections and contributed to a surge in the Upper Midwest.
MIAA announces mandate on masks for indoor sports through Oct. 1 — 12:48 p.m.
By Nate Weitzer, Globe Correspondent
On Aug. 18, during the first in-person meeting of the MIAA's Board of Directors since the start of the pandemic in March of 2020, officials declined to issue any mask mandates ahead of the fall season, instead opting to wait for guidance from state governing bodies.
100,000 more COVID deaths seen unless US changes its ways — 12:37 p.m.
By The Associated Press
The U.S. is projected to see nearly 100,000 more COVID-19 deaths between now and Dec. 1, according to the nation's most closely watched forecasting model. But health experts say that toll could be cut in half if nearly everyone wore a mask in public spaces.
In other words, what the coronavirus has in store this fall depends on human behavior.
Illinois requires educators, health workers to get vaccine — 12:30 p.m.
By The Associated Press
Illinois health care workers and educators from kindergarten through college will be required to be vaccinated against COVID-19 or submit to weekly testing, Gov. J.B. Pritzker said Thursday in announcing new safety protocols that also include a fresh statewide mandate for masks to be worn indoors.
The mandates, which overlap in several places with existing rules, are a response to a spike in COVID-19 infections fueled by the highly contagious delta variant, particularly in southern and central Illinois.
"Our current vaccination levels are not enough to blunt the ferocity of the delta variant hospitalization surges," Pritzker, a first-term Democrat, said at a Chicago news conference. "In some regions, hospital administrators are asking for more help to manage the sheer number of incoming patients who, I'll empathize again, are are almost exclusively individuals who have chosen no to have gotten the life-saving vaccine."
Pritzker said the requirements are designed to better protect move vulnerable populations, including young children who do not yet qualify for vaccines. Pritzker said that 98% of Illinois' COVID-19 infections from January to July were among the unvaccinated.
Titans' outbreak now at 8, QB Ryan Tannehill on COVID list — 11:36 a.m.
By The Associated Press
The Tennessee Titans' virus outbreak keeps growing, with quarterback Ryan Tannehill among three players added Thursday to the reserve/COVID-19 list.
General manager Jon Robinson said Tannehill, tight end Geoff Swaim and linebacker Justin March-Lillard are joining four other players on the reserve/COVID-19 list. That makes three Titans starters out, along with coach Mike Vrabel, bringing the team's outbreak to eight people.
Robinson said the Titans are close to being either 97% or 98% vaccinated or with antibodies present, indicating a person recently or previously had COVID-19. Tannehill said at the start of training camp that he was in the process of being vaccinated.
Vrabel announced Sunday that he had tested positive for COVID-19 a day after the Titans beat Tampa Bay 34-3 in Florida. He later received monoclonal antibodies treatment.
Linebacker Harold Landry was the first starter affected by the team's latest virus outbreak, going on the reserve/COVID-19 list Wednesday.
Robinson said the Titans, who stepped up precautions and required masks inside the team's headquarters Tuesday, are going "above and beyond" what they did last season when they had the NFL's first virus outbreak.
The others on the list include defensive lineman Anthony Rush, linebacker Nick Dzubnar and running back Jeremy McNichols. The reserve/COVID-19 list is for players who either test positive for the virus or are in quarantine after close contact with an infected person.
As Florida faces record COVID-19 deaths, DeSantis says Biden should follow his lead — 11:15 a.m.
By The Washington Post
Florida Gov. Ron DeSantis, R, said President Joe Biden has failed to "end covid" and should follow his state's lead, even as Florida experiences record-breaking cases, deaths and hospitalizations.
Florida is now reporting an average of 228 covid-19 deaths each day - a state record and by far the highest count in the nation. The daily death count in Florida, fueled by the highly transmissible delta variant, has increased by 613% in the past seven days, according to data compiled by The Washington Post.
Texas governor issues order banning local vaccine mandates — 10:18 a.m.
By The Associated Press
Gov. Greg Abbott issued an executive order on Wednesday banning any state or local mandates requiring people to be vaccinated against COVID-19, and he called on Texas legislators to vote it into law during their current special session.
The move came as Texas reported the most COVID-19 patients in its hospitals since the pandemic began.
Abbott issued his ban in an executive order to fill a loophole left by the full authorization of the Pfizer vaccine. He had previously banned the requirement of vaccinations under emergency use authorizations. He also has banned state and local government mandates for wearing masks.
"Vaccine requirements and exemptions have historically been determined by the Legislature, and their involvement is particularly important to avoid a patchwork of vaccine mandates across Texas," Abbott said on the governor's office website.
Bills' McKenzie fined $14,650 for breaking COVID rules — 10:12 a.m.
By The Associated Press
Buffalo Bills receiver Isaiah McKenzie revealed he faces NFL discipline for violating the league's COVID-19 protocols for unvaccinated players by failing to wear a mask inside the team's facility.
McKenzie wrote: "They got me! @NFL you win!" in a Thursday social media post in which he included a copy of the first page of a letter he received from the league informing him of the violation. It was McKenzie's second violation; the league issued him a warning on July 27, a day before the Bills opened training camp.
Under league rules, the first offense for violating the protocols will result in a fine of $14,650. Repeat violations could result in a player being suspended or fined a week's salary.
The NFL wrote that McKenzie twice failed to wear a mask on Wednesday. The first violation came while he walked through the team's fieldhouse to the trainer's room, and the second was later in the day while he was in a meeting area of the weight room near other players.
The league also noted his violation came shortly after NFL staff made a presentation reminding players of the mask-wearing requirements and that penalties may result to players who fail to do so.
"For players who are not fully vaccinated against COVID-19, like you, your conduct is expressly prohibited by the protocols," the NFL wrote. "Again, your conduct potentially compromised not only your safety, but the safety of others, as well as the league's ability to ensure that your club's training camp is conducted in a safe manner."
His violation comes days after four Bills players were required to spend at least five days in self-quarantine after being deemed to have close contact with a trainer who tested positive for COVID-19.
Many Maine schools use pandemic aid to boost air quality — 10:06 a.m.
By The Associated Press
Maine schools are using a one-time windfall in federal pandemic relief to add positions, improve ventilation and provide programs to help with mental health and wellness.
A large chunk went to air quality improvements, addressing a major problem in older schools at a time when health officials were worried about the spread of aerosolized COVID-19, officials said.
All told, state schools received about $596 million from several rounds of aid, according to an Associated Press analysis. The Maine Department of Education says the figure is even higher, closer to $730 million, when additional monies are included.
In Maine, total disbursements ranged from as much as nearly $44 million to Lewiston public schools, followed by $28 million to Portland schools and $20 million to Bangor Schools, to as little as $9,703 for Castine Public Schools.
Maine's largest city could return to indoor mask rules — 9:43 a.m.
By The Associated Press
Maine's largest city is considering a return to indoor mask rules due to the rise of COVID-19 in the state.
Portland City Council is scheduled to discuss the possibility of an indoor mask mandate on Sept. 8. The entire state was under an indoor mask mandate until late May, when it was lifted.
A return to a mask mandate would make Portland the first municipality in the state to go that route. The Portland Press Herald reported City Councilor Andrew Zarro requested the workshop because of a surge in cases caused by the delta variant.
The possibility of a new mandate in Portland comes as Maine officials are recommending indoor mask use in almost all of the state.
The state is recommending indoor masking in parts of the state that have substantial or high transmission of the virus. The U.S. Centers for Disease Control and Prevention said Thursday that is true of 15 of the 16 counties in the state.
The only county in the state with moderate transmission of the virus is Sagadahoc. No counties are the site of low transmission. Cumberland County, where Portland is located, is the site of substantial transmission.
Thousands of COVID patients are being turned away from Japan's hospitals — 9:15 a.m.
By Bloomberg
Japan's worst Covid-19 outbreak yet has thrown a spotlight on the inability of the country's otherwise highly regarded medical system to adapt quickly to emergencies and its lack of reform to meet such needs.
As new cases surged to more than 25,000 a day this month driven by the delta variant, the number of medical emergencies nationwide that required an ambulance dispatch, but had difficulty finding a hospital to accept the patient, rose for six straight weeks to a historic high, according to data from Japan's Fire and Disaster Management Agency.
A Florida dad tried to enter a school maskless. When a student confronted him, he assaulted her, police said — 8:35 a.m.
By The Washington Post
Students gathered around the entrance gate outside Fort Lauderdale High School on Wednesday morning as Dan Bauman and his daughter argued with a resource officer over the school's mask mandate, police records show.
Fed up with the daily antics, another student spoke up.
"I've had enough for four days," she said, according to an arrest report.
Noticing Bauman was recording her, the student reached for his phone. Bauman swiftly grabbed her hand, twisted it and pushed her against the gate, police said. Officers pulled him off the student.
Fort Lauderdale police immediately arrested Bauman, who has repeatedly had law enforcement called on him for alleged mask violations, and charged him with child abuse, according to the arrest report.
Bauman, 50, was taken to Broward County Jail. Bond has not been set. A lawyer was not listed in jail records, and it is unclear when he is due in court.
The incident is the latest confrontation over school mask mandates as students return to the classroom. Last week, a parent in an Austin school district ripped a mask off a teacher's face. A week earlier, a parent in California allegedly yelled at a school principal over mask requirements and then struck a teacher.
Half of US workers favor employee shot mandate, according to poll — 8:32 a.m.
By The Associated Press
Half of American workers are in favor of vaccine requirements at their workplaces, according to a new poll, at a time when such mandates gain traction following the federal government's full approval of Pfizer's COVID-19 vaccine.
The poll from The Associated Press-NORC Center for Public Affairs Research shows that about 59% of remote workers favor vaccine requirements in their own workplaces, compared with 47% of those who are currently working in person. About one-quarter of workers — in person and remote — are opposed.
CDC head says Africa needs higher vaccine target — 6:40 a.m.
By The Associated Press
The director of the Africa Centers for Disease Control and Prevention is raising the vaccination target he believes is needed to provide widespread protection against COVID-19 on the continent, citing the more infectious delta variant now present in 32 countries.
Africa CDC Director John Nkengasong told reporters on Thursday that health officials once estimated at least 60% of Africa's population of 1.3 billion people needed to be vaccinated to achieve so-called herd immunity.
Nkengasong says he now thinks the proportion should be "in excess of 70% to 80%." Even at that level, he said, "are we going to get to herd immunity? I doubt that notion is relevant anymore."
Africa is well short of its original vaccination target as health officials criticize richer countries for hoarding doses and rolling out booster shots while people in poorer nations are still awaiting vaccines. .
Only 2.5% of Africa's population is fully vaccinated now, and 93 million doses have been administered. The Africa CDC has estimated that perhaps just 30% of Africa's population can be vaccinated by the end of the year.
"Things will get more challenging before they get better," Nkengasong said.
France plans booster vaccines for older adults — 6:10 a.m.
By The Associated Press
France's prime minister has announced plans to give COVID-19 booster shots to people over age 65 and individuals living in nursing homes starting next month.
Prime Minister Jean Castex, speaking Thursday on French radio RTL, said the booster shot is needed because vaccine effectiveness decreases over time.
Castex said the eligible older people will be able to make appointments to get the shots and a booster vaccine drive will start on Sept. 12 in nursing homes.
France's health authority, the HAS, recommended this week administering a third dose of the Pfizer or Moderna vaccines to people over 65 and those with underlying health conditions at least six month after they received their second shot.
The HAS said those who received the single-dose Johnson & Johnson jab should be offered a Pfizer or Moderna shot at least four weeks after they first got vaccinated.
France has reported more than 20,000 new confirmed COVID-19 cases a day for over a month.
Over 47 million people in France, or 71.2% of the population, have received at least one vaccine shot. More than 42 million, or 62.8%, are fully vaccinated.
Cruise lines require vaccinations, tests, amid virus surge — 4:30 a.m.
By The Associated Press
Cruise lines have detected infections among vaccinated crew members and passengers, including in an elderly traveler who recently died. Last Friday, the CDC began advising travelers who are at a higher risk for severe COVID-19 illness to avoid cruises. It is also recommending that passengers show both a recent negative COVID test and proof they've been immunized.
In addition to the surging Delta virus, the CDC changed its cruise guidelines for high-risk groups because of the close proximity of ship passengers, the limited options for care on board and the challenges of medically evacuating travelers at sea, Centers spokeswoman Kristen Nordlund said Tuesday.
Poll: Some still not planning to get COVID-19 vaccine — 3:02 a.m.
By The Associated Press
A total of 19% of participants in an online poll say they will probably not or almost certainly not get a COVID-19 vaccine, according to a University of New Hampshire survey that wrapped up the day the U.S. gave full approval to Pfizer's vaccine.
The Granite State Poll conducted by UNH's Survey Center said those who don't plan to get vaccinated are "far less likely than earlier in the year" to doubt the threat of COVID-19, "but are more dubious about the efficacy of the vaccine," the center said in a news release Wednesday. Very few said the Delta variant will encourage them to get vaccinated.
A total of 977 people completed the survey online between Aug. 19 and Monday, the day the Food and Drug Administration gave its approval for the Pfizer vaccine.
The poll's margin of sampling error was plus or minus 2.7 percentage points.
Among those who said they will probably not or almost certainly not get a vaccine, most said they don't believe it's safe. Others said they don't believe the vaccine will stop them from getting COVID-19 or don't trust the pharmaceutical companies that manufactured the vaccines. Fewer said they've already had COVID-19, so they don't feel that getting vaccinated is necessary.
Japan suspends 1.63 million doses of Moderna over contamination — 2:10 a.m.
By The Associated Press
Japan suspended use of about 1.63 million doses of Moderna vaccine Thursday after contamination was found in unused vials, raising concern of a supply shortage as the country tries to accelerate vaccinations amid a COVID-19 surge.
The health ministry said contamination was reported from multiple vaccination sites. Some doses might have been administered, but no adverse health effects have been reported so far, officials said.
Takeda Pharmaceutical Co., a Japanese drugmaker in charge of sales and distribution of the vaccine in Japan, said it decided to suspend use of doses manufactured in the same production line as a safety precaution.
It asked Moderna to conduct an emergency investigation and told medical institutions and organizers to stop using the vaccine produced in Spain and shared the production numbers that may be affected.
The health ministry and Takeda did not give details on the type of contamination or if the doses in question may have been distributed outside Japan.
The Moderna vaccine problem came just as Japan struggles with surging infections, with daily new cases hitting new highs in many parts of the country and severely straining the health care system.
Chief Cabinet Secretary Katsunobu Kato told reporters the government and Takeda are discussing ways to minimize the impact on Japan's vaccination progress.
"We will do utmost in order to avoid any impact on vaccination progress, especially at worksites and large-scale centers," Kato said.
Japan relies entirely on foreign-developed vaccines by Moderna, as well as Pfizer Inc. and AstraZeneca. Moderna has been since mid-June at large-scale centers and workplace inoculations and has helped speed up Japan's rollout.
About 43% of the Japanese population have been fully vaccinated, with daily doses of about 1 million.
Biden falls short on pledge for US to be the world's vaccine 'arsenal,' experts say — 12:20 a.m.
By The New York Times
President Biden, who has pledged to fight the coronavirus pandemic by making the United States the "arsenal of vaccines" for the world, is under increasing criticism from public health experts, global health advocates and even Democrats in Congress who say he is nowhere near fulfilling his promise.
Biden has either donated or pledged about 600 million vaccine doses to other countries — a small fraction of the 11 billion that experts say are needed to slow the spread of the virus worldwide. His administration has also taken steps to expand COVID-19 vaccine manufacturing in the United States and India, and is supporting production in South Africa and Senegal to expand access to locally produced vaccines in Africa.
  August 25, 2021  
Australia state easing rules as vaccine goal met — 11:40 p.m.
By The Associated Press
Authorities in Australia's New South Wales state say they will ease pandemic restrictions for vaccinated adults next month even as they are reporting a record 1,029 coronavirus infections and three deaths from COVID-19.
The record reported Thursday surpassed the previous high for a 24-hour period of 919 infections just a day earlier.
State Premier Gladys Berejiklian says the slight easing of restrictions is coming because the state reached 6 million vaccine doses in a population of 8.2 million.
Beginning Sept. 13, families in the highest-risk parts of Sydney will be allowed to leave their homes for an hour of recreation as long as any adults are fully vaccinated. The recreation hour is in addition to the hour people are already allowed out to exercise.
Elsewhere in the state, groups of five will be allowed to congregate as long as all adults are fully vaccinated.
Hawaii hospitals are overwhelmed with COVID patients — 11:36 p.m.
By The New York Times
At the emergency department of Hilo Medical Center on the island of Hawaii Wednesday, patients lay on beds in the hallway as staff members scrambled to find space in other parts of the hospital.
"Today is the fullest we've been in over 15 years — maybe even ever," said Elena Cabatu, director of public affairs at the hospital. Nurses "are almost beside themselves at this point," she said.
Across the islands of Hawaii, hospitals are facing an acute shortage of beds and medical staff as the delta variant causes a surge far worse than any the state experienced during earlier waves of the pandemic.
Delta Air Line's extra $200 insurance fee shows vaccine dilemma for employers — 9:30 p.m.
By The New York TImes
For weeks, big employers like Citigroup, Google, and The Walt Disney Co. have been warming to the idea of requiring coronavirus vaccines for employees. Now that one vaccine has received full federal approval, President Joe Biden wants more to follow suit.
Delta Air Lines has chosen a very different tack — one that might seem to provide employees more choice but could be much harder to carry out. The company on Wednesday became the first large U.S. employer to embrace an idea that has been widely discussed but is mired in legal uncertainty: charging unvaccinated employees more for health insurance.
Starting Nov. 1, Delta employees who have not received the vaccine will have to pay an additional $200 per month to remain on the company's health plan. It is part of a series of requirements that unvaccinated workers will face in the months to come, the airline's chief executive, Ed Bastian, said in a memo to staff.
Jail doctor prescribes livestock drug ivermectin to detainees with COVID-19 despite FDA warnings — 9:26 p.m.
Washington Post
An Arkansas jail and its health-care provider are facing criticisms of "medical experimentation" because the jail's medical staff has been treating covid-19 patients with ivermectin, a drug commonly used for deworming livestock.
Washington County Justice of the Peace Eva Madison said she heard reports of the practice Tuesday after a county employee visited a Karas Health Care coronavirus testing site at the Washington County Detention Center in Fayetteville and was prescribed ivermectin despite testing negative for the coronavirus.
Karas is one of three health-care providers accessible to employees on the county health-care plan. It operates in the jail as Karas Correctional Health.
"When this employee told me that, I thought, 'Our sheriff has common sense. He'll know what's going on,' ' Madison told The Washington Post on Wednesday. Madison said she has a good rapport with Washington County Sheriff Tim Helder but was dismayed when he confirmed her suspicions — and defended the practice.
Inconclusive review of virus origins prompts calls for more probes — 8:24 p.m.
Washington Post
An array of activists, scientists and politicians said Wednesday that the Biden administration's inconclusive report on the origins of the coronavirus pandemic demonstrates the need for further probes, even if that leads the United States into delicate geopolitical territory.
"It is good they did that review, but I don't think we should all move on just because it was inconclusive," said Anita Cicero, deputy director of the Johns Hopkins Center for Health Security. "I'm actually disturbed that much of the scientific and public health community seems complacent to make their best guesses and move on without getting to the root cause of the pandemic."
The administration's classified review, with portions set to be publicly released as soon as this week, doesn't rule out that the virus emerged in the wild or that it leaked from a laboratory, officials said. Its pending release has sparked an outcry in China, where officials have bristled at inquires into the possibility of a laboratory leak and state media this week preemptively blasted the U.S. findings.
The findings also caused a stir in the United States, with close observers concluding that the White House report supports their existing positions on covid-19 - even when their positions directly conflict.
Texas governor issues order banning local vaccine mandates — 8:12 p.m.
Associated Press
Gov. Greg Abbott issued an executive order on Wednesday banning any state or local mandates requiring people to be vaccinated against COVID-19, and he called on Texas legislators to vote it into law during their current special session.
The move came as Texas reported the most COVID-19 patients in its hospitals since the pandemic began.
Abbott issued his ban in an executive order to fill a loophole left by the full authorization of the Pfizer vaccine. He had previously banned the requirement of vaccinations under emergency use authorizations. He also has banned state and local government mandates for wearing masks.
"Vaccine requirements and exemptions have historically been determined by the Legislature, and their involvement is particularly important to avoid a patchwork of vaccine mandates across Texas," Abbott said on the governor's office website.
Nine counties, dozens of school districts and the city of El Paso have defied the Abbott mask mandate ban, and some of the state's most populous counties have asked for court orders to overturn or block enforcement of the ban. On Wednesday, Dallas County became the latest to obtain a court order blocking enforcement.
Four members of Maryland governor's staff test positive — 6:20 p.m.
By Washington Post
Four members of Maryland Governor Larry Hogan's staff have tested positive for coronavirus, his spokesman Mike Ricci said Tuesday.
Hogan, a Republican, and Lieutenant Governor Boyd Rutherford both tested negative, Ricci said, adding that all members of the governor's staff are fully vaccinated.
"While we cannot disclose any personal health information, COVID-19 positive cases have affected multiple members of the governor's staff," Ricci said in a statement. "All testing, notification, and quarantining protocols have been followed in accordance with CDC guidance, and contact tracing is underway."
Hogan, a cancer survivor, announced on Sunday that he had received a third shot of the coronavirus vaccine last week. The Centers for Disease Control and Prevention has recommended third shots for people who are immunocompromised.
One person failed to claim their Mass. VaxMillions prize — 4:51 p.m.
By Emily Sweeney, Globe Staff
Luck ran out for one winner of the VaxMillions Giveaway, the state-run lottery that gives away cash prizes and scholarships to people who are vaccinated.
The person didn't respond in time and ended up forfeiting their prize.
According to Governor Charlie Baker's office, all but one of the winners of the weekly drawings came forward to claim their prizes within the required 24-hour period.
The lone person who failed to meet the state's deadline — and as a result, lost their prize — has not been identified.
'I'm still not planning to get it': FDA approval not swaying some vaccine holdouts — 4:30 p.m.
By The Washington Post
Federal officials have sought for months to persuade holdouts like Brummett, McCann and Garcia, who are among the roughly 85 million still-unvaccinated eligible Americans — a largely entrenched population despite a range of incentives, political appeals and now mandates to get the shots. But hopes that many of those skeptics would be swayed by vaccine approval appear to have been unrealistic, according to interviews with 16 unvaccinated Americans — including six who said earlier this year that they would be more likely to get vaccinated if FDA approved the shots.
Thousands of employers have already imposed vaccine requirements on workers, with a slew of additional organizations, ranging from the Pentagon to CVS Health, citing the FDA approval when announcing their own mandates this week. While regulators had previously authorized the shots for emergency use, the agency's formal approval is expected to provide further legal cover for companies that had debated requirements.
The FDA's approval "increased the likelihood" of getting vaccinated, said Derrick M., a 27-year-old who just left active-duty military service and like several, spoke with The Washington Post on the condition of anonymity for fear he might be harassed. "But at this time, I'm still not planning to get it."
Mask protesters disrupt Connecticut Governor Lamont's back-to-school event — 3:52 p.m.
By The Associated Press
A roundtable discussion on the state's plans for safely reopening Connecticut schools for in-person learning was interrupted Wednesday by anti-mask and anti-vaccine protesters, some with young children in tow, angrily shouting and accusing Gov. Ned Lamont and other officials of being criminals.
The commotion caused the event to abruptly end. Some in the group then followed the Democratic governor to his car, shouting profanities and comparing the state's COVID mitigation steps to Nazi Germany. A handful carried signs, including one that read "Masks Can Be Harmful to You."
"These bullying tactics will not change what we all know to be true and agreed upon by both the scientific and academic communities: Masks work and they help to keep our communities safe, especially young children who are not yet eligible to be vaccinated," Lamont spokesperson Max Reiss said in a statement.
Lamont previously signed an executive order that requires masks to be worn in schools until at least Sept. 30, when his emergency powers are set to expire. It remains uncertain what will happen after that date. Dr. Deidre Gifford, the state's acting public health commissioner, said it will depend on the level of COVID-19 infection.
Taliban takeover could drive COVID crisis in Afghanistan as vaccinations plummet, U.N. warns — 3:22 p.m.
By The Washington Post
As thousands of Afghans flee the Taliban takeover, thronging the Kabul airport and huddling in camps, aid agencies are warning that the overcrowded conditions could bring a new surge in coronavirus cases. The turmoil, the United Nations said this week, has already hindered its ability to respond.
The compounding health and security crises come as the county's already struggling health care system reels under the weight of conflict, supply shortages exacerbated by the chokepoint at Kabul airport, widespread displacement and a long-standing lack of resources.
Wisconsin lawmaker with COVID-19 on ventilator, stable — 2:55 p.m.
By The Associated Press
A Republican state senator from Wisconsin who opposed mask and vaccine mandates and then developed pneumonia after testing positive for COVID-19 was in stable condition Wednesday after being placed on a ventilator, his spokesman said.
State Sen. Andre Jacque, 40, tested positive for COVID-19 earlier this month and was hospitalized Aug. 16. He was placed on a ventilator Monday night, spokesman Matt Tompach said in providing the first update on his condition in a week.
"Sen. Jacque was intubated and placed on a ventilator Monday evening," Tompach said. "While his condition is currently stable, the days and weeks ahead will continue to be an incredibly stressful and difficult time for Sen. Jacque's family."
He said that future updates would be provided as necessary.
China's COVID lockdown led to an earlier, greener spring, new study suggests — 2:53 p.m.
By The Washington Post
China imposed its first pandemic restrictions on Jan. 23, 2020. Over the next 18 days, travel plummeted 58 percent. From factories to public transit, industries ground to a halt. New research published Wednesday in the journal Science Advances indicates these changes contributed to an earlier, brighter and greener spring in the country.
R.I. performance venues to require proof of COVID-19 vaccine or negative test — 1:52 p.m.
By Alexa Gagosz, Globe Staff
Nine performance venues and theaters in Rhode Island released a united message to attendees and ticket holders Wednesday, requiring that all patrons attending indoor events to show proof of vaccination against COVID-19.
If a patron has not yet been fully vaccinated, which means at least 14 days have passed since their final dose, they will have to show proof of a negative COVID-19 PCR test taken in the last 72-hours, or proof of a negative COVID-19 antigen (rapid) test taken in the last 6-hours.
See more coronavirus coverage at globe.com/coronavirus.
Click to refresh this page for the latest.