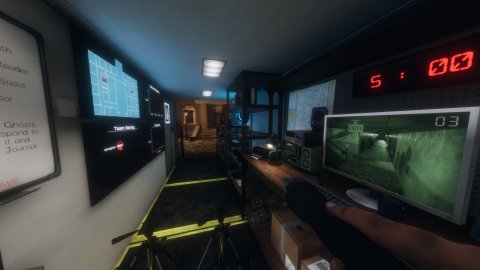 Phasmophobia
Phasmophobia continues to expand. The cooperative horror game comes with a new update that introduces two new ghosts, Myling and Goryo, as well as various other novelties. Here's everything that has changed with the new update.
In addition to the two ghosts, Phasmophobia also adds a new DOTS projector that allows you to collect more evidence of the presence of ghosts. The glowsticks and the parabolic microphone have also been changed (now it can only be used indoors). The most important part, though, is that now ghosts can reveal our tools and use them to find us, so when you run away it's important to turn them off
The update has also changed Phasmophobia's movement system: the sprint now runs for three seconds, with five cooldowns. Also, the walking speed is now equal to the old sprint, but ghosts are also faster chasing us. Finally, there are a number of graphical and interface improvements.
Phasmophobia's previous update, which arrived in June 2021, added new ghosts and confirmed developer Kinetic is hiring. "I have been developing Phasmophobia on my own for the past few years, but due to how much it has grown in both popularity and future content, it is time to expand the team," he explained at the time. "I have begun the process of hiring an experienced artist and programmer to work on Phasmophobia. Both will start working with me on future content very soon, as well as improving and expanding current content."
Source Hai noticed errors?
---
Phasmophobia: How to Use the DOTS Projector
Guides
Published on August 30, 2021 Zhiqing Wan
Kinetic Games has just released the new Exposition update for Phasmophobia, and with it comes two new ghost types and a new piece of equipment. It's no secret that the tutorials in this game aren't the most helpful, so if you need some tips on how to use the new DOTS Projector in Phasmophobia, here's everything you need to know.
The DOTS Projector is a new piece of equipment that's just been added to the game, and it's used to gather new clues to help you determine the identity of two ghosts. At the time of writing, only the Yokai and the newly added Goryo will leave evidence that can only be observed with the DOTS Projector.
To use it, have it in your hand, then press the F key when facing a hard surface. It can be attached to any surface like the ceiling, wall, or floor, and it will project tons of green lasers in the shape of dots. Whenever a ghost passes through the area, you'll be able to see a distinct silhouette.
That being said, you need to be very attentive when using the Projector, as the silhouettes will show up and disappear very quickly, and they can be difficult to see. It's definitely recommended that you set up a night vision camera in the same room, then observe it from the van if you're having trouble spotting the silhouette.
Aside from the Yokai and Goryo, other ghost types like the Yurei and Wraith will also produce a slight silhouette when passing through a room with the Projector active. While this can't be used as evidence to identify them, it at least lets you narrow down the ghost's location, and you can try for other clues.
That's all you need to know about how to use the DOTS Projector in Phasmophobia. Be sure to search for Twinfinite for more tips and information on the game.