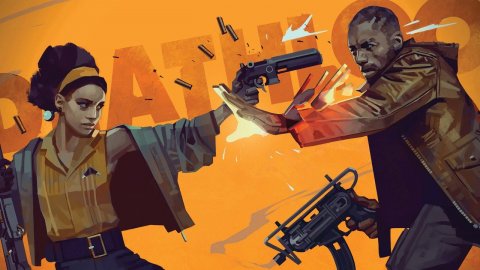 Deathloop also on PS4 and Xbox One? Impossible
In this phase of transition from old to next-gen many software houses prefer to publish crossgen titles. In contrast, Deathloop, the new shooter from Arkane Studios, will debut next month only on PC and
PS5
. The reason? The
PS4
and Xbox One versions would be impossible to achieve.
This is a summary of the thought expressed by Dinga Bakaba, game director of Deathloop, during an interview published in the July issue of Play magazine, shared by users of the Reset Era forum. Bakaba talks about how a possible version for old-gen consoles would have required such significant sacrifices, not only from the point of view of performance, but above all from that of level design, that the title would no longer reflect the original vision of the authors.
Deathloop "I don't think we would have been able to maintain the level of ambition for this game except by moving into the next-gen." Bakaba says. To reiterate the concept, the game director explained that PS5 allowed the team to create a game world bigger and denser than that of Dishonored 2 and how the console was a "breath of fresh air" from the point of view. development. "It is always heartbreaking when you get to the end of a project, and
you have to
optimize things, and you find that you have to cut the map in half and justify the fact that it is divided into two parts."
We remind you that Deathloop will be available on PS5 and PC starting September 14th. The game will be a temporary exclusive for
Sony
's flagship console for a year, after which it will most likely also land on the
Xbox Series X
and Xbox Series S.
Source Have you noticed any errors?
---
Deathloop Dev Says Game Would Not Be Possible On Previous Gen Hardware Without Sacrifice
It's had a few rocky bumps in the road, but next month we will finally be able to get our hands on Deathloop. The game is an interesting one, where you play a man stuck in a time loop who must eliminate all his targets at once to escape it. We've seen a lot of the game so far, and it's also going to a fully next gen exclusive on the console side being only available on the PS5 (and PC) for at least a year in that space. Now the game's director gives something of a hint as to why that is.
In the latest issue of Play (July, issue 4), Dinga Bakaba spoke briefly about the game's design. While he did not say the game was out and out impossible on older hardware, he did say that with the ambition they had they felt it would be hard to do without significant sacrifice. His specific example was having to cut back the maps they have to two parts as opposed to the single experience they are now (big thanks to ResetEra user starfoxxxy for transcribing).
"I don't think that we would have been able to preserve the level of ambition of this game were it not for the move to next-gen," Bakaba said. "It's always heartbreaking when you get to the end of a project, and you have to optimise things, and now you have to cut your map in half and you have to justify why it's in two parts."
Deathloop is set to release on September 14th for PlayStation 5 and PC. You can check out the content for the game's pre-order and Deluxe Edition through here.