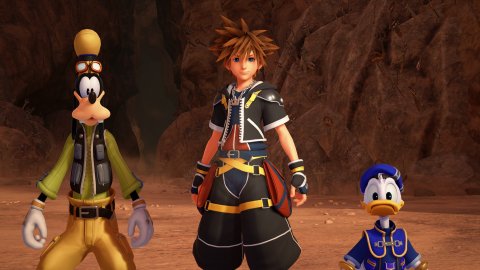 Kingdom Hearts
Kingdom Hearts is based on a series of worlds and characters from Western animation, so the idea of ​​turning it into a cartoon itself isn't too strange. It is therefore not surprising that many years ago an operation of this type was attempted and, now, we have the opportunity to see the pilot episode of a series of Kingdom Hearts that
has been canceled
. You can see the video above.
Seth Kearsley has revealed that he worked on this series as an executive producer in 2003. Disney did not want to continue with the production of this content. The series, as you can hear from the video, would have seen
the return of
the game's voice actors, such as Hayden Panitterie and David Gallagher for Kairi and Riku respectively. Sora, on the other hand, would have received the voice of Bobby Edner instead of Haley Joel Osment, all because Osment already had other work commitments.
The video deals with explaining how the world of Kingdom Hearts works (at least according to the rules of the first chapter, which then evolved and expanded) and introduces us to the characters and the story behind the adventure. This is a pilot with interim animations and there are some forcing such as the fact that Sora fights with the Keyblade from the start, whereas in the games he only gets it when his world is plunged into Darkness.
Since release of the animation has not been authorized by Disney, it is unclear whether it will remain on YouTube or the video may be removed. Kearsley makes it clear in the YouTube ad that he is not the owner of the work, nor does he want to profit from it. The only motivation that pushed him to publish the animation has always been the pride in the work done; Kearsley was in a near-fatal car accident earlier this year and said he would be "sorry" if no one ever got to see the work he helped create.
If you want
to know more about the background, find all the information in our video dedicated to the animated series that we will never see. What do you think?
Source Have you noticed any errors?
---
Video: Veteran Animator Uploads Footage Of Scrapped Kingdom Hearts Cartoon
Subscribe to
Nintendo
Life on YouTube
Last month, it was discovered Disney was planning on releasing an animated series based on Kingdom Hearts in 2003.
The same veteran animator Seth Kearsley, who uploaded cast notes and even script segments of the axed project, has now revealed the full pilot animatic (a series of storyboard sequences) on his YouTube channel. It's got voice acting and a soundtrack, too.
In a brief description, Kearsley says he was really proud of the story and claims it tested better with younger audiences than anything else at the time:
'I don't own this. I claim no rights to any part of this except that this is my work. I'm not profiting from it. I want to show my work. It's been 20 years. This is not without it's flaws, which I have not doubt will be pointed out, but I was really proud of the story we were able to tell in the time we had. Setting up the entire premise of a series, and doing a 'typical episode' is a tall order. I feel like we pulled that off, and when they tested it with kids, it tested better than anything else they were testing in that round.'
Would you have been interested in an animated series like this? Leave a comment below.