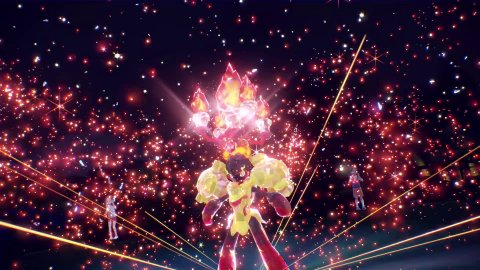 Pokémon Scarlet and Violet
The Pokémon Company, Game Freak and
Nintendo
have released a
new trailer for
Pokémon
Scarlet and Violet
, which invites us to travel to Paldea, the region in which it is set. In fact, it is a big spot w
here we are
briefly shown some of the places that make up the game world and the means to visit them, including roaring motorcycles, vertiginous climbs and breathtaking rides.
Unfortunately, the movie is very short, so
there is no
t much else to report. Fortunately, however, Game Freak has not recently been short of updates related to the project, including gameplay videos and presentations of the new weird characters like Kissara. In short, by now you should have understood whether or not it is for you.
However, in case you are desperate for more information, you can read our test of Pokémon Scarlet and Violet, in which we wrote:
Pokémon Scarlet and Pokémon Violet seem to be the games of the main series with more structural changes ever seen so far. After the timid experiments of Sword and Shield, and the more daring ones seen in Pokémon Legends: Arceus, Game Freak has decidedly focused on a true open world setting, embracing without reservation the advantages and difficulties of this choice. The downside is that the open world requires a lot of technical resources and makes it more difficult to hide any flaws. The ninth generation, however, presents itself with a series of ambitious innovations, which even question some of the cornerstones of the series: these ninety minutes of testing have only managed to scratch the surface of what we will have on our hands in the final version, the date of which release is set for November 18, 2022. At that point
we will see
if the Japanese team has aimed too high or if it has finally managed to find the right place.
For the rest we remind you that Pokémon Scarlet and Violet are exclusive to Nintendo Switch. Both will be available starting November 18, 2022, both digitally and in physical format.
Have you noticed any errors?