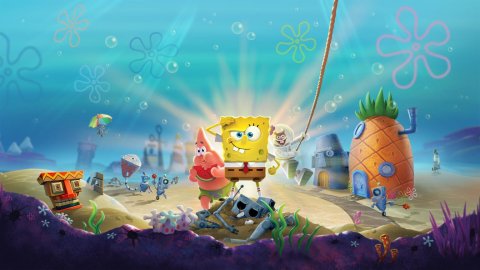 Fall Guys x SpongeBob
There may be a Fall Guys x SpongeBob crossover coming for Season 3 of the Mediatonic game, based on a leak and also reported by the usual well-informed Tom Henderson, with the invasion of the sea sponge and his friends inside. of the game world.
The leak derives from a datamining operation carried out by Krxnky, usually a rather reliable source as regards Fall Guys in particular, having specialized precisely in this game. As you can see in the tweet of the user in question, there appears to be a Fall Guys x SpongeBob package coming within Season 3 of Mediatonic's multiplayer title.
It would be two bundle packages: one is the Patrick and Sandy Bundle, which contains the
two characters
in question in an unidentified underwater adventure, the other is the Squidward and Mr. Krabs Bundle, in the which of course we must protect the secret formula of the Krabby Patty.
More precisely, based on the data collected, these should be the characters of the world of SpongeBob to invade Fall Guys:
Spongebob Squarepants Sandy Cheeks Patrick Star Squidward Tentacles Mr Krabs
We await information from Mediatonic with possible confirmation of the new contents, considering that Season 3 of Fall Guys should arrive between the end of November and the beginning of December. For an overview of the game, we refer you to our special on Fall Guys: A Two Year Obstacle Course.
Source Did you notice any errors?