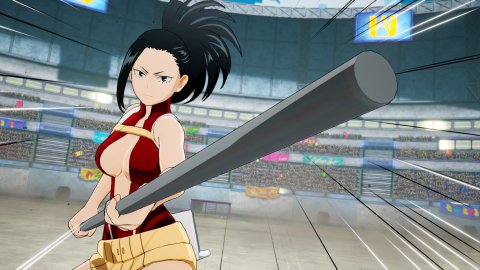 My Hero Academia
My Hero Academia can boast a great cast and it is a great advantage for the world of cosplay, which can take advantage of the favorite characters of the fans for new photos. Now, for example, kawaiibesu offers us her own
cosplay of Momo
Yaoyorozu while she creates a fighting stick for you.
Momo Yaoyorozu is a first-year A-year student of Yuei High School, where she also attends the protagonist . Her power allows her to create objects directly from the skin, but the girl must not only have the energy to do so but she must also deeply know the materials and the structure of the object. In other words, her power is based primarily on study rather than "magic". In this cosplay, we see Yaoyorozu's classic costume and see her making a fighting staff.
If you're big fans of My Hero Academia, then you should see Momo Yaoyorozu's cosplay from 某人 is the anime but in 3D. Here then also the cosplay of Momo Yaoyorozu from madmax_i is in a heroine costume. Let's close our suggestions with sickly.sweet's Momo Yaoyorozu cosplay is cheerleader style.
Tell us, what do you think of the Momo Yaoyorozu cosplay made by kawaiibesu? Has the character of My Hero Academia been recreated in the best way, or do you think you have seen higher quality versions?
Have you noticed any errors?