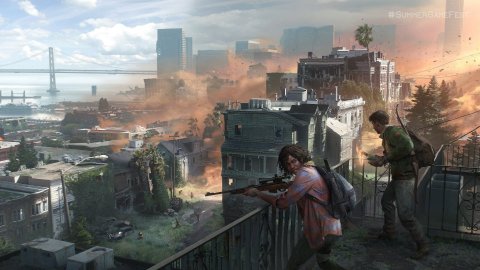 The Last of Us
According to a job announcement, the idea is spreading that the new multiplayer game of
The Last of Us
, currently in development at
Naughty Dog
, could be a free-to-play, therefore distributed with a free basis and micro-transactions. on the standard model of this type of titles.
In the search announcement for a Live Ops Producer, Naughty Dog wrote that he is looking for an element with "proven experience in the production role in support of triple A games, free -to-play and live service ", among the ideal characteristics of the candidate.
The Last of Us Multiplayer: the first image released by Naughty Dog Obviously this is still a rather vague clue because it does not necessarily apply to the project in development, however the structure would probably associate well with the game they are building the authors.
Virtually nothing is known about this The Last of Us Multiplayer yet, except that it has been confirmed as in development and coming as the next title from Naughty Dog, with only a first image representative disseminated so far by the team. However, this is an artwork, therefore not indicative of the actual graphics of the game,
but it is
enough to understand a bit the general atmosphere of the game.
The idea is that it may be an expanded version enriched with Factions, the multiplayer mode that enjoyed considerable success at the time of the first The Last of Us. During the development of The Last of Us 2, in fact, the developers decided to completely remove the multiplayer in order to focus exclusively on the single player and not to lengthen production times too much, but this work was obviously recovered later.
Being a standalone game, it wouldn't be surprising if it were built as a free-to-play live service title, to accommodate wider and faster distribution thanks to the free base. On the other hand, titles of this type are destined to have a great importance in
Sony
's future plans, as evidenced by the 12 live services in development at
PlayStation
Studios. The new The Last of Us multiplayer could also arrive immediately on PC, considering that Sony has reported the idea of ​​launching live service games also on PC
on day one
.
Source Have you noticed any errors?