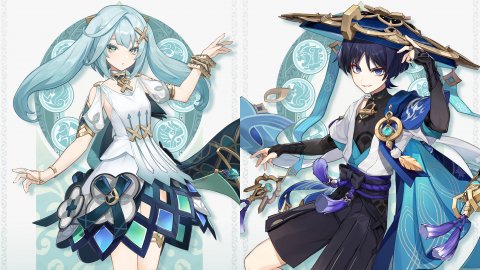 Genshin Impact
There are just a few days left until the release of version 3.2 of Genshin Impact and as usual Hoyoverse teases the players by anticipating the new characters arriving with the next update. In particular today he announced that Faruzan and The Wanderer will join the cast with Update 3.3.
Both characters were introduced with Twitter posts, which also show their official artwork. Faruzan is described as an enigmatic and expert mechanic, according to urban legends always ready to lend a hand to the students of Kshahrewar with their exams as long as they do not ask about her past.
The Wanderer on the other hand is an old acquaintance for Genshin Impact players. Also known as "The Balledeer" and "Scaramouche"
is one of
the Fatui Harbingers (inspired by the masks of Italian comedy, so much so that the nickname "Scaramouche" is inspired by Scaramuccia). Among other things, the character plays a very important role in the events of the Sumeru region, which will reach their climax with the Update 3.2.
For the moment there are no official details on the abilities, weapons and rarities of Faruzan and The Wanderer, but from the artwork we can guess that they will exploit the Anemo element. In any case, both characters are planned for version 3.3 of, a very important update for our local players, since it will introduce the long-awaited Italian localization in Genshin Impact.
In the meantime, we remind you that the Update 3.2 of
Genshin Impact will be
available on November 2, 2022. It will introduce Nahida and Layla as playable characters, new quests and bosses, events and more.
Have you noticed any errors?