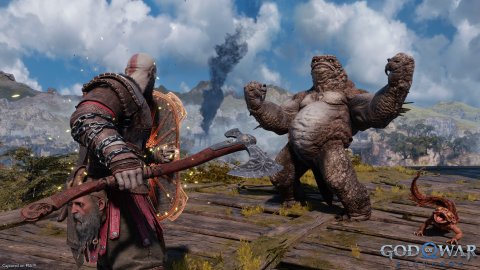 God of War Ragnarok
Mihir Sheth, the combat designer of
God of War Ragnarok
, revealed in an interview that the new game from Santa Monica will feature more violent and brutal fights than its predecessor from 2018, in this sense getting closer to the chapters of the original trilogy and those released. on PSP.
"We've increased the level of brutality considerably in God of War Ragnarok," Sheth said in an interview with Vandal.
"In God of War 2018, when you get Blades of Chaos you don't have much opportunity to see these weapons do the things seen in classic God of War. The way you took out enemies with these weapons really was brutal and we wanted this aspect to return with God of War Ragnarok, so the combat system that
allows you to
stun enemies and grab them with R3 to execute them is now much more brutal and Kratos uses Leviathan and Blades of Chaos a lot more to execute these executions ".
Sheth also said that the Santa Monica team has been working to create a greater variety of enemies and bosses for God of War Ragnarok, as many ideas were not implemented in the first part.
God of War: Ragnarok, one of the new enemies introduced in the sequel Next, the combat designer talked about the Thor from God of War: Ragnarok and how Santa Monica recreated this mythological figure to fit the context of the series.
"When a We made the characters we were inspired by mythology, but in the end, this is our version of Norse mythology, "Sheth said. "When we create the characters, we want to build a story for them and give it some depth. There are reasons why the characters are the way they are."
"In the case of Thor, he's a very mean Norse god who likes to fight, so we wanted to develop such a character that fits the God of War universe. He's a little different than you might expect you, right? I think he's surprised a lot of players. He may seem a little clunky than you'd expect, but there's something creepy about him and he can be downright scary when he has to be. "Hey, he loves fighting and drinking, so these are the reasons why Thor is like this. "
" This happens with every character and when Kratos interacts with them you can understand him better, also thanks to the relationship he has with them and the stories that are created. In the end, we are inspired by mythology to create our characters, but we also give them our own imprint by adding an extra layer of depth. "
God of War: Ragnarok will be available for
PS5 and PS4<
/a>
starting November 9 2022. Pending the end of the review embargo, here's our God of War Ragnarok trial.
Source # 1 Source # 2 Did you notice any errors?