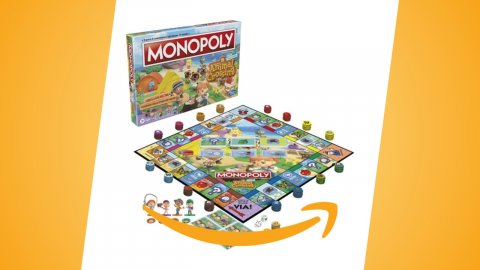 Amazon offers
Today's Amazon offers offer us a discount for an Animal Crossing New Horizons edition Monopoly. The reported discount is € 20.09, or 50%. You can find the product at this address or via the box below. function ready (fn) {if (document.readyState! = 'loading') {fn ()} else {document.addEventListener ('DOMContentLoaded', fn)}} ready (function () {window.addEventListener ('message', function (event) {let target_origin = 'https://aff.netaddiction.it'; if (event.origin! == target_origin) return; if (typeof event.data == "object" && event.data.hasOwnProperty ( "type") && event.data.type == "embaff") {let embed_id = event.data.embed_id; if (embed_id == '1554') {document.querySelector ('#_ aff_embed_1554'). setAttribute ('height ', event.data.embed_size);}}}, false);}) The recommended
price for this
edition of Monopoly is 39.99 €. The current price is the lowest ever. The product is sold and shipped by Amazon.
Monopoly edition Animal Crossing New Horizons offers a custom game board themed with the
Nintendo
Switch game. Includes tokens and accessories required for games based on Nintendo exclusive characters and items. In this version of the game, you visit islands, collect resources such as insects, fish, fossils and fruit, sell resources to earn Starlets, then buy decorations and earn Nooks to win. There are also special skill cards for their characters.
We also point out that the Telegram Channel dedicated to geekinco Offers is available. Follow it to be always updated on the latest offers selected by our editorial staff!
Monopoly edition Animal Crossing New Horizons This news includes a link with an Amazon affiliation that can earn a commission to geekinco.
Have you noticed any errors?