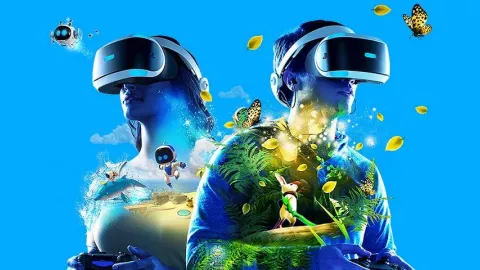 Sony
A
Sony
patent, which could very well be linked to
PlayStation
VR2, unveils a technology that would allow users to scan real objects and then recreate them in a virtual world.
Spotted by colleagues at Game Rant, this prototype talks about how users can precisely scan any real object (in the example below we see a living room lamp) and then recreate the polygonal model within a simulation or a game, with the possibility of modifying some properties of the element.
An image illustrating the operation of Sony's patented technology This is a technology similar to that mentioned in a previous Sony patent, which
allows you to use
common things, such as bananas, instead of controllers, but in this house we are talking about larger objects, as long as they can be scanned at 360 °.
The patent was registered by Sony last summer but has recently been
updated with new
details at the request of the competent office to clarify some aspects of this peculiar technology. Its applications could be many and interesting, in particular in the virtual reality field.
In fact, it is not excluded that Sony may exploit this technology for a dedicated software for PlayStation VR2 and that it could accompany the launch of the peripheral, of which the official technical specifications have recently been unveiled. However, it could also be a project that will never see the light of day, as happened in the past with other prototypes of the company.
Source Have you noticed any errors?
---
Sony Could Be Jumping Into a Pitfall Manufacturing EVs, Analysts Warn
Sony seems to be winning it all. The Japanese giant has gambled with everything from personal music to gaming consoles. Two years ago, it revealed the Vision-S concept and refuted any claims about going into production. Not anymore! Sony has leaped into the murky waters of EVs and is not turning back after unveiling the Vision-S 02 concept. Analysts feel this is a risky maneuver.At the 2022 CES fair in Las Vegas last week, CEO Kenichiro Yoshida announced the company is moving into e-mobility. 
According to analysts, the primary objective of Sony-branded cars is to create an autonomous, connected vehicle for deliverables such as ride-hailing/sharing, which will eventually outrun motor sales.
Research firm MarketsandMarkets estimate that mobility as a service could skyrocket to $40 billion by 2020 from $3 billion in 2021. Analysts warn that Sony will have to invest in plant and equipment to bring its prototype to market in sufficient numbers.
The number one EV brand leader Tesla that produced its first vehicle in 2008, invested billions into revolutionizing the automobile industry. They also relied on the backing of investors who registered losses for years.
Sony is not the only technology firm venturing into EVs. Apple, LG, and Foxconn have also set their eyes on the blooming multi-billion industry.
With countries kicking out ICE vehicles and embracing e-mobility, the venture seems lucrative for tech companies since EVs are much simple to build than combustion vehicles. However, for their cars to be road-worthy, they need to comply with auto industry regulations apart from those that apply to consumer electronics.
According to industry analyst Takaki Nakanishi from Nakanishi Research Institute in Tokyo, Sony won't do what Tesla did. He feels the hurdle is too high for the Japanese tech company. According to Reuters, he feels it would be easier if Sony outsourced vehicle manufacturing to Foxconn.
Sony has not made any statements about how it plans to produce its cars. However, it recruited an established auto manufacturer for its prototype.