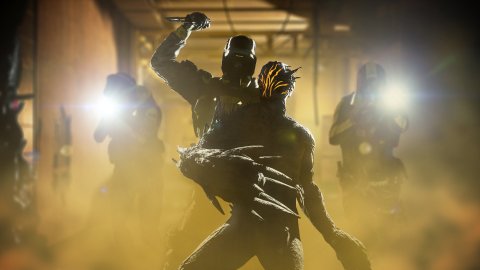 GeForce Now
Nvidia announces that
Rainbow Six Extraction
,
Ubisoft
's new multiplayer PvE shooter,
is now available
to stream with the GeForce Now service.
Along with Ubisoft's multiplayer shooter are three more new games coming to the GeForce NOW library this week:
Tom Clancy's Rainbow Six Extraction (new release on Ubisoft Connect) Blacksmith Legends (Steam) Fly Corp (Steam) Garfield Kart - Furious Racing (Steam)
GeForce Now users will now be able to join the millions of players in the Rainbow Six universe, alone with friends in the strategic and cooperative shooter of Rainbow Six.
Rainbow Six Extraction, a image taken from the game In Rainbow Six Extraction, players take on the role of elite operators belonging to the Rainbow Six universe but with a totally different formula from that of Siege. Extraction is in fact voted for co-op and PvE. Inspired by Siege's Outbreak mode, operator
s will have
to face a new species of mutated alien parasite and foil a mysterious extraterrestrial threat.
By completing missions you will level up your Operators, improve their stats and gain access to new equipment options and powerful talents specially designed to deal with the parasite in its various forms. Pending the review, you can get an idea of ​​Rainbow Six Extraction thanks to our tried and tested.
Have you noticed any errors?
---
GeForce NOW Adds 4 New Titles This Week, Including 'Rainbow Six Extraction'
by Rainier on Jan. 20, 2022 @ 6:00 a.m. PST
GeForce NOW taps into the thriving PC gaming ecosystem by streaming games from NVIDIA GPUs in the cloud, this week adding 4 new titles to its library.
When you fire up your favorite game, you're playing it instantly. That's what it means to be Game Ready on GeForce NOW. The experience has been optimized for cloud gaming and includes Game Ready Driver performance improvements. NVIDIA manages the game updates and patches. And when a game supports RTX, you can play it on GeForce NOW with beautifully ray-traced graphics and DLSS 2.0.
The GeForce NOW library is ever-growing. In an effort to help spotlight the games that are coming to the service, we're moving to a monthly cadence for announcing new instant access games. Games will continue to be released every week – with new game launches available day-and-date, and back catalog games released each Thursday – but our members, and your readers, will now be able to learn about what's coming a little further in advance.
Your New Mission, Should You Choose to Accept It
Grab your gadgets and get ready to game. Tom Clancy's Rainbow Six Extraction releases today and is available to stream on GeForce NOW with DLSS.
Join millions of players in the Rainbow Six universe. Charge in on your own or battle with buddies in a squad of up to three in thrilling co-op gameplay.
Select from 18 different Operators with specialized skills and progression paths that sync with your strategy to take on different challenges. Play riveting PvE on detailed containment zones, collect critical information and fight an ever-evolving, highly lethal alien threat known as the Archaeans that's reshaping the battlefield.
Playing With the Power of GeForce RTX 3080
Members can stream Tom Clancy's Rainbow Six Extraction and the 1,100+ games on the GeForce NOW library, including nearly 100 free-to-play titles, with all of the perks that come with the new GeForce NOW RTX 3080 membership.
This new tier of service allows members to play across their devices – including underpowered PCs, Macs, Chromebooks, SHIELD TVs, Android devices, iPhones or iPads – with the power of GeForce RTX 3080. That means benefits like ultra-low latency and eight-hour gaming sessions — the longest available — for a maximized experience on the cloud.
Plus, RTX 3080 members have the ability to fully control and customize in-game graphics settings, with RTX ON rendering environments in cinematic quality for supported games.
New Games Dropping This Week
The fun doesn't stop. Members can look for the following titles joining the GFN Thursday library this week:
Tom Clancy's Rainbow Six Extraction (New release on Ubisoft Connect, Jan. 20)
Blacksmith Legends (Steam)
Fly Corp (Steam)
Garfield Kart - Furious Racing (Steam)
We make every effort to launch games on GeForce NOW as close to their release as possible, but, in some instances, games may not be available immediately.