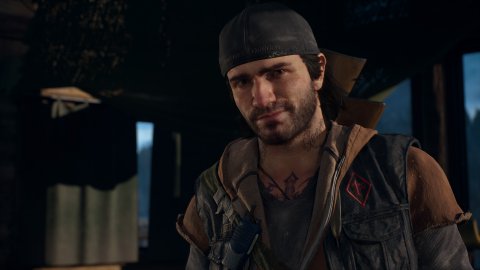 Days Gone 2
Days Gone 2
is one of
the most talked about games of recent weeks, even if it doesn't exist. The former Bend Studios Jeff Ross, director of the first episode, even went so far as to explain in an interview with the newspaper For The Win how it could have been, that is, what was his vision for the controversial sequel that never was. br>
According to his words, the focus of the story would have been on the events of Deacon and Sarah, to see in which direction they would develop: "Yes, they are back together, but maybe they are not happy. What can we do? Okay, we got married before the apocalypse, but how do we see the future? "The gameplay would have been improved thanks to the collection of data provided by the players with their games. Of course, the bike would have been kept, one of the central elements of the first chapter, but the tone of the game would have been expanded in a more technological direction, thanks to the NERO technology, with the player having more resources to manage. The game world would have been more dynamic, with animals and with more types of enemies and more allies, all with better defined and diversified behaviors. Finally, it could have been swimming, one of the most criticized absences in the first chapter.
According to what was stated in the interview, the Days Gone one was to be a trilogy, with the first episode having to serve as a basis for building the other two, a bit like what happened with Batman Arkham and the Uncharted series. Basically, in the sequels, all those elements that did not enter the first episode could have been included, cut for reasons of time, as for example happened for
Horizon Forbidden West
. Unfortunately for Ross, who appears quite dejected by the break with his old development studio and
Sony
, this will all remain a dream, unless Days Gone 2 is entrusted to some other development studio and he accidentally ends up in it.
Source Have you noticed any errors?
---
What PlayStation's 'Days Gone 2' Would Have Been, According To Its Director
Days Gone
Bend
Days Gone represents a somewhat odd moment for the PlayStation brand, a game that most players seemed to like, it sold pretty well, and yet Sony did not approve developer Bend to make a sequel, and now they're onto a new IP.
That has never sat quite right with the director of the game in particular, Jeff Ross. Recently, he made headlines when Ghost of Tsushima's 8 million sales milestone was celebrated, and he said Days Gone hit that in a year and a half. Though later it was revealed he was citing data from a trophy-tracking site, and the true number was probably a few million lower.
Now, he's talking to USA Today about Days Gone 2, the sequel that never was, and what a second game was going to focus on. He compares it to how other big games were able to flesh themselves out in follow-up sequels:
"We have to be able to crawl before you can walk, and walk before you can run," Ross says. "I just see that as a trilogy. First games – Batman: Arkham, the first Uncharted – are basic. They are a platform to build on top of for subsequent titles. And if you look at a game like Uncharted, you could surface swim in the first game. In the second or third game, you could go underwater. Then in the fourth game, you're scuba diving underwater. They didn't start with scuba diving, they built towards it. That applies to every game. Horizon Forbidden West is going to have swimming underwater. It's gonna have all the things that they probably wanted to do in the first game but just ran out of time. So you create the minimum viable entry and then hope you get to build the second one. Because you're not arguing over the foundations, you're arguing over the epic new ideas that you're gonna be putting into it."
Days Gone
Bend
Among the ideas that were going to be implemented in Days Gone 2:
Exploring the relationship dynamics between Deacon and Sarah.
An expansion of the NERO tech concept.
Improving the core gameplay based on player data.
Improving dynamic elements of the game with better enemy/ally AI.
Roaming animals in the wild, bears going through trashcans, wolves hunting in packs.
The ability to swim, overcoming Deacon's lore-based fear of water (75% of player self-deaths were due to water).
Ross has consistently believed that fundamentally, it wasn't sales, but the game's Metacritic score that ultimately caused Sony to pass on Days Gone 2, given that at a 71, it was well below the usual 85+ scores of most big Sony exclusive hits. Ross thinks the score was probably docked 10 points overall because of the game's tech problems:
"I really do feel that Days Gone should have been an 80," Ross said. "79 to 82 was what I thought it would get on Metacritic. I think that the technical issues set us back 10 points."
He says he argued with the studio director about this, saying that points are lost for all manner of things, but he maintains that while things like critics liking story and gameplay can be subjective, technical problems are not. "You should run at 30 frames per second."
It's a really fascinating interview, and I suggest you check out the whole thing here. I can see both sides of this, but even if Days Gone 2 never happens, I'm definitely looking forward to seeing what Bend does next with the lessons they learned.
Follow me on Twitter, YouTube, Facebook and Instagram. Subscribe to my free weekly content round-up newsletter, God Rolls.
Pick up my sci-fi novels the Herokiller series and The Earthborn Trilogy.