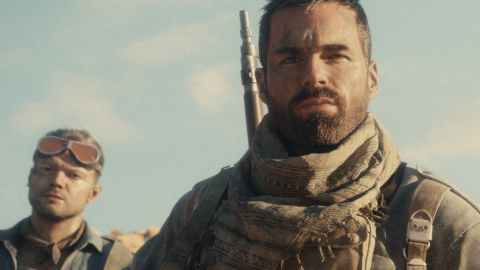 Call of Duty Vanguard
As indicated by GSD and VGC,
Call of Duty Vanguard
sold in the UK 36% less in 2021 than in the previous chapter. Furthermore, it appears to be the game in the series with the worst launch in the last 14 years.
Specifically, GSD reports that Call of Duty Vanguard has sold yes less than Call of Duty
Black Ops Cold War
in the UK, but it is nonetheless became the second best-seller, just behind FIFA 22. Calculating both physical and digital data, GSD explains that in the week of launch, sales were 40% lower than the previous
COD
titles.
VGC He then claims that, according to the data available to him, Call of Duty Vanguard was the COD with the worst week of launch in the last 14 years. Only 2007's Call
of Duty Modern Warfare
was able to do worse in the first week.
Moving on to the US, NPD claims that Call of Duty Vanguard is the second best-selling game of both the year 2021 and November (month of release), but was unable to surpass what Call of Duty Black Ops Cold War did around the same time.
A Call of Duty Vanguard soldier Tom Henderson, best known as an insider of Battlefield and Call of Duty, has said that the Call of Duty of 2022 - Modern Warfare II according to the rumors - will arrive a month in advance (October instead of November) precisely because of the failure of Vanguard.
Even if the situation is not the most positive for Call of Duty, in the aforementioned markets it was still one of the best-selling games. In addition, Call of Duty Warzone and Call of Duty Mobile - both free to play - have guaranteed Activision other revenues. The series is most likely more than healthy, overall.
Source Did you notice any errors?
---
Activision Vows to Fix 'Call of Duty: Vanguard,' 'Warzone' and 'Modern Warfare'
The current generation of Call of Duty games have experienced numerous issues over recent months, with its player base complaining about everything from hacking and cheating or weapons that need nerfing or general matchmaking and map rotations, and now Activision has finally acknowledged the feedback.
In a new Twitter message to fans, the video game developer vowed to fix the current games and make them more playable while tanking players for their feedback. 'We wanted to take a minute to talk about fixing the game. We hear you, and we feel your frustrations,' the statement read.
'Our teams are hard at work addressing the issues that are being experienced across Vanguard, Warzone, and Modern Warfare. Updates are being deployed as quickly as possible. We want everyone to have a seamless experience, no matter which game, game mode or platform you play on. Your feedback is a critical part of our development process to make our games the best they can be.'
While the company hasn't detailed exactly what changes will be coming to the franchise, it says that fans can learn more and see real-time updates by following @RavenSoftware, @SHgames, @InfinityWard and @Treyarch over on Twitter.
Elsewhere in gaming, Halo Infinite is finally reducing Shop prices after player outcry.