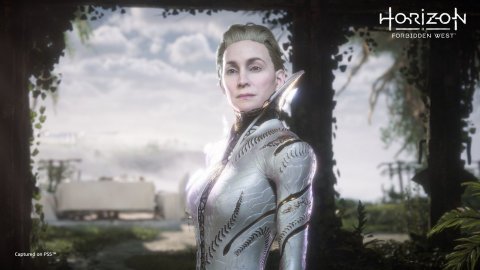 Horizon Forbidden West
Guerrilla Games and
PlayStation
Studios have released a new video dedicated to
Horizon Forbidden West
. The new video allows us to meet the cast that gives life to the characters of the
PS4 and PS5<
/a>
game, arriving on February 18, 2022.
Within Horizon Forbidden West we will be able to meet, among others, the following characters :
Aloy - played by Ashly Burch, is the protagonist Sylens - played by Lance Reddick, is an ally but also an enemy of Aloy Varl - played by John MacMillan, is an old ally of Aloy Erend - played by John Hopkins, is an old ally of Aloy Kotallo - played by Noshir Dalal, is a new ally of Aloy Tilda - played by Carrie-Anne Moss, is a mysterious character
Horizon Forbidden West video, which lasts well 7 minutes, shows us a mix of gameplay scenes and, above all, behind the scenes sections. The various actors present their characters to us, explaining their personalities and goals.
One of the most important and well-known names is obviously that of Carrie-Anne Moss, best known for her part in the Matrix as Trinity . However, Carrie-Anne Moss is not presented in this video, probably also because her character is still mysterious and the development team did not want to anticipate too many details about it.
We also know that within the cast of Horizon Forbidden West we will have the opportunity to meet Angela Bassett, in the role of Regalla. The actress is also known for her role as T'Challa's mother in Black Panther. Regalla
will be on
e of Aloy's opponents: she is defined as a lethal and determined warrior. The woman will want to end the Carja reign.
You can also see the recent story trailer, new images and key art released by
Sony
.
Source Did you notice any errors?
---
News
Published on January 20, 2022 Alex Gibson
Horizon Zero Dawn is fondly remembered for its fascinating post-apocalyptic setting and the bizarre robotic creatures who inhabit it, but the game's terrific story and range of different characters were also big standouts. For the sequel, Forbidden West, we're anticipating that to similarly be the case, and so today's latest featurette from PlayStation introducing the cast behind those characters is of special interest.
Below you'll hear from Ashly Birch (Aloy) about her experience working on set, and her impressions of Aloy as a character. There are especially interesting comments about the nature of Aloy's relationship with Sylens, which was a particularly interesting dynamic in the first game.
Speaking of Sylens, you'll hear from Lance Reddick about his love of playing Sylens, the egomaniac intellect who you're never quite sure is friend or foe throughout the first game.
There are also comments from several of Forbidden West's other main characters, including the voices behind Kotallo, Tilda, Varl, Erand, and many more.
For more details on some of the characters in today's featurette, you can check out assets released earlier this week focusing on the story and the characters that Aloy will meet in Forbidden West.