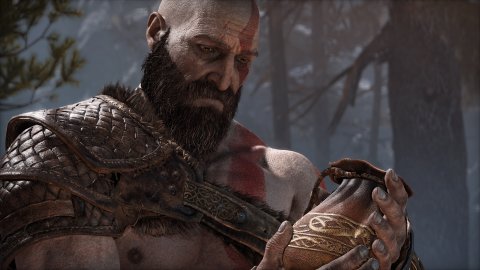 God of War
God of War
updated to update 1.0.3, on PC. The patch is concerned with improving performance and canceling crashes, all by solving a single problem. Let's see the details of the update.
God of War update 1.0.3 is very small and in the patch notes there is only one entry: "Fixed an issue that causes leaks in memory allocation that can lead to performance degradation or crashing of the game client. "
Kratos on top of a mountain in God of War God of War writers also shared a message with fans on Steam:" Thanks to everyone who reported the memory leak issue and assisted us tremendously by sharing information about their setup - we appreciate that you put in the extra effort. "
The game's success is remarkable on PC, given that that according to new estimates God of War has surpassed one million copies on Steam.
The reasons for the success are quite obvious, but you can read our review, in which we explain that: "God of War arrives on PC with a well optimized conversion and able to generate with a very high frame rate even in native 4K as long as you have a configuration that lives up to expectations. This does not mean, however, that mid-range and low-end computers have been cut out because the native support for NVIDIA DLSS and AMD FidelityFx Super Resolution is able to strongly push the frame count up without noticeable decreases in quality, especially in comparison to the original work
on PS4 and
PS5
. "
Source Did you notice any errors?
---
Sony's PC plan looks to be working perfectly.
2018's God of War is one of the most compelling PlayStation exclusives from the last generation. PC gamers who have just started to experience the award-winning game seem to be sold too. In recent days, there have been a number of posts across social media of PC gamers professing their intention to buy Sony's PlayStation 5 for God of War: Ragnarok because 2018's game is just that good.
'Fuck this game, The price on Steam says that the game is only $49.99 but that's a lie, it's going to cost me over $600 total because I'm literally forced to buy a PS5 and God of War Ragnarok now.' 👍
🎮 God of War🕓 57 hrs played (avg. 17) pic.twitter.com/NwC7rSLikv
— GameReviews.txt – Now With Awards! 🏆 (@gamereviews_txt) January 24, 2022
Okay, Horizon: Forbidden West and God of War: Ragnarok are going to push me to buy a PS5 and upgrade our 2008 TV. There is no other way.
— S.R. Turner (@floatingorbs) January 24, 2022
God of war on Pc is stunning. This game is amazing, it's gonna force me to buy a PS5 for the next god of war game for sure lol
— John Fire 🔥 (@SwoleW101) January 18, 2022
Although the tweets above aren't exactly scientific evidence, the sentiment that God of War on PC could sell PS5 consoles isn't a new one. It's regularly said that Sony chose to release Horizon Zero Dawn and God of War on PC precisely because the games could convince PC gamers to buy a PS5. The company waited until years after the exclusivity of the games didn't matter anymore. Players who were going to buy a PS4 to play Horizon or God of War probably had done so by the time the games went to PC. Similarly, it's no coincidence that Sony chose those two games to release on PC. Both games have major PS5 sequels just around the corner.
God of War on PC has been a massive success for Sony. The game launched with few issues and is packed with features that PC gamers enjoy such as ultrawide support. Compare that to Final Fantasy 7 Remake Intergrade on PC, which was a barebones port, and it's easy to see why Sony has a lot of goodwill following the launch. The company is probably pretty happy with the sales numbers too, according to recent estimates the game has already sold more than 1 million copies on PC. If some of those 1 million sales also lead to PS5 console sales in the future then Sony is more likely to bring its games to PC in the future. Although don't expect them until quite a few years later. Sony can't sell consoles if it releases its games on PC too quickly.
Source