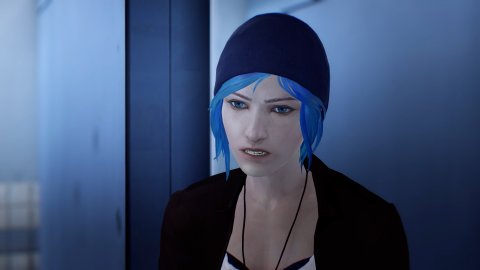 Life is Strange Remastered
A few days after the launch of
Life is Strange
: Remastered Collection, Square Enix has released two new videos dedicated to Before the Storm. The first, which you can view in the player above, compares the remaster with the original, while the second below is a gameplay trailer with some sequences taken from the remastered version.
Life is Strange Remastered Collection includes remastered versions of Life is Strange and Life is Strange Before the Storm, the prequel that follows the story of Chloe and Rachel. The collection supports native 4K resolution with Unreal 4 and a rebuilt lighting system, new and reworked character models for 4K with more polygons, more expressive animations, hair with more natural physics, tears, wounds and other updated elements.
Max's facial expressions have also been updated, now more detailed thanks to updated special facial effects, as well as Nathan and Chloe's facial and eye ones. Finally, lip sync is now complete and there are new and updated environments with reflections and textures.
Life is Strange Remastered Collection will be available for
PS4
,
Xbox
One, PC and Google Stadia starting February 1st. The game is also coming to
Nintendo Switch in
the course of 2022. Those who own the Ultimate Edition of Life is Strange: True Colors will receive the Remastered Collection for free.
Yesterday, Square Enix also released a gameplay trailer and a video comparison of the first Life is Strange in a remastered version.
Have you noticed any errors?
---
Life is Strange Remastered Collection offers up Before the Storm comparison footage
Square Enix continues to showcase the improvements in its upcoming Life is Strange Remastered Collection, out next week.
Earlier this week, the company released a pair of videos documenting the upgrades to the original 2015 game. However, the pack also includes 2017 follow-up Before the Storm and it's that entry we focus on here. Of course, the prequel gets a similar treatment visually, including engine upgrades and full facial mocap.
In case you're unfamiliar, Life is Strange: Before the Storm takes place three years before the events of the previous game. You're now playing as a 16 year old Chloe Price, who strikes up a relationship with one Rachel Amber. Obviously, Chloe is not Max, so she has a different power at her disposal.
She uses 'Backtalk' which you can use to try and influence the outcome of a given situation. However, this power can also backfire, and gets Chloe and Rachel into a lot of trouble. You'll get to find out how much trouble over the course of the three episodes. Just like the main game, expect plenty of drama, choices and consequences to deal with.
You can check out both videos for yourself down below, or read our original Life is Strange: Before the Storm review here. Life is Strange Remastered Collection drops on Xbox One, PlayStation 4, PC and Google Stadia on February 1. A Switch version is also coming a little later.