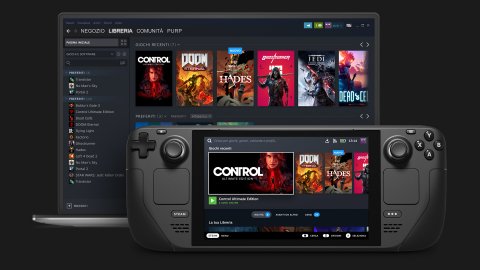 Steam Deck
Valve has released, on its official YouTube channel, a presentation trailer for Steam Deck, which is defined as the "most powerful portable console in the world".
You can see
the video above, which shows us the main functions of the platform.
Steam Deck is presented to the public as a "complete gaming computer that
allows you to take
the games you love with you wherever you go" . The movie then presents the various types of controls. We will have the analog sticks, triggers and buttons that can be assigned to custom inputs by the players. In addition, it is possible to use the touch screen, the double trackpads and even the gyroscope, very useful for precise movements.
Obviously, your Steam
games will be
available on the Steam Deck: just log in with the same account to find the entire library. The storage space, the presentation trailer explains, can be expanded with a microSD card. In addition, you can stream games from another PC.
The trailer also explains that Steam Deck uses a new version of Steam optimized for portable gaming and includes "all the options you expect, such as cloud saves, Steam chat, notifications, the Steam Workshop and much more ".
Tell us, do you think that the Steam Deck trailer adequately presents all the functions of the platform? We also point out that Steam Deck receives the approval of Phil Spencer of
Xbox
: here are the words of him.
Have you noticed any errors?
---
Phil Spencer Pitches Steam Deck As The Xbox Switch
Steam Deck
Valve
Yesterday, Xbox head Phil Spencer raised eyebrows with a new tweet extolling the virtues of Valve's upcoming Steam Deck, the portable PC device meant to be an easy way to play Steam games on the go, but also…more than that.
While it was always likely this was possible, here we have Phil Spencer confirming that the Steam Deck can run Microsoft games like Halo through xCloud steaming, something you can't do on say, the Nintendo Switch at the moment.
So, in effect, if all goes according to plan, the Steam Deck could in fact operate like a Switch for not just Steam games, but all the Microsoft exclusives found in xCloud as well, a way to take your Xbox titles on the go. It's no huge surprise, I suppose, given what we know about the Steam Deck before this, but here we have the public face of Xbox, Spencer, publicly plugging the Steam Deck as a way to expand the places you can play Xbox. While this isn't "official" marketing cross-promotion, it's certainly something of note.
Microsoft has long stated that their ultimate goal is to get Xbox Game Pass and xCloud on as many devices as possible. For a while, that's mostly been console and PC, but it's expanded into mobile, and now mobile includes brand new open devices like the Steam Deck here. I am sure that Microsoft would put xCloud or Game Pass on Switch or PlayStation if they could, but even in this age of crossplay and declaring the end of console wars, no one has been willing to go that far yet.
But it's easy to see how Microsoft and Valve could work well together on using the Steam Deck to their mutual benefit. Microsoft wants more people subscribing to Game Pass and xCloud and playing their exclusives, even if that's not on a literal Xbox. Valve wants people to buy the rather expensive Steam Deck hardware, and while it would be nice if they were buying and playing every game on Steam, I'm sure they don't really care that people might be using it for xCloud instead. Hell, they're more or less encouraging it, and using it as a showcase as to the full range of possibilities for the device, above and beyond what the Switch can or is willing to do.
How far will this cross-collaboration go? Will it end with a Spencer tweet or will Microsoft and Valve team up for some kind of actual branded promotion for Xbox games on Steam Deck? I would not be surprised to see that manifest, given the trajectory that's been started here.
Follow me on Twitter, YouTube, Facebook and Instagram. Subscribe to my free weekly content round-up newsletter, God Rolls.
Pick up my sci-fi novels the Herokiller series, and The Earthborn Trilogy, which is also on audiobook.