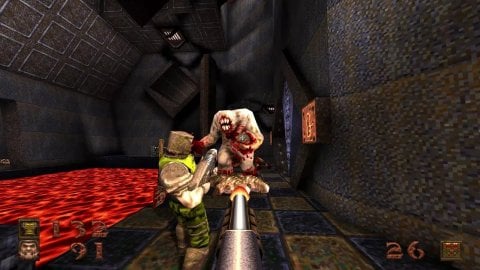 Quake
The remastered edition of Quake, launched just yesterday by Bethesda on PC,
Xbox
One,
Xbox Series X
and S, PS4,
PS5
and
Nintendo
Switch, would violate its GPL license, as noted by many members of the community that has gravitated around for decades. to the game.
In 1999 John Carmack, then head of id Software, released the source code of the Quake and Quake II engine as GPL (General Public License), allowing it to be studied and used by the community. The GPL license requires that any software derived from the source software must be released under the same license.
Here is the Quake source code. Here in particular is the license text.
The source code of the remastered edition of Quake, which evidently derives from the original Quake, however, has not been released to the public, creating a precedent. Some see it as a real betrayal of the community that has been behind the game for more than twenty years, enriching and refining it.
Some hope Bethesda will fix the situation soon by releasing the source code. The worst case scenario is that the Free Software Foundation takes Bethesda to court.
Actually there are also those who affirm that there would be no violation taking place, given that the GPL license covers a single version of a software and that with the subsequent ones the contract can be modified, thus excluding any possibility of appeal. We'll see how the situation evolves and if Bethesda will say anything about it.
Source Did you notice any errors?
---
An enhanced version of Quake is out now
Bethesda kicked off its QuakeCon at Home event with a bang yesterday with some pretty sizable reveals. We learned that Skyrim would be receiving a special next-gen 10th-anniversary edition and that a new enhanced version of Quake is out now on Nintendo Switch, PC, PS4, PS5, Xbox One, and Xbox Series.
This special version of the classic shooter runs at 4K 120fps on PS5 and Xbox Series and it features enhanced models and widescreen resolution support. Additionally, it also comes with both original and brand-new expansions. The Scourge of Armagon and Dissolution of Eternity packs are included here and so are two new ones developed by MachineGames which are known as Dimension of the Past and Dimension of the Machine.
You can take a look at the brand-new trailer for the enhanced version in the video above.