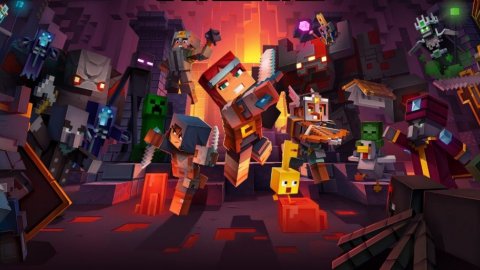 Minecraft Dungeons on
Nintendo Switch is
the new free title within the free trial initiative organized by Nintendo of Europe, which will therefore
allow you to
try the particular hack and slash action RPG for a few days in a completely free way.
According to the tweet reported below, Minecraft Dungeons on
Nintendo Switch will
therefore be available for free from 18 to 24 August 2021, reserved for subscribers to
the Nintendo Switch
Online service for the console, in a similar way to what was previously announced also by the division Japanese.
This is a free trial on the full version of the game, that is, the one that can be downloaded and played is in effect the standard version of Minecraft Dungeons, available for free for a week. In case you decide to proceed with the purchase, the game will simply be unlocked keeping the saves and progress made in the trial period.
On Minecraft Dungeons, DLC and Ultimate Edition have recently been announced, while some A month ago it emerged that there were over 11.5 million players in a year, according to reports from
Microsoft
and Mojang.
Have you noticed any errors?