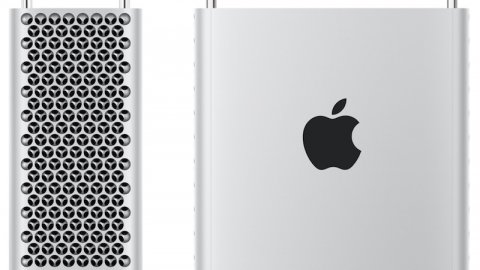 Mac Pro
AMD has announced the availability of three new AMD Radeon Pro W6000X series GPUs for Mac PRO: Radeon PRO W6800X, Radeon PRO W6900X and Radeon PRO W6800X Duo.
Mac Pro was born for cutting-edge performance and professionals looking for a high performance graphics architecture. To meet these needs, the Radeon PRO W6000X series is based on the 7nm manufacturing process and AMD RDNA2 architecture with high energy efficiency and high performance, powering a wide range of complex workflows for designing and creating professional content, such as creating and editing video content in 8K and HDR.
Mac Pro Radeon PRO W6800X Duo is a dual-GPU configuration with high-speed interconnect technology from AMD Infinity Fabric, with 64GB of high-speed GDDR6 memory, up to 512GB / s bandwidth, and boasts up to 30.2 (FP32) teraflops of compute performance.
Staying on the subject, GIGABYTE recently launched
AMD Radeon RX
6600 XT GPUs for advanced 1080p gaming.
Have you noticed any errors?
---
New Apple Document Confirms MacBook Pro Plans
Apple is expected to launch its new MacBook Pro machines later this year. The latest regulatory filings by Apple point to just that, as two mystery Macs show up ahead of sale.
FILE - In this Sept. 5, 2014 file photo, a man walks into an Apple store in Beijing. Apple on ... [+] Tuesday, May 19, 2015 introduced an updated MacBook Pro and iMac and lowering the price for its top-end iMac. The updated 15-inch MacBook Pro laptop has a new style of trackpad, faster flash storage and a longer battery life and starts at $1,999. (AP Photo/Andy Wong, File)
ASSOCIATED PRESS
The details, reported by Consomac, come from the Eurasian Economic Commission (EEC):
'This time, it is about two models of Macs which have just obtained their authorization for sale in Russia: they are numbered A2442 and A2485 and run under macOS 12 Monterey. Apple's repository includes many more model numbers, but these are already known SKUs that are simply updated to take into account the new version of macOS , which is slated for release this fall. The models A2442 and A2485, on the other hand, do not correspond to any existing Mac. [Translated]'
Typically the EEC listings for existing hardware are updated when they ship with new software; in the case of Apple's Mac range that means when the new full version of macOS is released. Given the yearly announcement at WWDC of the yearly release in late September, updating the filing for a wide range of devices is not unexpected.
Except for the two new model numbers; A2442 and A2485. Now, can anyone think if Apple is working on two new MacBook Pros with a release date after the update to macOS? Step forward the upcoming 14-inch and 16-inch MacBook Pro laptops.
While there was talk ahead of WWDC 2021 on Apple bumping the specs of the released MacBook Pro machines, or even revealing the uprated laptops, these fizzled out in the weeks before. Instead Apple is going to establish the October window as 'this is when we do a major update to the macOS laptops.
And that major update will sync with a number of areas. It will sync with the major update to macOS; it will sync with Apple's new system on chip designs that result in the Axx chips in the new iPhones; and it will allow the MacBook line to create its own release rhythm.
Until Apple Silicon was available, Tim Cook and his team was beholden to Intel's research, design, and production. On top of the performance advantages, having the heart of the Mac platform finally under Cupertino's control is a brilliant benefit.
That rhythm is starting to show now. Just as the EEC filings in previously have shown up the models receiving the latest versions of macOS, they are now another significant sign that the long-awaited reboot of the premium MacBook Pro line is nearly upon us.
Now read why you want to wait for these new macOS laptops…