AMD Radeon RX 6900 XT LC put to the test
The German site PCGamesHardware has managed to get its hands on the AMD
Radeon RX 6900 XT
Liquid Cooled video card, available exclusively from certain pre-assembled manufacturers. The card has a slightly higher frequency than originally advertised and therefore its performance is a bit higher than you might think. But will it be enough to outrun its NVIDIA rivals?
Credit: Maingear When AMD officially unveiled its Radeon RX 6900 XT LC graphics card last month it didn't reveal all of its specs. As PCGH discovered, the Radeon RX 6900 XT LC is based on AMD's Navi 21 XTXH GPU with 5120 Stream Processor, a higher TGP (Typical Graphics Power, for the entire card) and no clock throttling. This means that the TGP can be pushed
up to 40
0W, opening the door upon reaching extreme frequencies.
By default, the GPU has a game clock of 2,250MHz capable of boosting up to 2,435MHz ( thanks to the 400 W TGP it will spend more time working in boost mode than a normal Radeon RX 6900 XT) and offers greater overclocking potential. In addition to the higher clock, the Radeon RX 6900 XT Liquid Cooled also possesses 16GB of GDDR6 memory with a data transfer rate of 18.5GT / s, 0.5Gb / s faster than initially advertised. This gives it a peak bandwidth of 591GB / s, a 15.6% increase over the Radeon RX 6900 XT's regular 16GT / s GDDR6.
Credit: Maingear With 12% higher GPU clock and 15.6% higher peak memory bandwidth, the Radeon RX 6900 XT Liquid Cooled is clearly faster than the Radeon RX 6900 XT reference from AMD, although it may still be challenged by cards like Sapphire's Toxic Radeon RX 6900 XT Extreme Edition. But can it beat NVIDIA's GeForce RTX 3090/3080 Ti? PCGH found that while there are numerous occasions where AMD's Radeon RX 6900 XT LC is able to outperform the GeForce RTX 3090/3080 Ti, in most cases it is NVIDIA's Ampere architecture that trumps the RDNA 2 of AMD, particularly with Ray Tracing Effects on.
Ultimately, while AMD's Radeon RX 6900 XT Liquid Cooled isn't the fastest graphics card on the planet, it's clearly among the best video cards available today.
If you want high performance memory modules, Crucial Ballistix Max DDR4-4000 are available on Amazon at a discounted price.
---
AMD Radeon RX 6900 XT Liquid Cooled edition launched
There is a new AMD RDNA 2 graphics card on the block, and it comes with an AiO liquid cooler as standard. AMD hasn't come forward with an official announcement and product page as yet, but the graphics card is detailed at system making partners like Maingear (US), PC Specialist (UK) and DosPara (Japan). Thanks to VideoCardz for unearthing those links. I've also spotted this liquid cooled GPU being promoted by similar high-end PC systems makers like Falcon Northwest, and NZXT BLD.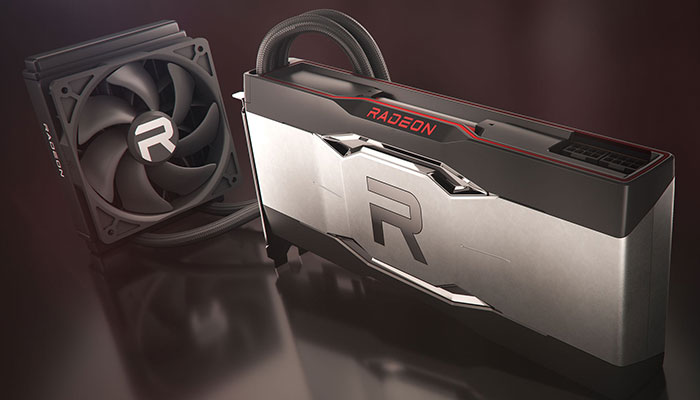 PC Specialist only shares what looks like a PR description of the AMD Radeon RX 6900 XT Liquid Cooled edition. Meanwhile, Maingear shares similar blurb but mentions that the fast new GPU from AMD is going to be a configuration option in its VYBE and RUSH pre-built PCs. Dospara is going to be selling AMD's latest and greatest AiO cooled GPU in its Galleria ZA9R-69XT LC desktop PCs, with a limited run of 100 units.
Moving along to what Falcon-NW reveals, it at least shares some tech specs bullet points for us to get our teeth into when you go to configure a new PC system. You can see above, that the GPU under scrutiny features a 2,250MHz game clock, a 2,435MHz boost clock, 128MB of Infinity cache, and 16GB of GDDR6 memory. This liquid cooled behemoth features various output ports including DP1.4 with DSC, and HDMI 2.1 with VRR and FRL. Clicking a 'compare' button reveals that this LC card is going to cost you US$696 more than the 'plain' RX 6900 XT option, but it is six per cent faster in 3DMark Fire Strike Ultra 4K benchmarks… (see below)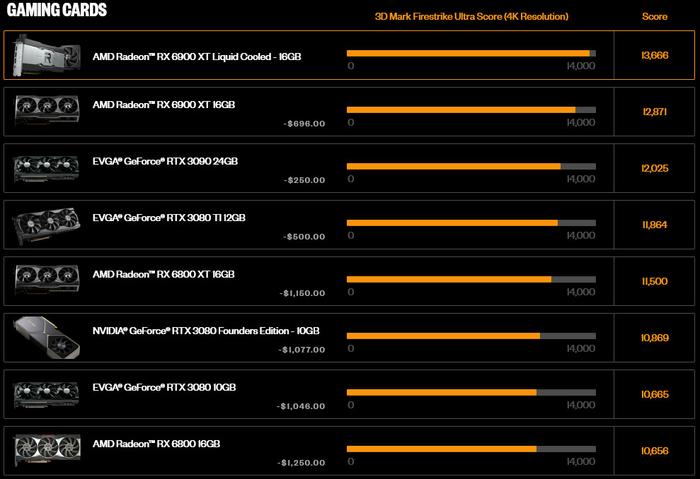 Click to zoom image
NZXT BLD's configurator reveals some different details. For example, it lists its AMD Radeon RX 6900 XT Liquid Cooled edition as being made by ASRock, with a core clock speed of 2,015/2,250 MHz, and a GDDR6 memory clock of 16,000MHz. While the cheapest AIB option for your NZXT build is an RTX 3060 for +$200, the AMD flagship with LC AiO will add $1,800 to your build price. Lastly, for the specs we have access to right now, VideoCardz unearthed the comparative spec sheet below from a Japanese source, which shows that the new AMD Radeon RX 6900 XT Liquid Cooled edition has a TBP of 330W.