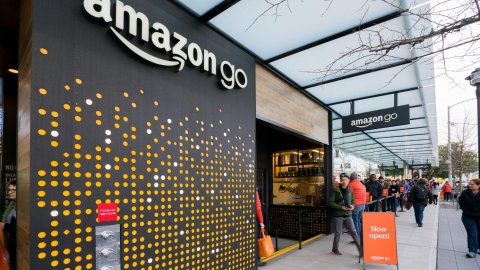 Amazon could soon open physical stores characterized by the brand that now symbolizes e-commerce in digital, thus marking a strange return to the past which is, however, emblematic of the American giant's desire for expansion.
According to
reports from the Wall Street Journal, which refers to unidentified internal sources, Amazon is considering the opening of various stores, designing stores that can offer goods and products of different types, with a preference for the Amazon brand.
It would be supermarkets, or something like that, able to sell products that can usually be found on the Amazon site, maintaining the classic e-commerce sign and therefore presenting themselves as real physical extensions of the company in the world of real shops.
According to reports, there would be no plans to build huge centers, as much as more standard-sized but distributed stores. i in different places. The maximum size of these premises could be around 4000sqm, therefore at the level of some department stores but not too large.
The first centers would be planned in Ohio and California, with others planned later, but we do not yet know whether the intention is to limit itself to the US or to expand into other countries as well. It is not the first time that Amazon has made such a choice: previously, however, these were small supermarkets of the Amazon Go line, a sort of sub-division of the company, already present in America starting from Seattle, as well as the Amazon Go Grocery at Headquarters.
Amazon recently got a € 746 million fine for violating EU privacy regulations.
Source Did you notice any errors?