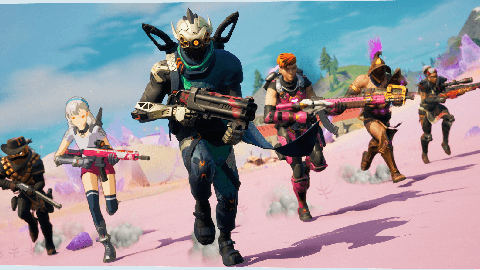 Fortnite
One of the reasons why Fortnite still enjoys great fame and an extremely vast user base is the ability of
Epic Games to
introduce out-of-the-box events that can intrigue players. And apparently, according to some leakers, the next gimmick could be a limited time mode inspired by Among Us.
The rumors regarding a possible "impostor" mode have been circulating for a few weeks already, to be exact since the well-known leaker and dataminer Hypex found a file called "Imposter" with keywords such as, Electrical, Cafeteria, Tasks, Sabotage attached. Does it remind you of anything?
Today, Fortnite's official Twitter account posted an image showing the battle bus and the message "we're tight with the times. Clean that battle bus, Agent".
According to Hypex, in reality the tweet is another teaser of the "impostor" mode coming to Fortnite. An information also confirmed by FNAssist, according to which even further details on the new limited-time mode will arrive tomorrow, Tuesday 17 August. In short, to find out the truth we
will have to
wait very little.
In the meantime there is another leak circulating on the net these days, according to which Fortnite
is about to
receive an unprecedented
open World RPG mode
.
Source Have you noticed any errors?
---
Fortnite Wonder Woman Skin Revealed: How To Unlock Wonder Woman Early
Wonder Woman is heading to Fortnite for the first time ever, joining fellow Justice League heroes such as Batman, Superman, The Flash and Aquaman in the game's ever-expanding roster. After a short comic book teaser, the hero was unveiled by Epic Games alongside her cosmetic set that also includes back bling, a pickaxe, and a glider.
Fortnite Wonder Woman Skin
Wonder Woman's arrival means the Justice League is nearly complete in Fortnite.
The Wonder Woman skin was first revealed in a leak just a few minutes after Epic Games teased the introduction of another DC character. Fortnite leaker @jovanmunja was the first to confirm the new character and Epic has since confirmed it: The Amazonian will arrive in Fortnite on August 19 at 5 PM PT / 8 PM ET.
Included in Wonder Woman's cosmetic set are the following items:
Golden Eagle Wings glider
Athena's battleaxe
DC Trinity loading screen
Diana's Mantle back bling
Both Wonder Woman herself, as well as her back bling, will include alternate styles as part of her 'Armored' variant. All of this will be included in the Wonder Woman bundle in the Item Shop on August 19, though players can buy these items separately too, including just the character if that's all they want.
Wonder Woman Cup
Following a new standard Epic seems to adhere to, Wonder Woman will be available for free for a select number of competitors who come out victorious in this week's Wonder Woman Cup. The Wonder Woman Cup can be found within the game's Competitive menu and will kick off on August 18, a day before Wonder Woman is released to the public.
In this Duos mode cup, players will have three hours to amass as many points as they can across 10 matches. More eliminations and better finishes equate to more points, and the points leaders in each region will earn Wonder Woman and her back bling for free. Anyone who competes and totals eight or more points will automatically unlock the related loading screen featuring DC's three most prominent metahumans.
DC's holy trinity will soon all be found in Fortnite.
Batman has come in many forms over the years in Fortnite and will regularly rotate back into the Item Shop every few weeks. Superman, meanwhile, will only be available for a few more weeks before he's made unavailable forever--at least in his current style. If you're more of a Marvel fan, you can also find Gamorra in the Item Shop for a limited time, or check out the full list of Fortnite Marvel skins.
GameSpot may get a commission from retail offers.