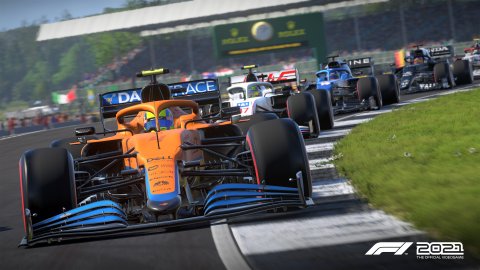 F1 2021 and FIFA 21 topped the UK sales charts in July,
The Legend of Zelda
: Skysward Sword ranks third, but it's the title that has sold the most retail copies.
Sales figures software published by GDS are for last month and include both retail and digital copies. Codemaster's F1 2021 is the best-selling title, followed by FIFA 22 in second place. Particular case that of The Legend of Zelda: Skysward Sword which places in third place, but however without including the data of the digital copies (not received, as well as those of all the other titles published by Nintendo) that could have earned him the positions higher.
146,000 consoles were sold during the month of July, a drop of 21% compared to the same reference period in 2020.
PS5
is once again the best-selling console, followed by Nintendo Switch
and Xbox Series X
in third place. Software sales are also down, with 2.09 million digital and physical copies, 17.2% less than the previous year. However, it must be said that without the digital sales figures of the titles published by Nintendo it is difficult to have a complete picture.
F1 2021 Here is the ranking of the 20 best-selling games in the UK in July:
F1 2021 FIFA 21 (EA) The Legend of Zelda: Skyward Sword HD * (Nintendo) Grand Theft Auto 5 (Rockstar) Call of Duty:
Black Ops Cold War
(Activision)
Red Dead Redemption 2
(Rockstar) The Crew 2 (
Ubisoft
) Monster Hunter Stories 2: Wings of Ruin (Capcom) Spider-Man: Miles Morales (Sony) NBA 2K21 (2K Games) Mario Kart 8: Deluxe * (Nintendo) Ratchet & Clank: Rift Apart (Sony) Olympic Games Tokyo 2020: The Official Video Game (Sega) Minecraft (Mojang) Minecraft: Switch Edition * (Nintendo / Mojang) (Nintendo) * Assassin's Creed Valhalla (Ubisoft) Animal Crossing: New Horizons * (Nintendo) Battlefield 5 (EA) E
football
Pro Evolution Soccer 2021: Season Update (Konami) It Takes Two (EA)
* Data of digital copies not received
As we have seen in the data of the weekly rankings for the past weeks of August, F1 2021 continued to hold the top of the rankings in the first days of August , to then give way to the evergreen Mario Kart 8.
Source Have you noticed any errors?