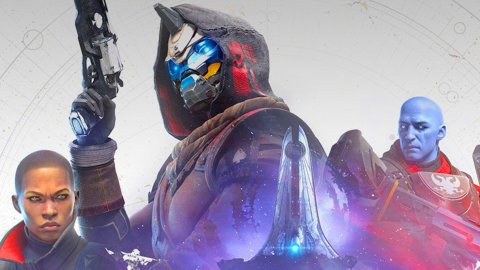 Destiny 2
Tomorrow Bungie will finally reveal the news regarding The Queen of Whispers, the new expected expansion of Destiny 2. In the meantime, however, a leak may have revealed numerous details on the DLC and the much-talked-about crossover event with Halo.
The leak, which appeared first on the RaidSecrets Discord and later on Reddit, reveals that The Queen of Whispers will introduce a new type of weapon (about which, however, no details are known),
new ways to
craft weapons and some details on the plot. So watch out for spoilers from here on out.
Destiny 2 "Darkness returns to Sol, proving to be a powerful tool for the Guardians. Mankind's beliefs are being shaken by new discoveries about Light , the Traveler, the Darkness and the Entity Behind the Pyramids, The Witness (translated into Italian "The Witness", but we await the official translation of Bungie). Destiny's final enemy has been revealed ", reads the description of the plot reported in the aforementioned leak.
Also according to the information that emerged with the indiscretion, it states that Bungie is already working on Lightfall, the next expansion of Destiny 2, and that the game will arrive on the
Epic Games Store
by the end of the year. As for the raids, Bungie would seem willing to revive some classics from the previous chapter, including Mechanical Fury and The Fall of a King.
Furthermore, according to the leak, the crossover between Destiny 2 and Halo will take place in December to celebrate Bungie's 30th anniversary. All apparently will take place on the planet of the first chapter of the series and will have themed content, including various sets of armor for each of the Destiny 2 classes, two missions and four Halo-themed weapons.
Obviously taking with the pliers all the information reported above, waiting for official news from Bungie, which as said at the opening tomorrow, Tuesday 24 August, will finally announce the first details of the expansion The Queen of Whispers of Destiny 2. In any case, what is certain is that Mara Sov is preparing to return with the next season.
Source Have you noticed any errors?
---
Four Things To Do Before Destiny 2's Season Of The Lost Launch Tomorrow
Destiny 2
Bungie
Well, we've made it. Only one more day until both the grand Witch Queen + more reveal showcase tomorrow, which will lead directly into the launch of season 15, Season of the Lost.
This is your last day to do a number of things, and even though seasonal content doesn't evaporate anymore, there are still a couple things I would recommend doing.
1. Turn in Your Vanguard Tokens
The game has told you to do this a few times now, but if you've been putting it off I don't blame you, because it's not exactly fun. Next season, Destiny 2 will convert Zavala over to the Crucible/Gambit token-free rank system, but you'll lose all your unspent tokens in the process.
I turned in about 5,000 tokens and managed to get maybe…two rolls of guns I kept (and probably still won't use). All the armor is automatically trash, given its inability to roll even moderately high stats. I got about 100 or so enhancement cores and a bunch of legendary shards I didn't need. But I mean hey, better than nothing, so you might as well.
Destiny 2
Bungie
2. Clean Up Your Character, Postmaster And Your Vault
I've forgotten to do this before and it's annoying. A new season is about to drop with a whole bunch of new loot, so if you're like me and have like 7 or 8 of your weapon and armor character slots filled when the season launches, enjoy fishing everything out of your postmaster. And make sure your postmaster is clean so you don't lose things entirely.
The same goes for your vault, where if you're starting the season full or at like 490/500, you're not going to have anywhere to put new stuff. At this point, since sunsetting is dead, we really need more vault space, but have no indication that's coming. So start cleaning.
3. Familiarize Yourself With The Nerfs And Buffs
This is probably one of the biggest sandbox changes we've ever seen in the game in terms of the grand total of everything that's changing. Bungie has taken three weeks of massive TWABs to explain it all, and we don't even have the full patch notes yet, which are likely to be record-setting.
I mean, you can stick with your current loadout if you want, heading into new season 15 content, but I for one am going to be trying out a lot of the newly buffed stuff.
Here's the subclass changes TWAB.
Here's the armor changes TWAB.
Here's the weapon changes TWAB.
So when you see me out there Nova Warping with Merciless, you'll understand why.
Destiny 2
Bungie
4. Buy The Raiden Flux From Xur
Xur is in the hangar right now selling a 67 power Raiden Flux with good distribution for Hunters. Given the PvE buffs coming to arc staff, this is a must-have for experimentation in the coming season. Who knows, maybe we'll be throwing away our Laments and whacking Atraks with arc staff and Raiden Flux going forward. Also pick up the Trinity Ghoul while you're at it if you don't have one, as we're heading into Overload Bow season.
That's pretty much it. You can also remember to claim your rewards from your season pass you may not have gotten yet, but worst case I believe you can do that on Bungie's website later. You don't have to spend all your Umbrals and your currency for Override weapons since that isn't going away, but if you want to "clean up" then sure, maybe. For lucky players who have landed Mythoclast, time to go get the catalyst before all its massive buffs.
Alright, tomorrow is going to be wild. See you then.
Follow me on Twitter, YouTube, Facebook and Instagram. Subscribe to my free weekly content round-up newsletter, God Rolls.
Pick up my sci-fi novels the Herokiller series, and The Earthborn Trilogy, which is also on audiobook.