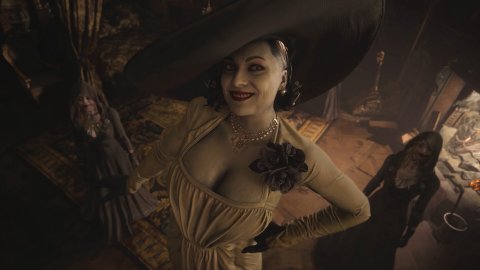 Resident Evil Village and Monster Hunter Rise
Capcom has mentioned the release of DLC and new content for
Resident Evil Village
and
Monster Hunter Rise
in 2022, according to the usual New Year's greetings article published by Famitsu in Japan.
Regarding Monster Hunter Rise, we already know that there is the PC version coming on January 12, 2022, representing the first ever release for Capcom in the new year.
In addition to this, the Monster Hunter Rise: Sunbreak expansion pack is still in the works, bringing with it new monsters and new content for the game, all coming around the summer.
On Resident Evil Village the plans are still rather undefined, from the public point of view, but it seems that there are new features expected in the course of 2022: the chapter in question should receive DLCs and expansions in the course of the year, with further announcements expected only in the next few months.
On the other hand, it is not the first time that there has been talk of additions to Resident Evil Village, considering that the developers had already reported free DLC coming soon, probably also towards the summer . This is not the only news regarding Resident Evil: the publisher has reported that he intends to focus again on the series in the course of 2022, also implying the desire to recover some chapters of the past, perhaps with other remasters arriving in the next period.
Source Have you noticed any errors?
---
13 Most Popular Video Games Of 2021
2021 has been great for video game enthusiasts, thanks to all the fantastic video games that came out this year. However, there are a few titles that became popular over other releases because of their incredible gameplay and story.
So if you are looking for a new game to play, we have compiled a list of the most popular video games in 2021 that you should definitely try for a change.
MORE: 10 Best Free PC Games You Should Play In 2021
Far Cry 6
: Resolver Gameplay Trailer | Xbox E3 Conference
BridTV
2489
Far Cry 6: Resolver Gameplay Trailer | Xbox E3 Conference
https://i.ytimg.com/vi/DZx6Brngd-4/hqdefault.jpg
803211
803211
center
26546
This listing contains all the popular games that have been released at the time of writing for different platforms like PS4, PS5, Xbox Series X|S, Xbox One, Switch, and PC. In case you are looking for games on specific platforms, you can go through our other listings mentioned below.
Check out the best free games on:
Please Note: The games on this list are not in any particular order, so feel free to try any of them first.
1. Ratchet And Clank: Rift Apart
Ratchet And Clank: Rift Apart is a third-person shooter game that was released exclusively for PS5 on June 11. This game has gained popularity because of its visuals and combat elements.
Being a sequel to Ratchet & Clank: Into the Nexus, the story begins with Dr. Nefarious, who steals the Dimensionator to find a dimension where he always wins. In doing so, he damages the fabric of space and time. So now Rivet, Clank, and Ratchet must reunite to defeat Nefarious.
If phenomenal visuals, unique weapons and combat style, and a gripping story excite you, check out this game.
Available On: PS5
Modes: Single-Player
2. Resident Evil: Village
Resident Evil Village is undoubtedly one of the most popular survival horror video games of 2021. Once again, you get to play Ethan Winters, who is looking for his kidnapped daughter. But during this hunt, you end up in a village filled with mutant creatures that must be eliminated.
As a sequel to Resident Evil 7: Biohazard, RE: Village does a fantastic job of maintaining the survival horror elements which the Resident Evil series is famous for. But it also adopts a more action-oriented gameplay style than its predecessor, making it more exciting!
Available On: PC, PS4, PS5, Stadia, Xbox One, Xbox Series X|S
Modes: Single-Player, Multiplayer
3. Returnal
Returnal is a sci-fi survival shooter game about an astronaut named Selene who crashes into an alien planet and finds herself stuck in a time loop.
Players need to explore the barren landscape of an ancient civilization in the game for their escape. But it's easier said than done, as every time Selene is defeated, her journey restarts, bringing the concept of time loop into play.
Adding more to this, you'll discover that the planet changes with every cycle, along with the items at your disposal. So every loop offers variation in the game and forces you to push your boundaries and combat strategy each time.
Available on: PS5
Modes: Single-Player
4. Fortnite
While Fortnite is not a newly released game, its vast player base speaks volumes about its popularity. Thanks to Epic Games, Fortnite remains one of the most popular video games in 2021, even after four years of release.
The developers have managed to keep the battle royale game entertaining for players through new storylines, characters, quests, rewards, and skins.
So far, Fortnite's ever-shifting approach to attract players via new battle pass content and gimmicks such as collaborations with celebrity figureheads to stay relevant has worked well.
Available On: PC, Mobile, PS4, PS5, Xbox One, Xbox Series X|S
Modes: Single-Player, Multiplayer
5. Valorant
Valorant gained unprecedented success in the beta release alone, making it one of the popular FPS games in 2021 as well.
The game takes place in the future Earth, where many characters, known as Agents, use their own unique set of abilities for a tactical win.
If you prefer 5v5 multiplayer shooter games like CS:GO, you should definitely Valorant which offers a unique take on competitive gameplay.
Available On: PC
Modes: Multiplayer
6. Call Of Duty: Warzone
Call Of Duty: Warzone is another free-to-play battle royale game pegged as a favorite by 100+ million active players. It offers online multiplayer combat among 150 players, which is different from the typical 100 players limit seen in other battle royale titles.
There are brilliantly executed concepts in the game like the Gulag, which offers dead players a chance to return in the game if they can defeat another player in a 1v1.
All in all, with its polished battle royale mode, superb gunplay and action-packed experience, we can say that Warzone is going to dominate the gaming zone, at least in 2021.
Available On: PC, PS4, PS5, Xbox One, Xbox Series X|S
Modes: Multiplayer
7. Minecraft
You'd be amazed to know that Minecraft was released back in 2011. Despite being the oldest game on this list, its popularity has only increased over the decade.
In this sandbox video game, players explore a blocky 3D world to extract raw materials for crafting items and building structures in a pixelated world. Depending on the game mode, you can either fight AI "mobs" or cooperate with or compete against other players in the same world.
The best part is that Minecraft receives regular updates like the latest Cliffs & Caves update, which is sufficient to keep you immersed in it. So if you haven't played this game yet, you should definitely try it once.
Available On: PC
Modes: Single-Player, Multiplayer
8. Outriders
If you have been a Doom Eternal or Diablo fan, Outriders is surely going to appeal to you.
Outriders is a coop action RPG that takes place on post-apocalyptic Earth, where constant war and climate change have made the planet unfit for humans. In a last-ditch effort at survival in the year 2159, players either work alone or in co-op groups to eliminate monsters and loot for survival.
While the game has received praises for its gameplay, customization, and visuals, it has also been criticized for the story and characters. But either way, Outriders has grabbed a fair share of attention to secure a spot amongst the most popular video games in 2021.
Available On: PC, PS4, PS5, Stadia, Xbox One, Xbox Series X|S
Modes: Single-Player, Multiplayer
9. Monster Hunter Rise
Monster Hunter Rise is the latest installment in the Monster Hunter series by Capcom. It is an RPG that is currently available for Nintendo Switch, but a PC version is said to be in the works.
The story of MHR takes you to the colorful Kamura Village, where you play as a hunter equipped with armor and weapons to defeat monsters. The game can be enjoyed either in solo mode or up to three other players in local or cooperative online play.
Available On: Nintendo Switch
Modes: Single-Player, Multiplayer
10. Dead By Daylight
We have another popular survival horror game on the list that has grabbed headlines because of the recent crossover with Resident Evil.
Dead By Daylight has been around for quite some time now, but it has held players' interest via new updates and DLCs.
DBD's gameplay fills you with adrenaline as one player takes the role of a Killer and the other four play as Survivors who are trying to avoid being caught and sacrificed by the Killer.
So if you love the unpredictability and tense arcs in horror movies, you will surely enjoy Dead By Daylight.
Available On: Mobile, PC, PS4, PS5, Stadia, Xbox One, Xbox Series X|S
Modes: Multiplayer
11. Genshin Impact
miHoYo released its action role-playing game, Genshin Impact, last year in September. At first, several players considered it a clone of Breath of The Wild. Of course, even the devs stated that Nintendo's title was their major inspiration for Genshin Impact. However, millions of players got hooked after spending only a few hours in the game because it offers so much more in terms of combat and quests. Also, the anime-styled graphics felt like a blessing for players who also enjoy Japanese animation.
Available On: Mobile, PC, PS4, PS5
Modes: Single-Player, Co-op
12. Halo Infinite
Xbox Game Studios' Halo Infinite was probably one of the most awaited video games of 2021. And honestly, the multiplayer game from 343 Industries didn't disappoint. Both Campaign and Multiplayer of the game received pretty positive reviews from fans worldwide.
Halo players were waiting for the series to have a comeback with a great installment, and honestly, Halo Infinite exceeded players' expectations. Also, making the multiplayer mode free-to-play for everyone was just icing on the cake.
Available On: Windows, Xbox One, Xbox Series X/S
Modes: Single-Player, Multiplayer
13. Deathloop
Arkane Studios' Deathloop is clearly 2021's game of the year contender for several video game enthusiasts. The storyline in which you follow the struggle of Colt was definitely impressive; however, it's Deathloop's spectacular gameplay that won our hearts. The impressive combat, music, story, and, of course, unique multiplayer aspect of the game made it one of the best releases of 2021.
Available On: Windows, PS5
Modes: Single-Player, Multiplayer
Have something to tell us about this article?