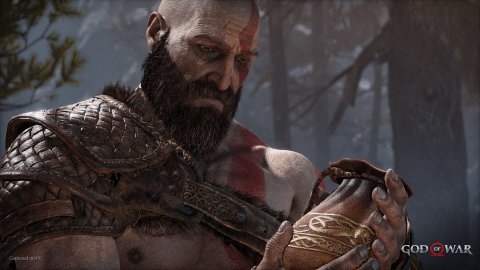 God of War
User u / scorpion0rk has published his drawing dedicated
to God of
War that hides a particularly touching story, which deserves to be told. More than anything else it is a dedication to a person who was really dear to him, linked in some way to the series.
As it should be, the success of the God of War series has created a huge fanbase, ready to fill the network of dedicated amateur works. After all, it has sold 19.5 million copies and soon we will be able
to play it
on PC too, so it is normal that this is the case.
The user u / scorpion0rk, however, has a particular motivation for having drawn a close-up of Kratos , made very well and with a decisive and conscious style, albeit very dark: the birthday of his uncle, the man who introduced him to the series and the character.
u / scorpion0rk: "My Uncle, who introduced me to the God of War series, looked a lot like Kratos. I made this drawing in his honor, as today would be his birthday. "
What to add? In its drama it is a beautiful story of an affection linked (also) to video games. Too bad for the loss of such a man.
Source Have you noticed any mistakes?
---
Earlier this week, Sony confirmed that its upcoming PC port of God of War is being developed by Jetpack Interactive, with Santa Monica Studio overseeing the project. However, a new rumor suggests Jetpack Interactive might also be working on a port of God of War Ragnarok, the upcoming sequel. The rumor comes from the LinkedIn page for Warren Lee, a tools and systems programmer for Jetpack. In his profile, Lee lists God of War Ragnarok as one of the projects he's working on. This has led to a lot of speculation that Sony is already planning a PC port of the game, before it's even been released on PS5!
An image of the LinkedIn profile was shared on Twitter by user @SolidNSnake1985, and can be found embedded below.
As pointed out by Game Rant, it's possible this was some kind of mistake on Lee's part, and he meant to list the 2018 God of War, instead. However, given Sony's recent embrace of the PC platform, it's also possible the company is already making plans to port Ragnarok. It's incredibly unlikely Sony would release Ragnarok on PC the same day it releases on PlayStation 5, but it is possible that it won't be as long a wait for the sequel. If Ragnarok ends up matching or exceeding the quality of the previous game, it would make sense that Sony would want as many players to enjoy it as possible.
The God of War franchise is an incredibly important one for Sony. Kratos has become one of the company's biggest icons, even appearing in recent ads for UEFA Champions League, alongside Atreus. Not every PlayStation fan is happy about so many first-party games heading to PC, but it will no doubt expand the audience for the God of War series. 
God of War Ragnarok is set to release next year, exclusively on PlayStation 5. In the meantime, readers can check out our previous coverage of the game right here.
Would you be disappointed if the next God of War releases on PC? Are you looking forward to the game? Let us know in the comments or share your thoughts directly on Twitter at @Marcdachamp to talk all things gaming!