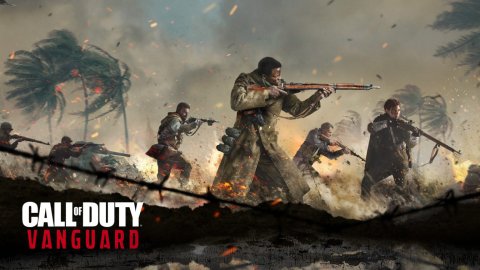 Call of Duty Vanguard
Today, August 19, 2021 at 7:30 pm GMT, the Battle of Verdansk event will air in
Call of Duty Warzone
. Through this, we will have the opportunity to discover the first details on
Call of Duty Vanguard
, chapter of 2021. Already now, however, we have the opportunity to discover that the alpha version of the game has been loaded on the PS Store.
The information was shared by the PlayStation Game Size Twitter account. This reports that Call of Duty Vanguard Champion Hill Alpha will be available on
PS4
and
PS5
(there is no information on other possible consoles, also because we are talking about the files of the
PlayStation Store
). The weight is 20,376 GB, but the source reports that there can be variations of 2 or 3 GB between one region and another. As indicated, alpha will be available in all regions.
As you can see, the tweet also includes a couple of images (they are the same but in different formats) that show a map or area of ​​a setting never seen before. All this, in any case, does not tell us anything about the possible release date of the alpha of Call of Duty Vanguard. According to the most recent rumors, the alpha will take place August 27-29, with a beta release in September. For now this is not official information.
It is credible that the release date of the Call of Duty Vanguard alpha will be announced during tonight's event. So there is nothing left to do but wait.
Source Have you noticed any errors?
---
Call of Duty: Vanguard Reveal Is Happening Today
Here's another reminder just in case this happened to slip your mind. The next thrilling installment to the Call of Duty franchise is getting ready to have a big unveiling later today. After several rumors circulating online, the next Call of Duty title has players anticipating a World War II setting. Well, after a teaser was released, it looks like we're diving back into the familiar setting once again. However, for the past few days, we've been waiting to jump into Call of Duty: Warzone to see the trailer drop live.
Just like the past Call of Duty: Black Ops Cold War video game, the Call of Duty: Vanguard reveal will happen in the iconic battle royale free-to-play installment. It's a game that fans play heavily today, so what better way to get the word out there than by sending players into the game for an event to occur. We know that this reveal is set for today at 10:30 AM PT within Call of Duty: Warzone. So if you're reading this, you have plenty of time to log online and join your friends to see this trailer.
Join the #BattleofVerdansk and experience the worldwide reveal of Call of Duty: Vanguard
📅 – 8/19🕥 – 10:30am PT📍 – Verdansk pic.twitter.com/N0efSm5nOA
— Call of Duty (@CallofDuty) August 16, 2021
Fortunately, there are always streamers online as well that will be showcasing this event. In addition, we're bound to see a trailer also uploaded shortly after online. So you can be sure that we'll have a trailer upload of this game as soon as possible. With that said, we're still waiting on just what all this game would bring out. After all, it wasn't long ago that we had Call of Duty: WWII, so it should be interesting to see just where this game takes players.
Like the previous installments, Call of Duty: Vanguard will play a significant role in Call of Duty: Warzone. This free-to-play battle royale game. With each new Call of Duty installment, some of the elements are brought over to the battle royale game. We may not get details about how Warzone will be changing up with this trailer but news should hit soon.
Source