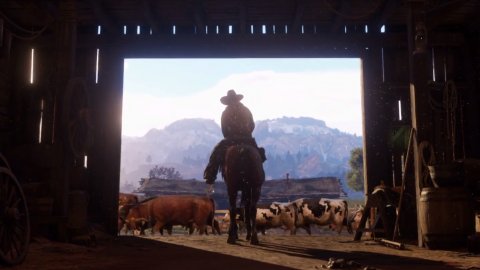 Red Dead Redemption
Interviewed by Gamereactor, Henry Cavill (The Witcher, Batman v Superman: Dawn of Justine, Enola Holmes ...) has revealed that he would also
like to be part
of a film dedicated to
Red Dead Redemption
, the western saga of Rockstar Games.
"Hmmm ... aww, this is really cool," Cavill said when asked which video game he would like to turn into a Netflix movie or series starring him. "Well, that's a tough question, because you're tying an intellectual property and a company together, which is a tough thing to do, so I sure don't want to corner myself with my answer, but there are a lot of games out there. .. I started playing
Red Dead Redemption 2
- I know I'm a little late - but I started playing it and I'm really enjoying it. And so, something like this I think would be fun to make into a movie. " br>
A horse from Red Dead Redemption 2 Henry Cavill is an accomplished gamer and is a huge fan of The Witcher, Warhammer, Mass Effect and more. The actor regularly states that he wants to be part of a potential series or film based on some video game. What do you think about it? Would you like to see a Western-style Cavill?
Source Have you noticed any errors?
---
Red Dead Online Players Unhappy With New Update
Red Dead Online players aren't very happy with today's update. It's been a big couple of months for GTA fans between the release of GTA Trilogy and this month's huge GTA Online update. The same can't be said for Red Dead Redemption fans, who haven't just had to watch GTA fans enjoy themselves the last two months, but the whole year. It's been a very slow year for Red Dead Online, which seems to be slowly dying. And as it dies, players are growing increasingly disgruntled with Rockstar Games for not supporting the game enough.
Today, Rockstar Games added new holiday Call to Arms modes to the game to celebrate Christmas and the other holidays. Right now, Red Dead Online actually has what GTA Online fans have been begging for, which is snow. However, this isn't enough to placate fans, who are dying for new content and meaningful improvements. 
We heard earlier this month that the game wasn't going to get a big December update like GTA Online, and right now there's still no word of when its next big update will release. Rockstar Games has yet to reveal what its 2022 plans are for Red Dead Online, but right now they seem pretty non-existent.
At the moment of publishing, Rockstar Games has not addressed any of this criticism. We don't expect this to change, as it never comments or responds to feedback of this variety, but if it does, the story will be updated accordingly. In the meantime, for more coverage on Red Dead Online -- including the latest news, rumors, leaks, and speculation -- click here. 
As always, feel free to leave a comment or two letting us know what you think or, alternatively, hit me up on Twitter @Tyler_Fischer_ to talk all things gaming. What do you think of the current state of Red Dead Online?