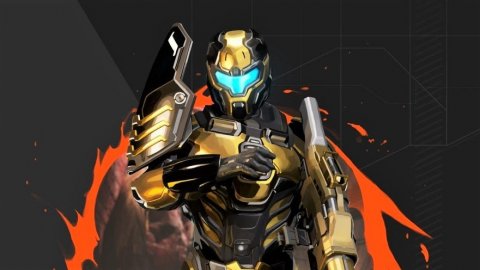 Splitgate
Splitgate seems to have gone far beyond the conceivable goals for a rather small project, described so far as "a mix between Halo and Portal", as evidenced by the excellent numbers recorded by the game in the year 2021,
according to
the summary video. br>
The idea of ​​mixing the use of portals able to modify the system of movement and interaction with the maps with the mechanics of arena shooter typical of Halo, with a lot of characterization rather similar to the latter as regards the characters, resulted in an evidently convincing gameplay, which brought many players into the community, thanks also to the free-to-play essence.
1047 Games, a small team based in Nevada, is managed to obtain impressive results with his project in 2021, reaching over 15 million downloads, 6,167 years of gaming spent within it (obviously adding the time taken by all the players overall ), resulting among the top trends and also launching the Splitgate Pro Series with a prize pool of $ 100,000.
In short, Splitgate was undoubtedly a success and the numbers of 2021 certify it, despite being a relatively small project and destined to clash with high-profile games in this area. To find out more, we refer you to the review of Splitgate, a game that, according to the developers, can coexist with Halo and help each other.
Source Have you noticed any errors?
---
Splitgate's End-of-Year Infographic Reveals a Strong 2021 for the Popular Shooter
News
Published on December 30, 2021 Dylan Chaundy
While 2021 certainly had its ups and downs, one game that came out of nowhere and resonated well with audiences around the globe was 1047 Games' free-to-play sci-fi shooter, Splitgate.
Blending Portal-like traversal mechanics with the snappy first-person shooting of the Halo series, the Nevada-based studio's debut title is a rivetingly fun good time. Don't just take our word for it, though.
Yes, from super busy servers getting overwhelmed by high levels of demand to a $1.5 billion valuation following 13 million downloads, the start-up company's FPS sure has gone from strength to strength, eh?
To help showcase what a great year Splitgate has had, the developer has released a really interesting infographic highlighting a handful of key facts. Feel free to check out said end-of-year image down below:
Image Credit: 1047 Games
As you can see, the figures are pretty astounding. Over 15 million gamers have downloaded the game; over 6 billion folks have had their butts fragged; over 7 billion portals have been spawned; and over 6 thousand years of Splitgate have been played in 2021 alone — not too shabby, eh?
Accompanying the new year-in-review stats is a funky video breaking down the facts, which you can check out below:
Here's to an even more fun-packed and successful year for the free-to-play shooter, right?
But what say you, though? What do you make of this new infographic? And have you been playing much of Splitgate this year? Portal down to the usual place below to let us know.
Splitgate is available to download now for free on PS4, Xbox Series X|S, and PC.