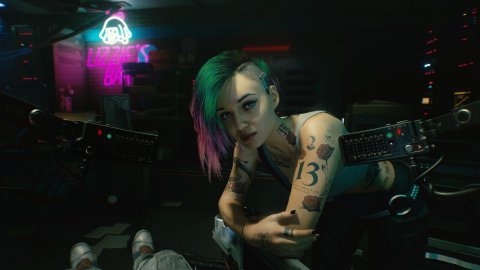 Cyberpunk 2077
Cyberpunk 2077
has seen
the release
of new mods that improve the rendering of details for the most distant objects in the game and reduce the pop-in effect of the textures.
Despite the controversy one of the best-selling games and played on Steam in 2021, Cyberpunk 2077 therefore continues to receive unofficial support from the large and passionate modder scene, in this case with two different packages.
The mod LOD Improvements introduces a series of adjustments that they improve the level of detail of the game, multiplying the definition up to ten times and thus inevitably impacting on performance.
By acting in particular on the settings of the "cinematic" item we will be able to drastically reduce the pop-in of textures, that is their sudden appearance, which will only become visible from a great distance.
The mod Improved Vegetation LODS instead focuses on the visual rendering of vegetation, c with a set of enhanced textures that actually offer a net improvement to these assets.
Source Did you notice any errors?
---
'Cyberpunk 2077' is one of Steam's most played games of 2021 despite its controversial launch
Valve is all set to wrap up the year and released a series of 'Best of 2021' lists, including the most played games on its platform. And it might surprise some fans that 'Cyberpunk 2077' is included in this prestigious group.
CD Projekt Red spent years developing 'Cyberpunk 2077.' The studio's popular 'The Witcher' series helped make millions of video game fans excited about the game even though it was an all-new IP. And the developer made several declarations that the game would only be released when it is ready.
Unfortunately, the hype for 'Cyberpunk 2077' quickly turned to a collective disappointment and the studio's long-established rapport with fans turned sour after the game launched in December 2020. As most fans likely know by now, the RPG was filled with bugs and severe crashing issues that took months for CD Projekt Red to fix.
The early troubles of 'Cyberpunk 2077' were so drastic that it resulted in Sony's decision to pull out the game from the PlayStation Store. But the RPG remained available on other digital stores and playable on other platforms, including Steam. This could explain how the game still managed to get into the most played games list despite its tumultuous release.
Steam said its most played games of 2021 are titles that reached more than 200,000 peak players. But specific data per game was not provided. However, based on SteamDB, 'Cyberpunk 2077' recorded an all-time peak of 1,054,388 players when it launched on Dec. 10 last year. Concurrent players count throughout 2021 did not reach a similar milestone, but there is no way of knowing how much time Steam users spent on the RPG.
The rest of Steam's most played games list is not surprising. They include widely popular titles like 'PUBG,' 'GTA V,' 'Apex Legends,' 'CS:GO,' 'Valheim,' 'Halo Infinite' multiplayer, 'New World,' 'Dota 2,' and 'Rust.'
To be fair, CD Projekt Red did well in fixing hundreds of bugs and resolving performance issues through the first months of 'Cyberpunk 2077.' And the game is in much better shape than it was a year ago. But console players are still waiting for the release of the free next-gen upgrade for PS5 and Xbox Series X/S.