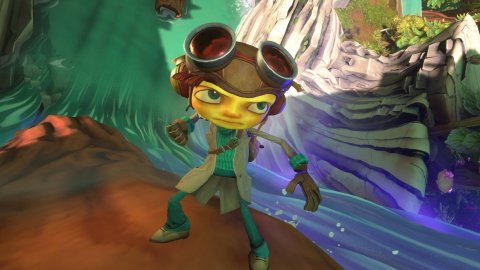 Psychonauts 2
The great Tim Schafer and the equally great Jack Black have made a video in which they play together in Psychonauts 2, the recent masterpiece of Double Fine. It is a film that lasts about an hour in which the two chat amiably about the game and their business, in a very amused way. Not for nothing have they been friends for a long time (Jack Black has collaborated on several occasions with Double Fine) and they seem to have a perfect understanding.
If we want it is also a great way to return to see Psychonauts 2, for many the real game of the year (at least
for those who
understand it ... joking). Overall it is a beautiful sight, both for the attitude of the duo and for the game itself, a concentrate of creative anarchy that has not been seen for years in the world of video games.
For the rest we remind you that Psychonauts 2 is available for PC,
Xbox
One,
Xbox Series X
and S and
PS4
. The game was initially funded through a crowdfunding campaign on FIG, only to be taken under the wing of
Microsoft
, following the acquisition of Double Fine. If you want to know more about it, read our review of Psychonauts 2, in which we have spoken very well.
Have you noticed any errors?
---
Game of the Year 2021 voting round 17: Hades vs. Psychonauts 2
BATTLE OUT OF HELL: As the immortal Prince of the Underworld, you'll wield the powers and mythic weapons of Olympus to break free from the clutches of the god of the dead himself, while growing stronger and unraveling more of the story with each unique escape attempt.
UNLEASH THE FURY OF OLYMPUS: The Olympians have your back! Meet Zeus, Athena, Poseidon, and many more, and choose from their dozens of powerful Boons that enhance your abilities. There are thousands of viable character builds to discover as you go.
BEFRIEND GODS, GHOSTS, AND MONSTERS: A fully-voiced cast of colorful, larger-than-life characters is waiting to meet you! Grow your relationships with them, and experience thousands of unique story events as you learn about what's really at stake for this big, dysfunctional family.
BUILT FOR REPLAYABILITY: New surprises await each time you delve into the ever-shifting Underworld, whose guardian bosses will remember you. Use the powerful Mirror of Night to grow permanently stronger, and give yourself a leg up the next time you run away from home.
NOTHING IS IMPOSSIBLE: Permanent upgrades mean you don't have to be a god yourself to experience the exciting combat and gripping story. Though, if you happen to be one, crank up the challenge and get ready for some white-knuckle action that will put your well-practiced skills to the test.
SIGNATURE SUPERGIANT STYLE: The rich, atmospheric presentation and unique melding of gameplay and narrative that's been core to Supergiant's games is here in full force: spectacular hand-painted environments and a blood-pumping original score bring the Underworld to life.
Razputin "Raz" Aquato, trained acrobat and powerful young psychic, has realized his lifelong dream of joining the international psychic espionage organization known as the Psychonauts! But these psychic super spies are in trouble. Their leader hasn't been the same since he was rescued from a kidnapping, and what's worse, there's a mole hiding in headquarters.
Combining quirky missions and mysterious conspiracies, Psychonauts 2 is a platform-adventure game with cinematic style and tons of customizable psychic powers. Psychonauts 2 serves up danger, excitement and laughs in equal measure as players guide Raz on a journey through the minds of friends and foes on a quest to defeat a murderous psychic villain.