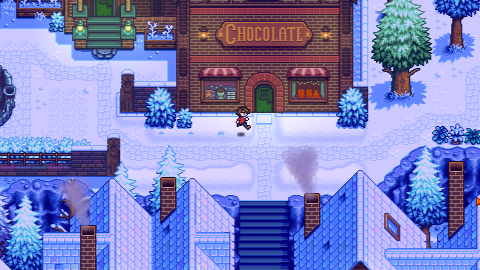 Haunted Chocolatier
Haunted Chocolatier is the
new game from
Eric Barone, author of Stardew Valley. We know little about the game, but the developer has revealed some details on the relationships between characters, already present in Stardew Valley.
In a new interview with Vgkami, Eric Barone was asked if
it will be
possible to create relationships between your character and the NPCs in Haunted Chocolatier. Barone confirms that "
there will be
relationships like in Stardew Valley", but they may not work the same way.
The character of Haunted Chocolatier At the moment the developer does not want to reveal too many details on the matter, but for a very simple reason : he for one is not sure what this part of the game will be like. "I have not yet decided exactly how the system will work," says Barone. "And I expect to handle some things differently this time around."
It's therefore credible that we'll have to wait until
the release date
approaches in order to find out more about Haunted Chocolatier's relationship system. We remind you that
there is no
date for the release of the game yet, so we do not think it is a good thing to be in suspense. In the meantime, you can (re) watch the trailer at this address.
Source Did you notice any errors?