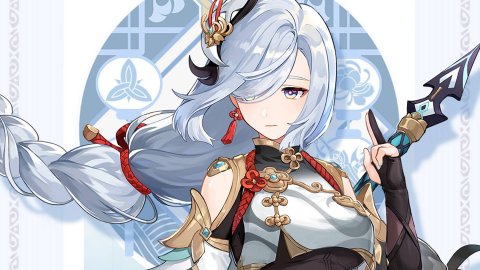 Genshin Impact
There are a few days left until the launch of version 2.4 of
Genshin Impact and
miHoYo to pass the wait has published a trailer dedicated to Shenhe, the new 5-star character coming with the next update.
The movie, which you can view in the player above, he offers some clues to Shenhe's story. In the video, we learn that the red string at the top of her dress is not just an ornament, but a kind of spiritual object that protects the girl from distressing nightmares.
Shenhe was estranged from her family when she was still a child because she was considered "cursed", subsequently living in isolation in the Liyue Mountains, training under the guidance of the adeptus Cloud Retainer. We'll probably find out more about the character's past once the update is available.
We remind you that Genshin Impact's "Feeting Colors in Flight" update 2.4 will be available starting January 5, 2022. In addition to new entry Shenhe and Yun Jin, among the news of the update we also find the new Enkanomiya area, the reruns of the banners of Xiao, Zhongli and Ganyu and many events.
Have you noticed any errors?
---
'Genshin Impact' Gets A Likely Yae Miko Release Date For Patch 2.5
Yae Miko
Genshin Impact
Genshin Impact is about toa> launch its 2.4 update, but as is always the case, players are looking ahead to the future, past new characters Shenhe and Yun Jin and toward someone they've been trying to find for months now: Yae Miko.
Yae Miko is the advisor/friend/possible girlfriend to Ei, the Raiden Shogun, who has been a key part of the entire Inazuma storyline, and yet she remains unavailable for players to actually pull for. But new leaks and rumors suggest when she may be coming.
The alleged leak is that Yae Miko will arrive with her own banner in the 2.5 patch, which should arrive around February 16, 2022, based on current scheduling. The other banner will be a re-run of the Raiden Shogun herself, as is the pattern for archons, and then the return of Kazuha as well.
The order of these is not exactly clear and it changes depending on the leak source. It could be Yae Miko first, which would put her on February 16, or she could be the second banner, weeks later. But everything points to her being in the 2.5 patch, and as such, the story should take place in Inazuma for at least part of the developments during that time.
The current idea is that Yae Miko will be a 5 star electro catalyst user. There are rumors about her kit as well, where her signature weapon stacks elemental skill damage, and there's something about a "Sakura Thunderbolt" and a "Lethal Sakura" as being part of her kit. But these leaks are unconfirmed and it will probably be a while until we start getting official teases for her.
MiHoYo is constantly trying to prevent too much information about future heroes getting out, because they don't want people to skip going for current heroes, which is why you don't see them map out longer term plans for when new characters are arriving. But the fanbase does a pretty good job of figuring this out for themselves, and in Yae Miko's case, she's long overdue for her arrival in the game, considering she was a key Inazuma character pretty much from the moment we got to the islands.
I am curious what role she will play, and if it will be worth going for a catalyst user like her, as those have been far from the favorite for most players, depending on their team makeup. But everyone has been enjoying the recent arrival of new Electro characters for the first time in ages, now that the Vision Hunt Decree has lifted. I recently just caught up with the storyline and I enjoyed Yae Miko's role in the Raiden Shogun content from a little while ago. Curious to see what her own story would contain.
Follow me on Twitter, YouTube, Facebook and Instagram. Subscribe to my free weekly content round-up newsletter, God Rolls.
Pick up my sci-fi novels the Herokiller series and The Earthborn Trilogy.