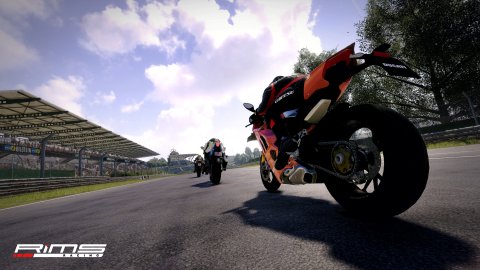 RiMS Racing
RiMS Racing, the new racer developed by the Italian RaceWard Studio team, is shown
with new game
play from the Million Dollar Highway and with an interesting video diary dedicated to the details of the game.
Released on August 19th, RiMS Racing will test to offer a different experience than usual, with an unprecedented concept as regards motorcycle simulations.
The video you find in the head was captured during a race on the famous Million Dollar Highway. Located in the heart of Colorado's Rocky Mountains, this 520km course is packed with tight curves and climbs of over 3,000m amid dizzying falls and majestic plateaus through a breathtaking landscape.
In conjunction with the
new gameplay video
, the third episode of the RiMS Racing documentary series has been released.
The new episode focuses on the amount of details added to the game and also highlights the precious collaboration of the studio with Pirelli and Brembo to guarantee players a simulation that is as realistic as possible.
Over 500 official brand spare parts are available for the eight bikes in the game, so players can customize their bike for the best performance.
In this regard, players will have access to Pirelli products including the brand new DIABLO ROSSO IV, making its absolute debut in the gaming scene.
Every single component will affect racing performance and driving feel, giving players an experience identical to real racing conditions.
Have you noticed any errors?