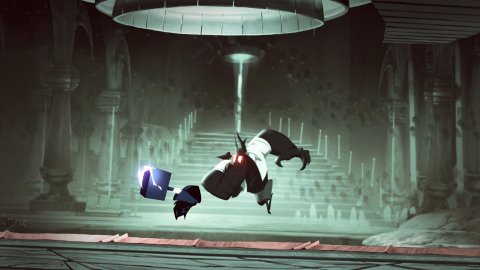 Have a Nice Death
During The Game Awards 2021, a
new game from
Magic Design Studios (developers of Unruly Heroes) was unveiled: Have a Nice Death, a rogue-lite action game. Here is the trailer,
the release date
in Early Access (March 2022), the PC requirements and the images.
The official description reads: "Have a Nice Death is a 2D action roguelite where you play as an overworked Death whose employees have gone wild, completely disrupting the balance of souls - and his vacation plans. To restore order, you'll need to grab your trusty scythe and show your employees who's the boss. "
Have a Nice Death will be available as an Early Access version on PC during March 2022. There is currently no information on a potential console version.
The minimum PC requirements (temporary, may change) indicated on Have a Nice Death Steam are:
Operating system:
Windows
10 (64-Bit) Processor: i5 Memory: 4 GB of RAM Video card: NVIDIA GeForce 970 GTX or AMD Radeon R9 290x Memory: 4 GB of available space
Have a Nice Death is a 2D action game with a quick combat system, with over 30 weapons and spells to use to upgrade your character. After each defeat, we will unlock new items and upgrades that make subsequent games easier. The upgrades we have chosen, however, activate bonuses for our enemies, so as to always make the game balanced. Have a Nice Death supports Italian.
+1 Tell us, what do you think about this game?
Have you noticed any errors?
---
Have A Nice Death Will Be 'One of the Next Great Roguelites'
Have A Nice Death was among the titles that fans saw at The Game Awards this year. It is the combined work of Magic Design Studios and Perfect World Entertainment. The trailer reveals a cutesy roguelite that has players assuming the role of a tiny grim reaper.
Playing as Death, Have A Nice Death players will be the overworked CEO of a huge corporation that is responsible for processing souls, called Death Incorporated. They will roam around the headquarters to round up and rehabilitate employees who have not been following company protocol. In the Have A Nice Death universe, Death wants soul-snatching done correctly and does not want its reapers to take far too many souls from Earth.
One of the challenges in the game is getting the department bosses, called Sorrows, under control. This will probably need multiple runs to complete. Fortunately for the players, they will have quite an arsenal of weapons, special skills, and spells to finish the mission.
"The game mixes our passion for 2D animation, fast and furious combat, and compelling visual effects with a macabre universe that comes to life through dark, but burlesque humor," said Creative Director and Animation Director Nicolas Leger. "The end game is our team's point of view on the contemporary corporate world and a compelling look at what Death's life would look like if he were one of us."
Sebastien Benard, the Lead Developer of Dead Cells, is confident that Have A Nice Death is going to be among the best roguelites in the gaming industry today. "The game's premise of Death as CEO of the Underworld coupled with its cute hand-drawn art style and great gameplay loop is sure to establish it as one of the next great roguelites," he said. "I am thrilled to be a consultant on the game."
Are you excited for Have A Nice Death? Let us know in the comments below.
SOURCE