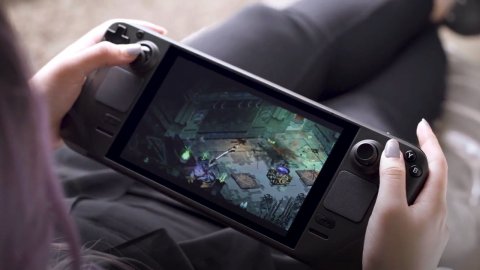 Steam Deck
Valve is known for its innovations both at the software and at the hardware level and Steam Deck does not seem to be outdone. Now, thanks to a patent, we can see that the handheld console's trackpad could allow for unique functions within games.
The patent describes the trackpad as a "sensor-rich" component for "advanced control capabilities. ". The Steam Deck trackpad is capable of "sensing an amount of force associated with pressure". In other words, it could be used to detect a variety of different inputs depending on how much the player presses.
This could have various applications. For example, imagine having to burst a balloon: instead of simply pressing a button, you can press on the Steam Deck trackpad. It would be a more realistic and sensorially deeper experience. Furthermore, according to the patent it is possible to use the trackpad in combination with the normal keys, so as to create unique interactive gameplay scenes.
Trackpad sensors, according to the Steam Deck patent, can be rendered more or less sensitive depending on the game or the specific gameplay situation, so as to customize the experience in a more profound way. Developers could for example increase the level of pressure required to perform an action to the maximum, so as to make a game scene more tense.
As always, we are talking about a patent that offers just a few ideas. We will then
have to see
if the developers will actually introduce custom functions within the Steam Deck version of their game.
Finally, are you interested in a
Steam Deck in 4K
? "Maybe in a year or two it will be more doable" by Valve.
Source Did you notice any errors?
---
Steam Deck Alternatives You Can Buy Right Now
The Steam Deck from Valve is making waves all over the Internet. Unfortunately, it hasn't been released yet. Thankfully, handheld gaming PCs are not new and there are other options. In fact, there are a number of Steam Deck alternatives available that you can bring home right now.
At this stage, Steam account holders can "register their interest" by putting down a small deposit. This puts their name in a queue. We can presume that orders will be fulfilled on a first-come, first-served basis until initial stock dries up. It's safe to say that demand will outpace supply. Valve has even gone on record to say it's likely not everyone who wants one will receive one on launch day.
Furthermore, if you live somewhere other than the US, Canada or the UK, there's no telling when you may be able to buy a Steam Deck, and release dates for other regions haven't been mentioned.
1. AYA Neo
The AYA Neo made a quite splash when it appeared on Indiegogo earlier in the year. The impressive device boasted a six-core AMD Ryzen 5 4500U with Radeon graphics and a healthy 16 GB of RAM.
After racking up millions of dollars in crowdfunded cash, some naysayers were skeptical that such powerful specs could be offered at a consumer friendly price. Fast forward a few months, and the AYA Neo is delivering the AAA handheld gaming experience the developers promised.
The developers claim that their mission was to deliver a handheld gaming PC "without compromises". Whether or not they succeeded is up for interpretation.
For example, a demanding title like Cyberpunk 2077 is certainly playable on the AYA Neo, provided you bump the graphical settings to Low and cap your framerate at 30. That it's even able to run the game, much less be playable, is exciting stuff.
The AYA Neo also boasts a 7″ multi-touch 16:10 1280×800 screen and a 47Wh battery. How much life you're able to squeeze out of it will depend on what game you're playing and at what settings, but estimates peg it around two to six hours. Unfortunately, while the AYA Neo sports impressive specs, you'll pay for it. At the time of this writing, the AYA Neo will run you about $1,000.
AYA Neo Specs
Screen: 7″ multi-touch, 1280×800 px (16:10), 215ppi, IPS, 60Hz
Processor: AMD Ryzen 5 4500U
Video: AMD RX Vega 6
Memory: 16 GB LPDDR4
Storage: 512GB or 1TB M.2 SSD
Connectivity: Intel AX200 Wi-Fi 6 and Bluetooth 5.2
Ports: 2x USB-C 3.2 Gen 2 with PD charging support, 1x USB-C data only, headphone jack
Battery: 47Wh
Size: 255 mm or 10.04" (w) x 106 mm or 4.17" (d) x 20 mm or .79" (h)
Weight: 0.65 kg (1.43 lbs)
2. GPD Win 3
GamePad Digital, better known as GPD, has been making handheld PCs for a number of years. The company caught the attention of those on the bleeding edge of consumer electronics with the GPD Pocket: a fully functional Windows laptop so small that it could fit into, well, a pocket.
However, GPD is also known for its impressive handheld gaming PCs. The newest iteration is the GPD Win 3, featuring a unique design element. The GPD Win 3 has a full keyboard built in, making it more versatile on the go.
Sliding the screen up reveals the touch keyboard, allowing users to operate the GDP Win 3 like a traditional PC without the need for external peripherals. That being said, the keyboard does not feature tactile keys, opting for haptic feedback instead.
The GPD Win 3 comes in two flavors: one with an Intel Core i5 1135G7 and the other with an i7 1165G7. Both feature 12th generation Intel Xe graphics, 16GB of LPDDRX RAM and 1 TB of NVMe storage. Storage capacity can be expanded by replacing the NVMe drive and adding a microSD card.
The Win 3 has a 57Wh battery, which is pretty beefy, but your mileage will depend on what you're doing. For example, running Doom Eternal with high settings is only going to get you about two hours of playtime. Furthermore, GPD has opted for a 5.5″ 720p screen, considerably smaller than other devices on this list. Initial reviews report that the screen is bright and crisp.
The Standard Win 3 will run you $799, while the Advanced version comes in at $899.
GPD Win 3 Specs
Screen: 5.5″, 1280×720 (16:9), multi-touch, 268ppi, 5th gen Gorilla Glass
Processor: Intel Core i5-1135G7 or i7-1165G7
Video: Intel Iris Xe Graphics
Memory: 16GB LPDDR4
Storage: 1TB M.2 SSD (expandable via microSD)
Connectivity: Wi-Fi 6 and Bluetooth 5.0
Ports: 1x Thunderbolt 4, 1x USB Type-A, 1x 3.5mm audio
Battery: 47 Wh
Size: 198mm x 92mm x 27mm (7.8″ x 3.6″ x 1.1″)
Weight: 0.56 kg (1.23 lbs)
3. OneXPlayer
If you're looking for something with more screen real estate, you may want to consider the OneXPlayer from Chinese manufacturer One-Netbook.
The OneXPlayer has a massive 8.4″ high-resolution touch screen display. In addition to sheer size, the OneXPlayer has one of the highest resolution screens available on a handheld PC: a 358 ppi IPS panel at 2560×1600. If your main concern is a high quality screen, the OneXPlayer delivers.
The integration of a larger screen means the entire device is significantly larger than the others mentioned thus far. This can a positive or a negative, depending on how you look at it.
A larger screen means the body of the OneXPlayer is also bigger. This allows for larger buttons, as well as more comfortable button placement, particularly those with larger hands.
Of course, the trade-off is that the OneXPlayer is less portable than some of the others on this list. It's quite large, measuring 11″ wide and 5″ tall, making it noticeably heavier than other handheld gaming PCs.
The OneXPlayer is no slouch, with both variations of the device using Intel's 11th gen Tiger Lake CPUs. Consumers can opt for a Intel Core i7-1165G7 or i5-1135G7, both of which utilize Intel's Iris Xe graphics cores.
Both models have 16GB DDR4 RAM; however, the storage capacity will depend on the model. The i7 comes with a 1TB SSD, whereas the i5 makes do with 512GB.
OneXPlayer Specs
Screen: 8.4″, 2560×1600, touch IPS, 358 ppi
Processor: Intel Core i5-1135G7 or i7-1165G7
Video: Intel Iris Xe Graphics
Memory: 16GB LPDDR4
Storage: 1TB or 512GB M.2 SSD
Connectivity: Wi-FI 6 and Bluetooth 5.0
Ports: 2x USB 4.0 Type-C, USB 3.0 Type-A, 3.5mm audio
Battery: 59 Wh
Size: 288 x 130 x 21mm
Weight: 0.89 kg (1.8 lbs)
4. OneGX1 Pro
Rounding out our list is another offering from One-Netbook, the OneGX1 Pro. Under the hood, it's very similar to the OneXPlayer with an Intel Core i7-1160G7 processor and 16 GB of LPDDR4 RAM. However, what makes the OneGX1 Pro interesting is the fact that the device's design is similar with that of the wildly popular Nintendo Switch.
The device features gamepads on either side of the screen that can be removed, like the Joy-Cons on the Nintendo Switch. The similarities don't end there. When the gamepads are removed from the OneGX1 Pro, they can be used independently of one another, allowing two people to play simultaneously.
Aside from the removable gamepads, the OneGX1 Pro stands apart from the other Steam Deck alternatives in another significant way. The screen folds out on a hinge like a standard laptop. Underneath the screen there is a full, albeit small, tactile QWERTY keyboard. In addition, the keys are RBG backlit.
The keyboard, combined with a pointing stick and left and right mouse buttons, make the OneGX1 Pro the device closest in design and functionality to a traditional laptop.
Granted, all of the Steam Deck alternatives on this list run Windows and are capable of doing anything one might do with a PC. But to use any of the devices listed above as a normal PC would require the use of external peripherals, such as a keyboard and mouse. This is not the case with the OneGX1 Pro, though you do have to be willing to work on a relatively tiny keyboard and screen.
OneGX1 Pro Specs
Screen: 7″ IPS touchscreen; 1920×1200
Processor: Intel Core i7-1160G7
Video: Intel Iris Xe Graphics
Memory: 16GB LPDDR4
Storage: 256GB or 512GB SSD (expandable via microSD card)
Connectivity: Wi-FI 6 and Bluetooth 5.1
Ports: 2x USB Type-C ports, 1x USB 3.0 Type-A, 3.5mm audio
Battery: 12,000mAh
Size: 173 x 136 x 21 mm
Weight: 0.62 kg (1.36 lbs)
How Do These Alternative Devices Differ from the Steam Deck?
It's obvious all of these Steam Deck alternatives share similarities. The form factor and design cues are all reminiscent of each other. Probably the only and main difference between them and Steam Deck is the Operating System used in the device. These alternatives run Windows, while Steam Deck run its own SteamOS, which is based on Linux. While Valve has gone on record stating that Steam Deck users could install Windows, it is not offered by default.
1. Will there be any compatibility issues?
The SteamOS is optimized to make the Steam Deck easy to use. Upon logging in to the Steam Deck, a user's entire Steam library will be available to play on the device. There are some concerns about compatibility with games that are Windows-exclusive. Valve is developing a workaround; however, it remains to be seen whether there will be any kinks that need to be ironed out at launch.
2. How does the price of Steam Deck compares to its alternatives?
There are three models of the Steam Deck, all of which have the same internal hardware. The only difference between them is the amount and type of storage used. The cheapest model uses 64GB eMMC and is pegged at $399. The mid-tier model has a 256GB SSD and is $529. The top model, which utilizes a 1TB SSD, comes in at $649. This pricing structure makes the Steam Deck aggressively priced, especially when compared to the alternatives on this list.
The only downside to the cheaper price is availability. As we mentioned at the start of this article, it's unclear when the Steam Deck will be widely available. While it is expected to launch in December 2021, it will only be available in certain regions to those who pre-ordered it. Conversely, all of the Steam Deck alternatives listed above are available and can be ordered today.
3. What chipset does the Steam Deck and its alternative use?
Under the hood, the Steam Deck is running an AMD custom APU. Based on the technical specifications, there really isn't anything on the market that we can compare it to. All of the Steam Deck alternatives on this list – save the AYA Neo which runs an AMD Ryzen chip – have opted for an Intel 11th gen Core i5 or i7.
Ahead of the Steam Deck release, it's hard to compare performance. However, Valve has stated that their goal is to make the Steam Deck capable of running every available Steam title.
Are you planning on purchasing the Valve Steam Deck, or do you think one of the alternatives mentioned above deserves your hard-earned dollar? Read on if you want to know more about the Steam Deck before purchasing. Also, find out how to play Steam games on your phone with Steam Link.
Is this article useful? Yes No