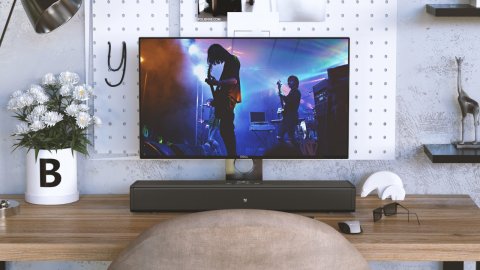 Creative Stage 360
The Creative Stage 360 ​​soundbar with subwoofer, already available on the Creative website for 229.99 euros, expands the Stage series with a more powerful 240 W option equipped with superior drivers and equipped with support for Dolby Atmos sound, also usable through streaming services such as Netflix,
Apple
TV +, HBO Max and Prime Video.
Designed to ensure immersive sound in both video games, movies or TV series, the new Creative soundbar equips 60W custom racetrack drivers each paired with a 120 W tower subwoofer. Hence a total power of 240 W against, much higher than the 160 W of the Creative Stage V2 soundbar.
Creative Stage 360 ​​2.1 soundbar is more compact but more powerful and supports Dolby Atmos surround Connectivity includes an HDMI ARC port, two HDMI 2.0 ports, an optical input and Bluetooth 5.0,
so you can
to connect two consoles at the same time, such as
PS5 and Xbox
Series X | S, and different devices of various types including players, multimedia computers or set-top boxes. It does not give up anything, therefore, compared to the Stage V2 soundbar, despite its more compact dimensions. Creative Stage 360 ​​soundbar technical specifications:
Creative Stage 360 ​​soundbar specs
Configuration: 2.1 channel with tower subwoofer Drivers: 2.25 x 3.85 inch custom racetrack Power: 240 W total Frequency response: 50-20,000 Hz Dolby certifications: Dolby Atmos Connectivity: optical port, 1x HDMI eARC, 2x USB 2.0, Bluetooth 5.0 Dimensions: soundbar: 565 x 75 x 88 mm / subwoofer: 115 x 422 x 250 mm Weight: soundbar: 1.7 Kg / subwoofer: 3.4 Kg Price: 229.99 euro on Creative.com
Have you noticed any errors?