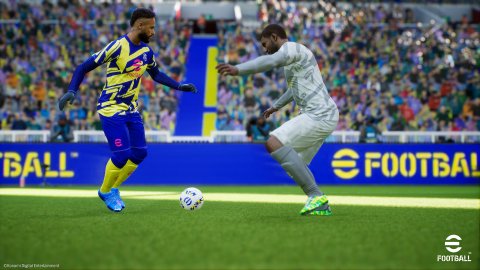 eFootball 2022 received very badly on Steam
e
Football
2022 was released today and decidedly negative feedback is already being collected, especially with regard to the PC version on Steam, where the game is currently characterized by an average of "extremely negative" ratings, with users who seem decidedly furious about the treatment reserved to the new PES.
eFootball is
available from
today as free-to-play, that is, it is basically a free game, since for the new chapter Konami has chosen a fundamental change of course regarding the model of business, focused on in-game purchases.
This is also the first chapter on
Unreal Engine
instead of the previous Fox Engine, which led to a technological revolution
in development
. For many reasons, therefore, eFootball 2022 represents a new historical beginning for the series, also bringing with it some inevitable technical problems.
It is also necessary to consider that this is a not yet final version, given that the idea of Konami is to
continue to
evolve and improve the base of eFootball 2022 in a constant way, with a first substantial update already
planned for
this fall that will bring more modalities and contents.
eFootball 2022, screen that certifies the current situation of user reviews on Steam However, this has obviously not stopped the first user reviews on Steam, from which a real disaster seems to emerge: out of almost 4000 reviews of users, only 9% are positive, for an "extremely negative" average rating from players.
Many complain about graphics not up to the standard of a current game,
problems with
animations and artificial intelligence and too little
content and
game modes.
For many it would still be basically a "demo", so the evolution will be evaluated later and the amount of content should improve in the coming months. More worrying are perhaps the technical comments that see eFootball 2022 as a sort of involution even compared to PES 2021, in terms of player disposition and movements, ball physics and artificial intelligence, as well as other strange drawbacks such as the inability to increase the resolution above 1080p.
For the moment, you can read our new trial of eFootball 2022 for first impressions of the version currently distributed on the market,
waiting for
a more complete evaluation.
Source Have you noticed any errors?
---
eFootball 2022 Launches to Terrible Reviews on Steam
News video games 30 September 2021, 12:13
Today, the free-to-play eFootball 2022 made its debut. Unfortunately, the free installment of Konami's football series was received very coldly by the players (on Steam, among others).
Highlights:
The game immediately became one of the worst rated productions on Steam (with over 2 thousand reviews), giving way only to 'indies' with only a dozen reviews;
Players complain about scarce content, bugs, poor visuals and overall gameplay experience, which - although it has some potential according to some - leaves much to be desired in its current condition.
Konami's decision to remake the eFootball series (formerly Pro Evolution Soccer) into a free-to-play title has been received with mixed - to put it mildly - feelings by virtual football fans. At least, that was the case before yesterday's launch, because from the very beginning eFootball 2022 became... one of the worst rated games on Steam.
It was foreseeable that many Internet users would follow the 'glorious' example of those who enjoy the so-called review bombing, often without any relation to the game's actual quality. While this has certainly happened, it's impossible to explain a game's current rating on Steam by this phenomenon alone. eFootball 2022 was positively reviewed by only 8% of the platform's users.
It is fair to say that this is not the worst result to be found on Valve's platform, for there are productions without a single positive review. The thing is that these titles did not receive many ratings at all and they were independent 'gems' from teams that - let's be honest - for most players practically do not exist. Meanwhile, the new former PES was rated not by 14, not by 100, but by more than 2.2 thousand users on Steam. No other production with so many opinions was received so badly by the community, not even the 'legendary' Sacred 3 or 'hits' like Flatout 3, GASP or Command & Conquer 4: Tiberian Twilight.
A year off and a new generation of consoles didn't help Konami's football series.
What made eFootball 2022 so bad that - as the author of one of the most popular opinions stated - Steam should introduce a 'refund option for free games', and that the title is said to be more of a 'psychological horror' than a virtual football? Well, the list of accusations is long, especially if you believe the most critical reviews on Steam. Players aren't thrilled with the revamped engine, whose 'freshness' doesn't come in the form of improvements to the game's performance (virtually absent, according to many), but in the disastrous backgrounds, blurry graphics straight out of budget smartphone games (the only available resolutions are 720p and 900p), poor optimization, etc.
Unfortunately, the accusations do not end with criticism of graphics. Controls have been described as 'sluggish and poorly responsive '. Changing players, passing, defending - you could list any number of mechanics and it would turn out that not one of them appealed to players. Add to this a very modest content, having more in common with a demo version than a full-fledged production, and - how else - a ton of bugs and glitches.
What's probably the worst, though, is that the players are simply disappointed. It should be remembered that a year ago we did not receive a full-fledged installment, but only a seasonal update, because - as Konami explained - the creators wanted to focus on delivering a truly nextgen version in 2021. The fact that this break resulted in a production that looks like a mobile title (and not particularly polished one), only deepened the disappointment.
It should be noted, however, that, first of all, a large part of the negative (and therefore all) reviews were issued by people who have spent less than hour playing eFootball 2022. Secondly, complaints about the scarce content are out of place, since Konami has long stressed that only part of the game will be ready for launch. In early September, the creators published a development roadmap. Thirdly, we've seen some praise here and there, even from users who have criticised the game - be it for the soundtrack, the interface or the potentially better movement and shooting systems (both of which need some polishing up, though). There were also compliments aimed at matchmaking.
However, not all the accusations fired at eFootball 2022 and even the more conservative reviews leave no doubt that the developers need to work hard to improve the game. A similar lack of enthusiasm can be seen on Reddit.
eFootball - official website