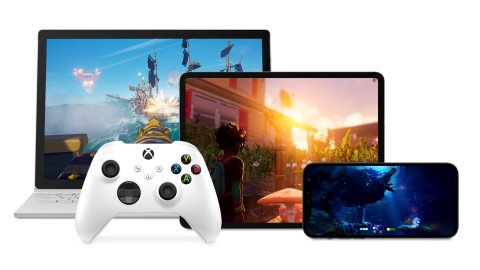 Xbox Cloud Gaming
Xbox
Cloud Gaming is now available in Australia, Brazil, Japan and Mexico, bringing the total of countries within which you can use the
Microsoft
service to 26, divided over 5 continents. Even more interesting, however, is another fact: now, according to the American company, 1 billion people can access Xbox Cloud Gaming.
Microsoft's stated goal is to reach 3 billion people, consequently we can claim that the company is one third of its way. Of course, the fact that 1 billion people can access Xbox Cloud Gaming doesn't mean that the number of users is actually that high. Currently to use Microsoft's cloud gaming you must have an
Xbox Game Pass
subscription and, according to Take-Two, the number of subscribers is approximately 30 million.
Xbox Game Pass: the logo and five games included Here is the statement from Microsoft, in translation: "With the expansion of Xbox Cloud Gaming to gamers in Australia, Brazil, Japan and Mexico, we are now offering the opportunity for over one billion people in 26 countries across five continents to play. to Xbox Game Pass games from the cloud on their smartphones, tablets and PCs. Since cloud gaming is powered by custom
Xbox Series X
consoles, this means these games are played on an Xbox in the cloud, offering faster loading times and Better frame rates for the gaming experience.
Although cloud gaming supports a variety of controllers, we also want to make sure that all players feel welcome or can play if they are without a controller. Are this we have built support for touch controls on select games such as Minecraft Dungeons and Hades, with other games that will gain touch support over time.
This journey to bring Cloud Gaming to these four new countries has been a real partnership with the community. Through our preview program, we have learned a lot from the players who have participated. Thanks to the players in Brazil, who filled our cloud gaming servers even before we announced the launch of the preview. And the players in Mexico who made Gears 5 our most played preview game. In Australia and Japan, it was great to see the spread of touch controls with Minecraft Dungeons. We simply wouldn't be here today without this partnership, thank you. "
Have you noticed any errors?
---
Xbox Cloud Gaming goes live in Australia, Japan, Brazil and Mexico
In the same week it began public tests of Xbox Cloud Gaming on consoles, Microsoft is expanding the project formerly known as xCloud in other ways. Cloud Gaming is going live in Brazil and Mexico today, and in Australia and Japan on October 1st.
The company started testing xCloud in those four nations last November. It seems the preview proved popular, as players in Brazil packed out the Cloud Gaming servers even before Microsoft formally announced the test.
The expansion means that more than a billion people in 26 countries now have access to Xbox Cloud Gaming. All they need is a Game Pass Ultimate subscription, a compatible device (like a computer, smartphone or tablet) and a strong-enough internet connection. Folks don't necessarily need a controller, as there are a bunch of games that have touch controls.
© INA FASSBENDER via Getty Images A cloud-based console is displayed at the Microsoft Xbox stand during the Video games trade fair Gamescom in Cologne, western Germany, on August 21, 2019. (Photo by Ina FASSBENDER / AFP) (Photo credit should read INA FASSBENDER/AFP via Getty Images)
Microsoft made the announcement at Tokyo Game Show, where it had some other news up its sleeve. Action JRPG Scarlet Nexus just landed on Game Pass, for one thing. You can play it on consoles, PC and Cloud Gaming with touch controls.
The company is also localizing Starfield and Redfall, two major upcoming first-party games, for Japan. The Starfield localization is the biggest translation project Bethesda has ever tackled, as it involves more than 300 actors and north of 150,000 lines of dialogue.