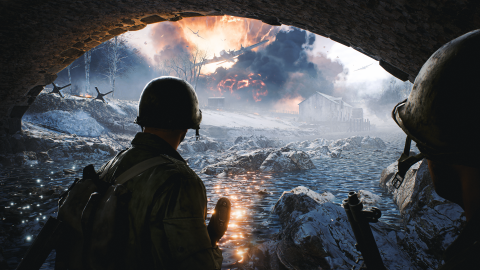 Battlefield 2042
Battlefield 2042 continues to be discussed regarding its beta, given that there is still no official information on the dates on which this will be available and therefore remain the subject of speculation and rumors, even if in this case the source seems rather reliable. being Origin,
Electronic Arts
' digital delivery service, the one from which the beta dates and the preload come.
The dates of the
Battlefield 2042 beta
, apparently, are 8 and 9 October 2021, with Early access scheduled for October 6 and 7, 2021 for all those who preorder the game or who have an EA Play subscription, and who will therefore
be able to
a> play for
two additional days compared to all others who will take part in the public beta.
These are practically the same dates that had previously emerged from the Chinese streaming site Bilibili, but in this case the information emerges from the EA Origin API, through a bit of data mining carried out by some users, therefore the source would seem reliable, except for any last minute changes.
As reported by MP1ST, from which we take the image below, in the Origin API code a Precise description of the Battlefield 2042 beta: "Adapt and fight in the global war of the near future in Battlefield 2042", it reads, "take part in the battle in Orbital with a selection of Specialists, a state-of-the-art arsenal and vehicles to choose from."
The EA Origin API code from where the Battlefield 2042 beta dates emerged Then the information in question: "The Open Beta will be held on October 8-9, 2021, early access is available on 6-7 October 2021 for all players who have pre-ordered the game or members of EA Play. The preload will be available on 5 October 2021 at 6:00 UTC ", which is 8:00 in the morning in Italy .
So starting from 8:00 am on October 5, 2021, the pre-load of the beta of Battlefield 2042 should be available, which will then be playable from 9:00 am on October 6 for those who have booked the game or have a subscription to EA Play, otherwise on 8 and 9 October from all the others.
This is not yet an official announcement, but at this point we await any confirmation from EA , as time is running out. Recall that Battlefield 2042 was recently postponed, with a new official release date set for November 19, 2021.
Source Did you notice any errors?
---
Battlefield fans have been waiting on the next mainline installment. Finally, Battlefield 2042 is coming this year, which seemed a bit questionable not long ago. There was speculation that this game was getting delayed from its October release date. That alone caused fans to assume the game was getting kicked out of the 2020 calendar year altogether. After all, we are dealing with a worldwide health pandemic which forced several games into 2022.
While we know that the game was pushed out of its October release date, it was only delayed by a few weeks. This means that players will get Battlefield 2042 on November 19, 2021. The beta for Battlefield 2042 was initially supposed to come out this month, but that's not happening after the delay pushed things around. We're still waiting on an official announcement, but recently an industry insider, Tom Henderson, tweeted out that Bilibili had leaked the beta dates.
Bilibili has seemingly leaked the #BATTLEFIELD2042 Beta dates. pic.twitter.com/NsmHI2GdM3
— Tom Henderson (@_Tom_Henderson_) September 27, 2021
If these dates are correct, the beta will go from October 6, 2021, to October 9, 2021. Although Tom Henderson also noted that the page says events will go on to October 9, 2021. That could mean the beta will go past October 9, 2021. This could be iffy information right now since EA did not officially confirm the dates. Still, if these are the dates, then an announcement should be coming out soon. Hopefully, this beta will give players a good idea of if the game is worth the pick-up when it launches on November 19, 2021. Likewise, the beta could provide some crucial details for the developers at DICE before the game launch as well.
As mentioned, Battlefield 2042 was delayed. It seemed to be a big trend these past few months, seeing games delayed left and right. Although, that was expected from the pandemic pushing projects back. Fortunately, Battlefield 2042 only had a slight delay, and players will get to jump into battle on November 19, 2021. When the game does release you can expect it on the PC, PlayStation 4, Xbox One, PlayStation 5, and Xbox Series X/S platforms. 
Source