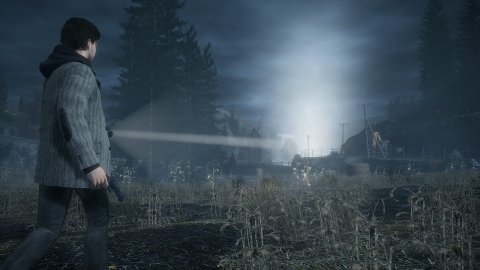 Alan Wake Remastered
Via the official site of
Alan Wake Remastered
, Remedy has confirmed that at the launch of the game
there will be
a day-one patch to be installed, which among other things includes the Quality and Performance graphics modes for
PS4 and Xbox One
.
As explained in the FAQ section the update will mainly improve the quality of the cinematic sequences and modify "a few other things", probably cleaning the game code of some minor imperfection.
As for the PS4 Pro and Xbox One X versions of Alan Wake Remastered, the day-one patch will enable Performance and Quality modes. With the former, the game will run at 1080p and 60fps on both consoles. The Quality Mode instead blocks the framerate at 30fps and guarantees the output resolution in 4K (with PS4 Pro rendering in 1296p and Xbox One X in 1440p).
Alan Wake: Remastered, the protagonist ventures into the dark Remedy also confirms that the game at launch will be complete with all its contents, both as regards the base game and the two expansions "The Writer" and "The Signal", even without installing the update. So if for any reason you can't connect your console to the network at launch, you'll still be able to play and enjoy the full experience. As for the digital version, however, the patch as usual is already applied by default.
Alan Wake Remastered will be available for
PS5
,
Xbox Series X
, PS4, Xbox One and PC starting from October 5th. A video recently compared the various versions of the game.
Source Did you notice any errors?
---
Alan Wake Remastered has got a new trailer and this one shows the comparison between the original Xbox 360 version, and the way the game will look on the Xbox Series X. As you will be able to see from the trailer Alan Wake Remastered has a lot more detail. The environments have much more detail with better textures, and the colours do not look as washed out as before. The objectives also take up less screen space, and the character models have more detail especially the facial expressions. You can check out the comparison below.
– ARTICLE CONTINUES BELOW –
Having been rumoured for the longest time, the Control developer announced the remaster earlier this month. Launching on October 5th, 2021, it's being published by Epic Games and will be available on PC, PS5, PS4, Xbox Series X|S, and Xbox One. The original Alan Wake, which launched in 2010, was an Xbox 360 exclusive. It was followed up with two DLCs, The Signal and The Writer, as well as 2011's bizarre spin-off, Alan Wake's American Nightmare.
Alan Wake Remastered will bundle the base game with those two aforementioned expansions. The entire package has been 4K-enhanced, giving the fan favourite third person thriller a new lick of paint while preserving its eerie atmosphere. Alan Wake's torch-wielding gameplay wasn't universally loved though its dark story drew in mystery fans who have been pining for a sequel for more than a decade. When it was confirmed that the game shares the same twisted universe as 2019's Control, rumours of a sequel began to bubble.
Alan Wake Remastered is available to pre-order on the following platforms:
Source: YouTube
– PAGE CONTINUES BELOW –