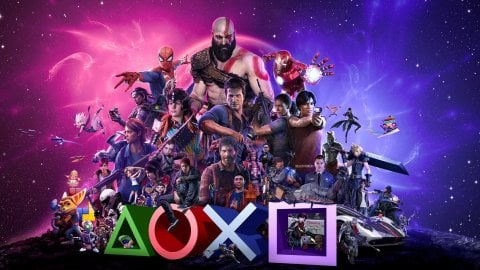 PS5 PlayStation Showcase
Sony
has announced in these minutes the new
PS5
PlayStation
Showcase, or a presentation entirely dedicated to PlayStation 5, with announcements, trailers and news on the games coming to the console, which will be held on the date of September 9, 2021 at 22:00.
The PS5 PlayStation Showcase should therefore represent the long-awaited summer presentation event by Sony, which so far has skipped most of the typical events of the videogame market, such as E3 and Gamescom, continuing with its presentations policy dedicated and independent.
The subject of the event will be the "games coming out this fall and beyond", according to what Sony has reported, so we can expect presentations not only with regard to the titles already announced but also absolute news, probably.
The show will last about 40 minutes, the company announces, and will give the opportunity to see something about the games in development at PlayStation Studios and other teams, therefore it is likely that these are titles of considerable importance in the PS5 panorama. Sony has also made it known that the "new generation of PlayStation VR"
will not be
present, which apparently will find space in an upcoming appointment.
It should be noted that Sony, for this occasion, does not seem to use the classic format of the
State of Play
, so this Showcase should present itself as something different and more similar to the first PS5 Showcase that went on stage to present the new console.
What the contents of the event may be, it is difficult to make precise predictions as the time passed since the last general presentation by Sony is long and the potential news has accumulated. After the official postponement of
Horizon Forbidden West
to 2022 with the new date announced
at Gamescom 2021
, as well as the announced postponements of
God of War Ragnarok
and
Gran Turismo 7
, we expect possible surprises to fill the period of end 2021, as well as probable updates. on the state of development of the aforementioned titles, in particular perhaps a video on the Sony Santa Monica action game.
The appointment is therefore set for 9 September 2021 at 22:00 in Italy, with the event that
will be live
streamed by Sony through its social channels, as well as obviously being followed live by geekinco, translated and commented in real time, so don't miss it!
Have you noticed any errors?
---
Sony announces PlayStation showcase, promises 'sneak peek at the future of PS5'
Sony is announcing that it will hold a special PlayStation showcase on September 9th. The event will start at 10AM ET / 1PM PT, and will run for 40 minutes in what is being teased as "a look into the future of PS5." Sony says its showcase will include updates from its PlayStation Studios, and a look at games releasing this holiday and beyond.
Sony could be ready to launch a new PS5 system software update that it has been beta testing. The update unlocks M.2 SSD support, and also includes some UI improvements to the PS5 dashboard and 3D audio support for built-in TV speakers.
While there's a promise of what's next for PS5, Sony's new PlayStation VR headset won't make an appearance at the showcase. The next-gen PSVR was reportedly detailed at a developer summit recently, revealing that the headset connects to a PS5 via a single cable. The headset also includes higher-resolution OLED displays (2000 x 2040 pixels per eye)and an improved 110-degree field of view.
Sony is still promising "plenty of great PS5 games from developers large and small," and it's likely we'll get another look at Horizon Forbidden West, the sequel to Horizon Zero Dawn, that was recently delayed to February 18th, 2022. Perhaps we'll also see some updates on the next-gen patch for GTA V, and some final gameplay of Bethesda's Deathloop PS5 exclusive that launches later this month.
The Verge will be covering Sony's PlayStation Showcase, so stay tuned for all the latest PS5 news.