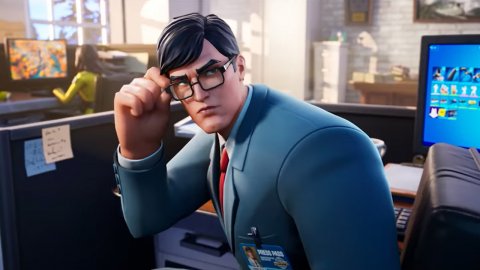 Fortnite Chapter 2 Season 7
Fortnite Chapter 2 Season 7 introduces a new phase for the Epic Games battle royale, which also sees the participation of characters like Superman and Rick & Morty in the spectacular story trailer.
After the video on the functioning of the Battle Stars Fortnite, here is the inevitable cinematic movie that brings together guest stars of great value and lots of quotes, in particular Independence Day.
With Chapter 2 Season 7, the aliens have not only invaded the Island: have also upgraded the Battle Pass of the Season! This new Battle Pass will allow you to decide when to level up and redeem rewards. Let's start with a video and then break it down further!
Fortnite, Clark Kent prepares for a quick change of clothes in the story trailer. The Battle Stars are back
In this season's Battle Pass, the Battle Stars are back with a fun twist.
Each time you
level up, whether by playing or completing challenges to earn XP or by purchasing a Battle Pass level with V-Bucks, you will earn 5 more Battle Stars.
Use your Battle Stars to redeem a variety of awesome Battle Pass rewards in any order you like!
Battle Pass Rewards in any order
With the new Battle Pass, cosmetic items are no longer tied to reaching specific Season Levels. Instead, you'll earn Battle Stars as you level up and can trade them to redeem Battle Pass rewards in any order you want.
As you earn Seasonal Levels and redeem your rewards, you will unlock new Battle Pass pages that will offer you new reward options to choose from. Want to redeem the Abduction Trails on page one right away? No problem!
Or would you rather save Battle Stars to level up and open page two, and grab yourself a new space-themed lobby song first? The choice is yours!
Fortnite, Rick in a sequence of the story trailer. Additionally, each Battle Pass page has a locked special reward, such as punk-rock survivalist Sunny or synthetic artist Guggimon, only available when all other rewards on the page have been redeemed.
Find your favorite rewards now and grab them now as you work your way to level 100 and redeem Rick Sanchez, the intergalactic traveler from
Rick and Morty
.
Once you have redeemed all 100 Battle Pass rewards, you can continue to trade your Battle Stars for stylish new Doctor Slone Costume styles and more, which you will find on the additional bonus rewards pages.
Don't have a Battle Pass? Don't worry, all players earn the same number of Battle Stars as they level up, and each Battle Pass page has rewards available for all players.
Transform Kimera
By purchasing the Battle Pass, you will automatically unlock the changed alien, Kimera. With more than 800,000 combinations of head shapes, eyes and skin colors, patterns and armor colors to choose from, you are sure to find the perfect style for you!
If the one-eyed octopus style is no longer in fashion, don't worry - you can freely combine your unlocked style options at any time.
So how can you go about creating the perfect look for this alien that can change appearance? Collecting alien artifacts! To do this, explore the parts of the Island affected by the Invasion each week or put together a team and unravel the mystery of the Cosmic Chests enclosed in the crystal.
Like Battle Stars, these can be exchanged to redeem new styles for Kimera that permanently expand your choice of custom alien looks.
Source Have you noticed any errors?
---
When 'Fortnite' Chapter 2 Season 7 Will Launch and What To Expect
© CHRIS DELMAS/Getty Images This picture shows a person installing an update for Fortnite on their smartphone in Los Angeles on August 14, 2020. Fortnite's Chapter 2, Season 7 is due to launch sometime tomorrow morning.
Tuesday 8 June will see the beginning of Fortnite Battle Royale's latest season, which will be its seventeenth since the online phenomenon first launched back in 2017.
For the uninitiated, Fortnite is divided into 'seasons' of themed content, each of which last for approximately three months. Although the core experience remains largely unaltered by these updates, each one does bring a fresh coat of paint, by incorporating changes to the island, new mechanics, additional character skins, and even limited-time modes that eventually disappear.
For example, the most recent of these events (Chapter 2 Season 6: Primal) was based on a survivalist theme and saw the introduction of roaming wildlife, item crafting and hunting missions.
Fortnite's developer, Epic Games, have already confirmed on their website that the next season will commence at some point tomorrow, and with its arrival, that the primal event will draw to a close.
This means that players will need to complete any outstanding objectives from Season 6 before the severs are taken down tomorrow morning in order to implement patch 17.00. While it is difficult to predict exactly when this will occur, historically these maintenance periods have been carried out at around 12 a.m. ET.
Although Epic have yet to provide any concrete details on what Chapter 2 Season 7 will entail, they have been dropping some major hints lately. With a tagline of 'They're Coming,' it appears that the update will heavily revolve around an extra-terrestrial plotline.
Fans already suspected as much, following a number of recent teases in the game, including a mysterious crop-circle appearing in the centre of the map, a quest to fix stargazing telescopes that had been tampered with, and instances of some players getting levitated into the sky via an abduction beam.
Elsewhere, Fortnite's social media presence has also strongly implied that the new season will feature some close encounters of the third kind. A series of tweets have been posted over the last few days, showcasing futuristic weapons that could be on the horizon, as well as a series of indecipherable glyphs and a backdrop that looks suspiciously like the interior of a UFO.
Meanwhile, Epic have put out some clever Alternate Reality Game (ARG) marketing for Season 7, with cryptic posters appearing in real-life locations across the globe and popular influences being sent packages that allude to strange conspiracy theories.
How any of this will manifest in the game itself is unclear right now, but it is reasonable to assume that the new battle pass will include some alien-themed cosmetics and emotes to unlock.
Speaking of which, a loading screen for Season 7 was also recently leaked online, whereupon some eagle-eyed fans spotted a silhouette that bared a striking resemblance to Tom Hiddleston's Loki, suggesting that he too may also be bundled in with the update.
If the God of Mischief were indeed to appear in the multiplayer game it would make a lot of sense, given that he has a new Disney+ show on the way and Fortnite has already set a precedent for doing similar crossovers with the Marvel Cinematic Universe.
Either way, there is not long too wait before gamers will find out what is in store.
Related Articles
Start your unlimited Newsweek trial