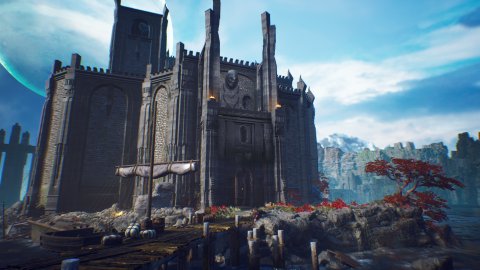 The Last Oricru
Prime Matter and GoldKnights have released a new gameplay video of The Last Oricru. This is an interesting co-op action RPG
for PC and
next-gen consoles that we have defined half Dark Souls and half Mass Effect.
In case you are interested in the game, we recommend you read our preview by The Last Oricru.
Developed in Prague, the capital of the Czech Republic, The Last Oricru takes players to the sci-fi / medieval world of Wardenia. They will take on the role of Silver, "shipwrecked" years earlier on this mysterious planet. What burden Silver must carry, what mystery surrounds the planet, and what role she plays in this power game has yet to be discovered.
In The Last Oricru players
will be able to
directly influence the outcome. of the game with their decisions and actions. This single player and co-op (offline) experience is a title from Koch Media's new premium label "Prime Matter", unveiled during E3 2021.
The new gameplay video introduces the key elements of the game by transporting players in the midst of the bloody civil war for Wardenia supremacy.
The Last Oricru is an action RPG with a strong emphasis on interactive storytelling and player choices. Upon waking up in the sci-fi / medieval world of Wardenia, players will find themselves in the midst of a massive civil war for planetary supremacy.
Have you noticed any errors?
---
Giant rat-people can be your friends in GoldKnight's action RPG, The Last Oricru
GoldKnights has just announced its upcoming action RPG The Last Oricru, along with a narrated Alpha gameplay trailer that introduces the game's story and core elements. It will featuring choice-driven dynamic storytelling, couch co-op, a sci-fi/medieval world, and will launch on
Xbox Series X
|S.The Last Oricru is coming from Czech developer GoldKnights and throws players into a sci-fi/medieval civil war on the planet Wardenia. This planet offers you a mixture of swords, magic, futuristic technology, giant rat-people, and an adaptive story that makes every player decision count. The game's dynamic storytelling allows players to experience The Last Oricru in completely different ways, depending on the choices you've made previously.You play as Silver, who wakes from cryo-sleep to find the planet he became "shipwrecked" on is caught up in a bloody civil war. The strange planet is called Wardenia and is a mix between futuristic sci-fi and medieval fantasy. The story is completely reactive to your choices, so there's no straight-cut ending to talk about. As far as we're aware, The Last Oricru will only launch on Xbox Series X|S and feature couch co-op.
What do you think of The Last Oricru? Let us know!